Have you tested your website's performance on various mobile devices and web browsers?
In today's digital age, businesses and website owners must ensure that their gaming community websites are optimized for performance on various mobile devices and web browsers. With the increasing number of users accessing the internet through smartphones and tablets, it is essential to provide a seamless browsing experience across different devices.
Testing your website's performance on multiple mobile devices and web browsers not only helps identify any potential issues or compatibility but also ensures that your website is accessible to a wide range of users.
It is important to consider factors such as page load times, responsiveness, and user interface across different screen sizes and resolutions. By conducting thorough testing and optimization, you can enhance user satisfaction, increase engagement, and ultimately drive more traffic and conversions to your website.
So, take the time to test your website's performance on various mobile devices and web browsers, and ensure that you are delivering an exceptional browsing experience to all your visitors.
Do you want your website guests and gamers to feel the whole energy and spirit of games and gaming zones? Then choose any of the best gaming community WordPress themes we have selected for you and be sure to generate the most dynamic and stimulating environment for your primary users and website visitors, fans, and gaming community members.
Each of these game zone and gaming community WordPress themes will be a good fit for the position of a website builder for all types of gaming websites and blogs, communities, and groups, game development agencies and digital companies, tournament, league, and match management system, online betting sites, game zones and stores, sports clubs and stadiums, online ticket booking forms and much more.
If you want your online website strategy to be described as winning, along with unique content and attractive multimedia files supporting the textual material, you should also have a reliable website basis with modern coding and all the primary SEO touches.
And this is where gaming community WordPress themes produced and launched by SKT Themes come in handy.
They incorporate everything your gaming zone website would ever need to be the best platform for thousands of active gamers and community members from all over the world. Along with being saturated with important tools and essential controls, these sports and gaming community WordPress themes are also custom-built to stabilize the admin workflow and save your time as a webmaster working from behind the scenes.
The thing is that these web solutions are marvelously easy to use and customize, and simple to manage and extend with new extensions and additional plugins.
Best Gaming Community WordPress Themes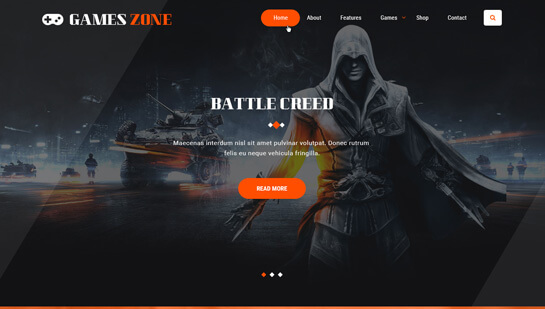 Game Developer is a kind of game changer when the main task is to build and advertise pro quality gaming zone or sports center, betting company, or any other relevant business falling under the same roof.
What makes this template one of the valuable game developers and gaming community WordPress themes is its pliability and versatility enabling you to transform the default template into anything desired.
With bright colors matching your gaming community style and logo, images on the homepage slider to motivate the newcomers to join you, CTAs and buttons spread all over the website, homepage accurate sections for making your games, tours, matches, and other content easy to find
You can turn your site into a unique and enjoyable gaming platform both for local and international audiences.
Military is the next thoroughly worked out and modernly styled WordPress-hosted template to showcase the true power of any website, be it a gaming, military, or sports one.
Prominently decorated and branded, Military exudes a professional web management platform to meet all your provocative needs and requirements. Moreover, you are not going to spend much on purchasing and enjoying this HTML 5 and CSS 3-based website builder at all. Cost-effective and easy to manage, Military is going to be a true gift for noncoder website owners.
You don't even need to worry about the parallel mobile version of your site as it is going to be automatically provided with this responsive and cross-mobile compatible theme.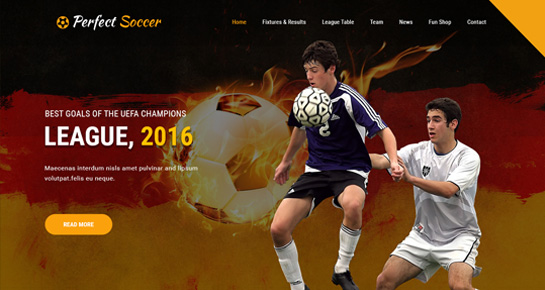 Help fans and gamers connect through your digital platform based on one of the top-rated gaming community WordPress themes called Soccer.
With this amazing website template, you can undertake absolutely any kind of activity, from creating gaming zones and hosting gaming communities to managing online betting functionality, evaluating upcoming matches and their results, conducting online training, and much more.
It is powered with tons of practical features, calls to action, visual elements, content management tools, post and page controls, a blog area, homepage slider, and gallery part for images and photos, shortcodes for accelerating the admin's work from the back part of the theme, etc.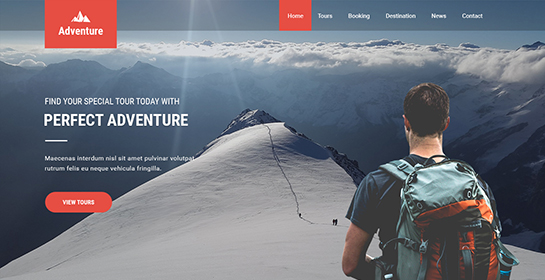 Adventure is what can bring charm and uniqueness to absolutely every single game or sports initiative online.
Whether you are dealing with popular games and online gaming competitions, offering fitness or healthcare services, market sports clubs, or adventurous tours, you can succeed in that by going online with Adventure.
Responsive and customization-ready, Adventure makes it possible to add any missing part or functionality or remove whatever is not relevant to your online presence.
You can also make use of additional plugins and extensions for integrating e e-commerce environment, translating content, analyzing website guests and their visit details, making the site's performance more enjoyable for the users and more quantifiable for search engines.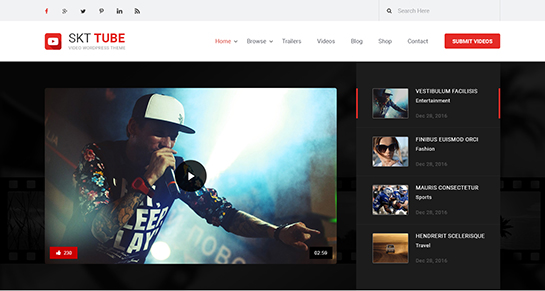 SKT Tube is a smart and sophisticated, video-based gaming zone and community website builder that is unspeakably elastic and flexible for any kind of admin intervention and management process.
The theme's ready-made nature will let you go online instantly with small changes. However, you can drastically change the look and feel of it at any stage of the site customization to keep your audience engaged and interested in your website.
If you want to make your website more conversion-centered, you are welcome to find and add as many compatible plugins as you may think required for adding value to your site and boosting its performance for better results.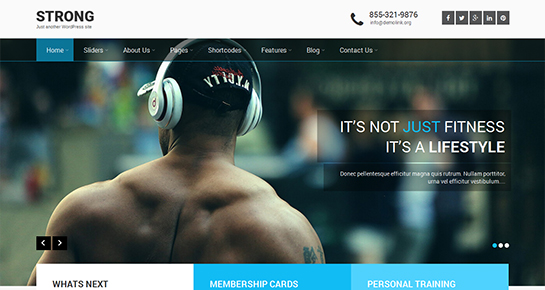 Strong Pro is really strong in the way it supports a variety of websites, ranging from sports and CrossFit to games and matches, horse riding clubs, strikeball, and other group activities and gaming communities, and even beyond that.
This emotional and energetic website template is never hesitant to simplify your work as a website owner or give you endless possibilities to play with the template to realize your ideas and satisfy your imagination most productively.
It means you can add as much info and accompanying multimedia material as needed to craft a fully integrated and user-centric profile where one can find all the details catering to your specific business or community, its membership plans and conditions, contact info, and more.