The internet is a great place to share your opinion on a subject that you are passionate about. However, to do so you need your dedicated website. There is no other content management system that is more suitable for blogging than WordPress.
You can publish tons of content with WordPress and all of it will be properly organized within your site. Other than that, you have amazing plugins like Yoast SEO that help you optimize your content for search engines.
To begin building your blogging site you need to finalize a theme. It depends upon the type of blog that you are running.
There are a lot of themes that you can find on WordPress and other platforms. However, some of them are better for bloggers. These are the best free WordPress blog templates.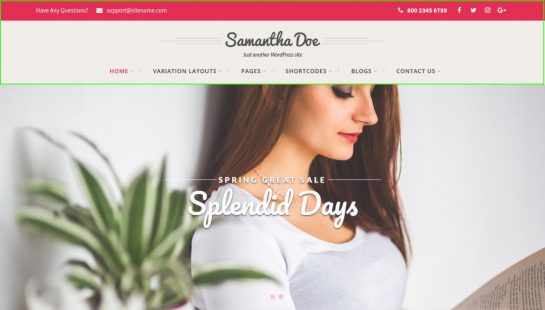 Girlie is a theme that has feminine aspects to it and it is designed for women who have a message to communicate. Women have capabilities and SKT Girlie helps them show their capabilities.
If you have views on shopping, parenting, food, arts, crafts, and business, you can use this theme to share them. This is an ideal theme for blogs that have a lot of space for affiliate ads.
Having a blogging website is just the beginning of your journey, the next stop is having social media accounts. However, once everything is set up you need to connect with the site. That is why this theme allows you to connect your site with different social icons. Now your readers can know everything about your social presence.
This theme has a gallery section where you can feature the images of your work. People are attracted to images and it keeps them focused on your work. If you post a lot of text without any visuals, your site will get boring. The SKT Girlie theme can help you kickstart your blog effectively!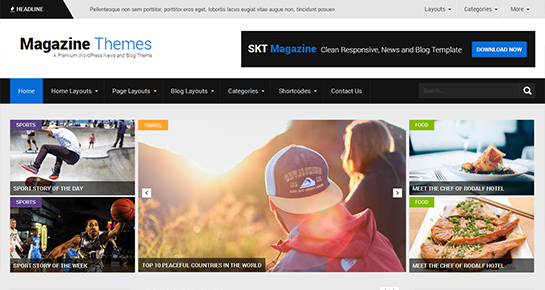 SKT Magazine is a great theme for independent journalists who want to start a news-related website. It has been tested for different devices and platforms like iOS and android. Each post has a different category and you can also highlight posts as the latest.
Why limits your audience? When you can simply translate the content of your website to the user's choice. This theme is compatible with most translation-related plugins.
The theme is image friendly since you will need to add a lot of images to your online newspaper or magazine. Your website will be able to include images and still work at an optimal speed.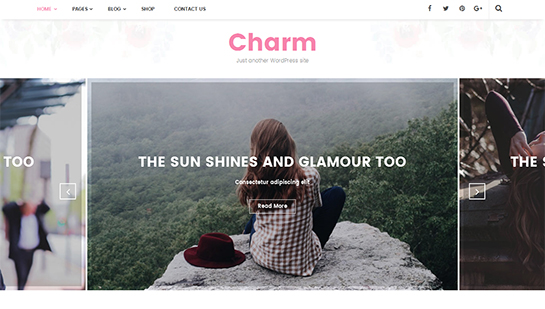 Blogging has become extremely popular today and many people approach it like a business. The good thing about it is that almost anyone can do it without any complications. All you need is extensive knowledge in a particular field.
With the rise of blogging, we have seen the rise of blogging platforms like WordPress and Blogger. However, WordPress has won the battle to be the most useful CMS for blogging. Many themes have caught the eye of a blogger but the Charm Lite theme is extremely useful for a blogger.
You can get a blog of your own with a good design within a matter of minutes with the help of themes like Charm Lite. It is one of the best free WordPress blog templates.
SKT Generic is a great free theme to make a landing page for an agency, corporation, blog, creative event, etc. It is a generic theme that can be customized to fit any niche.
While it is free, it is still a highly reliable WordPress theme. You can trust that it is highly responsive and will work on different devices.
If you are looking to start your blog but do not have any funds to invest in an expensive theme, then SKT Generic is a safe choice.
It will create a neat website for you which will make a good impression on the visitors. Once you have enough monthly visitors, you can always upgrade to a paid version.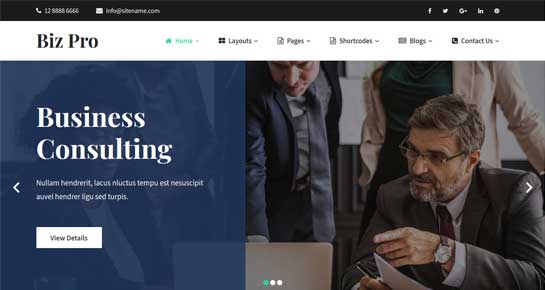 This is a great theme for businesses that provide consulting services. If you are thinking of starting a blog that is about business or the economy, then this theme can do wonders for you.
This is a responsive theme that looks amazing on all devices and browsers. You can integrate all your social media channels with your blog with the help of this theme.
It already comes with default content but it can be edited according to your preference. This theme has been coded by keeping the standards of WordPress in mind. It is also compatible with the updated version of WordPress.
This theme gives your blog a very sophisticated look. Any business person will take your blog extremely seriously after they land on your site's home page.
SKT Parallax Me is a one-page WordPress theme and its main USP is the parallax slider. You can add multiple drop-down items and create different pages from the menu.
This theme helps you come up with a website rapidly. If you need to become presentable in no time, then you can use this theme. All you have to do is download the theme, activate it, and then add your content.
This theme is extremely simple to maintain and even beginners can manage it. If you are starting a blog without any prior experience in site management, then this theme is recommended. That is why it is one of the best free WordPress blog templates.
This is a great lightweight theme to kickstart your blog without any effort. Just install this theme and make the necessary changes. Once everything is in order, you can keep adding new blog posts to your website.
This theme is made to handle a good amount of content. It has been tested with different devices and browsers. You can create author profiles and this helps you rank too.
If the author of your blog is writing high-quality content, your website can be visible because of its name. The theme is designed to adjust text, images, and videos. Such a combination makes an amazing newspaper website.
8. Flat Lite
Flat Lite is a classic theme for a business to showcase their unique selling proposition, team, and testimonials, and then provide a call to action to visitors. It can be customized to be made a landing page for a blog site.
This theme is video friendly and you can add a video welcoming your visitors to your blog. It would be amazing if you could integrate vlogging and blogging both in one site.
Video format content has become increasingly popular and just written content may not be enough to increase engagement for your site. That is why Flat lite is one of the best free WordPress blog templates to increase engagement.
The event planners WordPress theme is for companies that excel in planning successful events. However, you can also use this theme if you like to blog about some of the most popular events. You can blog about the latest concerts, plays, operas, etc.
The section which is used to describe the working process of the event planning company can now be used to describe what the blog is about and what visitors can expect.
This theme makes your website extremely easy on the eyes and this means that the visitors will not have a problem spending a long time scrolling your website.
If they are reading your blogs for a long time, then it means that your blogging venture is succeeding. It is extremely easy to navigate this site so that the user can go where they intend to and take the necessary action. You can also add your social icons in the footer.
The SKT White theme follows the philosophy of minimalism and the design attracts the visitor to the content of the blog. This theme follows the simple idea that white spaces help the reader focus on the content more.
Now you can write and publish your ideas with ease, knowing that users will be able to read them without any problem or distraction. Each blog should have a personality and that should be depicted on the home page. This theme gives you space to tell the user about your blog.
You can also use this space to highlight your team of writers and the ideals of your blog.
This theme looks good on any device. On the phone, it looks like you are reading an article on Kindle and it is amazing on the desktop too.
If you feel that you need to make additions to this theme, you can use shortcodes on all pages except the home page. However, the homepage is so well designed that it probably doesn't need many changes. Stay connected with your readers through social media. That is why this theme allows you to add social media icons.
SKT Black is a simple multipurpose website that can be used to build either a business site or a personal blog. It comes with a parallax slider and you can add up to 5 slides.
The theme looks good on all devices and browsers. You will not have to worry about how your site will look when you make any changes to its design in the future.
The most powerful feature of this theme is that you can add as many sections on the homepage as you like. You can make the homepage by keeping the user in mind.
The important thing is to get them beyond the homepage. It is coded by keeping the WordPress standards in mind and will always be compliant with those standards.
SKT Simple is a theme that wants to make it extremely simple for anyone to design a site. Another purpose of this theme is to make everything extremely simple to understand.
Once you have activated this theme, pages will load and you have to customize them according to the need of your blog.
You can add a section that highlights the latest posts and a section that describes what your blog is about.
Information about your blog on the homepage will help the user decide if they belong on your site or not.
This is a simple multipurpose theme and it can serve as a theme for your new blog.
The top slider has three slides and the images in this theme can be customized to match the spirit of your blog.
A transparent menu on the top means that your slider images get all the attention. This theme uses a lot of widgets which make it dynamic and user-friendly. Now you can stay in touch with your readers through a newsletter.
This theme allows you to add a newsletter signup form. Now you can keep your readers hooked all the time!