This time we are going to share some pieces of the best fashion designer WordPress themes which are well developed and proudly launched for the fashion world and its representatives, fashion designers and handmade collection owners.
Fashion boutiques and shops, fashion blogs and magazines, ateliers and outfit stores, model agencies and other fashion design businesses.
Fashion in all its manifestations is a part of the global culture. The original works and products, clothing and accessories are consumed by thousands of people across the globe, from the richest ones to the average people. Hence, it's a process of mass consumption and construction of the border between "fashionable" and "unfashionable".
And while the high fashion mainly concentrates on the podium and famous shows organization, a unique style of many fashion designers, companies and agencies is present everywhere – on the street, in various public places, theatres, companies, universities, etc.
Along with this great demand for fashion and style related services and activities, we have compiled a list comprising the best fashion designer WordPress themes.
They are developed for serving the needs of all kinds of startup and seasoned designers, atelier owners and dressmakers, design agencies and creative studios, fashion show and exhibition organizers, celebrities and artists, etc.
The strength of these fashion designer WordPress themes is to get ahead as far as possible in the virtual arena and to identify all the contemporary digital trends without running the risk of being unnoticeable by search engines.
Otherwise stated, each of these templates is ready to share your passion and unique style along with all the compulsory web design and development solutions in order to give you a chance for a large number of sales, orders and therefore high profits.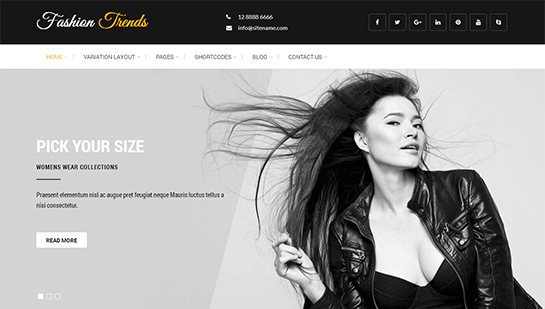 Fashion Trends is one of the whimsical and enchanting beauty and fashion designer WordPress themes the power of which is to follow and catch all the changes in the tastes of its owner.
It means that every single webmaster can transform all his ideas and creative concepts into reality through the features Fashion Trends comes packed with.
Among them are color picker options for establishing the right color play of the theme, font change and styling controls for setting up a unique yet easy to read typeface, 5 level dropdowns with easy to surf navigation.
The theme is also thoroughly optimized for mobile version, SEO and SMO compatibility as well as plugin addition to the default template for extending its operational capacity.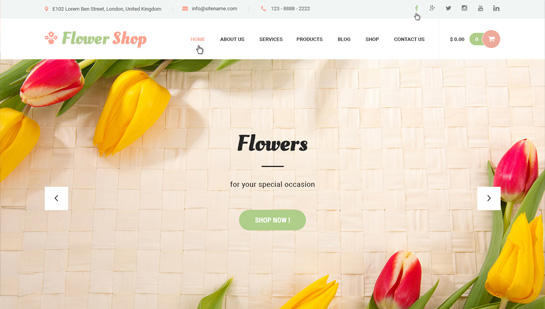 Every successful website inevitably needs a reasonable blend of beautiful look and functional basis forming a homogeneous unity and completing each other.
Flower Shop is one of such complete and comprehensive templates ready to go with your fashion designer or fashion boutique website.
Electronic commerce possibilities are all well provided within the theme so you can easily convert your efforts into touchable results with your fashion store or shopping center.
The total procedure of establishing a visually strong presence will take as little time as you can never imagine since the theme is packed with separate gallery area for showcasing your portfolio items or new products, as well as nice looking slider spanning your homepage with beautiful pieces of your visual content.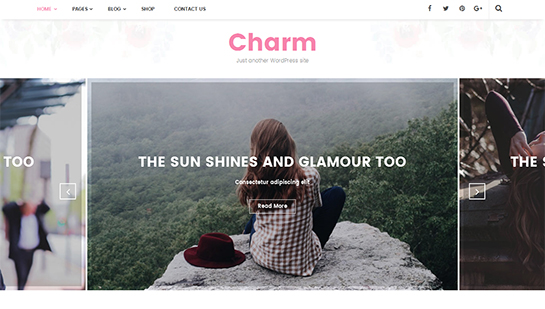 The next ambitious and future scalable template among the best fashion designer WordPress themes that is rocking the stage is called Charm.
This magazine and blog style template is ideal for running on your personal fashion blog, magazine, journal sharing articles and posts on different topics, from design and style to fashion trends and beauty tricks, and everything in between.
When it is obvious that the whole globe is living and making it online, e commerce activities and shopping possibilities lag no behind it either.
Therefore, a strong commercial platform has been ensured with Charm letting you easily open up your store and make your digital and physical products available for the large masses.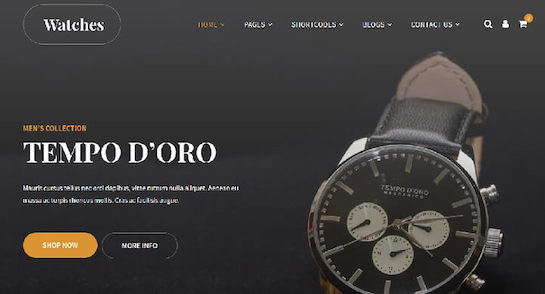 If you want more and more clients and consumers flocking to your store, fashion center, design agency or parlor, Luxury Watch is what you need.
The overall expenses that can weigh a ton for fashion designer WordPress themes searchers can be obviously cut down to the minimum with Luxury Watch.
This luxurious and elegant, glorious and fully flexible template can be a real revelation for you with its affordable pricing yet feature rich toolkit.
Get your users engaged with your animated content and high quality images on the homepage slider, easy to find content and homepage sections, prebuilt contact form, standard pages like 404 or search and finally, mobile friendly layout.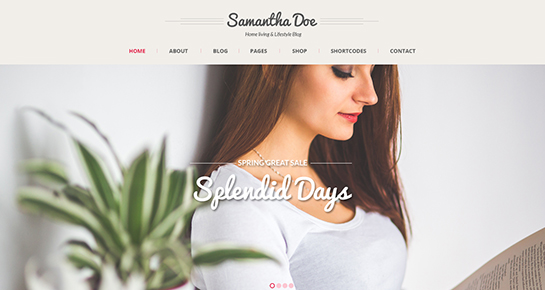 The next fashion and feminine centric website building tool that will help you take your peak in no time comes known as Girlie.
Designed with awesome taste and integrity of all the compulsory touches, this template is the best for girl entrepreneurs and fashion beasts, woman bosses and creative teenagers to win the attention of more people online.
In a nutshell, this exquisitely versatile and subtle template suggests the most reasonable quality price ratio. While being affordable even for startup design companies or private designers.
Girlie is powered by the most advanced and customizable framework to take your website to higher stages in terms of population and client engagement.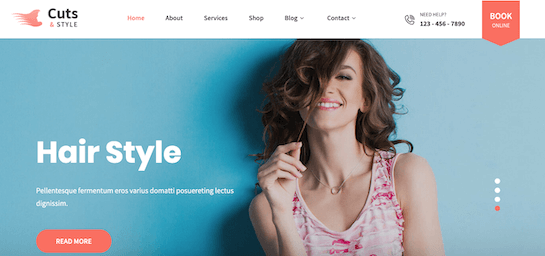 CutsNStyle Pro is the last artistic approach to building any fashion designer, artist and performer website to get in on the modern digital campaigns and strategies without spending much money on them.
Convenience and adaptability are at your disposal letting you take advantage of every single part of the theme and restyle or reconstruct it to match your fashion design tastes or philosophy.
The theme's practical and intuitive customizer platform paired with easy to follow instructions available in the accompanying documentation of the theme is what will help you get your leg up and enjoy all the advantages of multilingual web content, cross mobile and browser support, blog integration and more.