Are you confused regarding what is it that makes event WordPress themes special?
Event themes not only promote your events but create resources to reach out to the target audience. They also ensure that the potential target identifies why the event is suitable for them and how can they register for it. But can we not do it with any WordPress theme? The answer is no.
All WordPress themes are not the same. Event themes are niche-based and loaded with functionalities so that you do not have to rely on plugins. Moreover, there are fancy and worked out templates that can help you in setting up a stunning and powerful website.
This compilation includes plenty of distinct themes. Explore them all and select the one that best suits your event business model.
Event Planners Pro is a strong competitor to all the options in this collection of event WordPress themes. The sole reason being, that it includes everything required by a website related to events promotions.
This is just what you are looking to make a terrific website if you are an event management company. You get access to a one-click demo installation which helps you in knowing how the actual website operates.
Irrespective of any kind of event that you are planning to promote, this is a completely customizable theme. Hence, all elements can be frequently modified according to the demand of the project.
Best Event WordPress Themes for Event Agency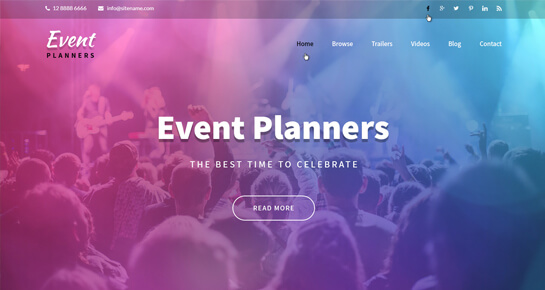 Sliders are provided and it is fully controllable so that you can easily decide on the content and marketing strategy. Integration with social icon packs and Google Fonts is an add on.
Plugins of all kinds including WooCommerce are supported and payment gateway can also be integrated. Here is your chance to create a rich website with all details without worrying about the performance.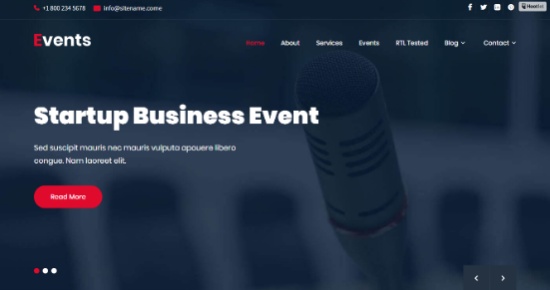 SKT Events is a special theme in the event WordPress themes compilation because it has been solely developed for featuring events. Events of all kinds including small, big, professional, social, personal, etc. everything can be featured here.
The overall structure, layout, and framework have been developed after considerable research. This gives you an upper hand with your competitors and the technological advancements always give you a cutting edge.
Irrespective of the kinds of events that you want to feature you will find a pre-built option that best suits it. Ideal and realistic designs connect with the audience and create a mesmerizing impact.
One-click installation, one-click demo, comprehensive documentation, and one year support are the added advantages.
It is retina-ready, HD-ready, translation-ready, multilingual, and integrated with Google Fonts. Lastly, plugins of different types have been tested and can be installed to enhance the features of the website.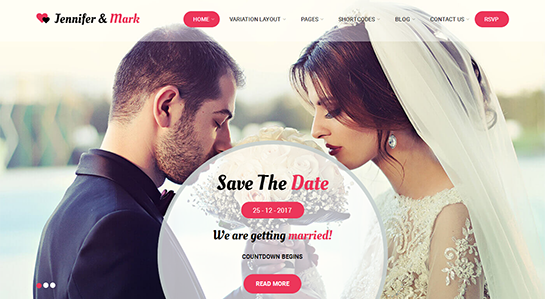 Wedding Rituals is also a one of its kind option developed particularly keeping in mind the wedding-niche. It has a wide collection of homepage layouts which can help you in coming up with a beautiful landing page.
The pre-built content will help you in quickly setting up the website. There is no need to develop anything from scratch because all the basic information, graphics, and layouts will suit your needs.
With minor modifications and proper information, you should be good to go. Setting up a fancy gallery with plugins is possible and helps you in setting up a distinct mark for your agency.
Freedom in customization and the ability to manage all elements can give you exactly what you need. You can set up a blog along with the same or an online store if that is required. All other technical factors are well taken care of so that you do not have to worry about it.
Banquet Hall Pro is one of the most popular and widely used themes for events and conferences. Many renowned agencies and management use it with a focus to promote multiple or single event online.
The best features of the event can be mesmerizingly highlighted on the homepage in the default layout.
If required you can also set up a countdown timer during the beginning, ending, or entire phase of the promotion. The profiles of the key artists, musicians, speakers, and other necessary information can be easily accommodated.
For priced events, a pricing table can also be set up where visitors can compare the ticket prices.
Without any failure, integration of Google Maps and social media handles are possible. This ensures that your audience remains connected with all major updates and knows the location precisely.
All kinds of modifications as needed to present the event in the best manners are possible. In addition to the inbuilt features, other functions can be quickly added through plugins.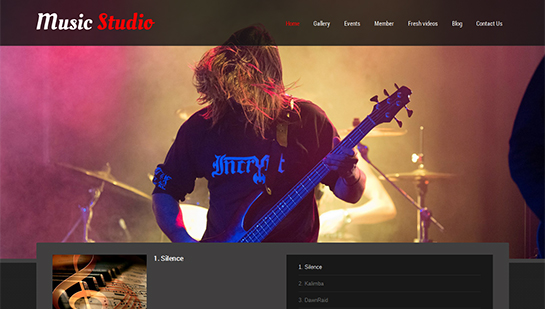 Melody is amongst the most recent additions in the compilation of event WordPress themes. Basically, this is a multipurpose theme but it has peculiar features that can perfectly suit for creating an event-based website.
The management of the entire theme has been kept simple so that no extra individual has to be appointed for the same. It is well documented and you also get free installation.
In addition to this, you can also rely on the developers for any kind of support for the tenure of one year. It has a variety of layouts for the homepage, footer, header, and even for the sidebar.
All templates are HD-ready and completely customizable. This means that you can easily modify or tweak any elements to ensure maximum audience attention.
All standard pages are provided and colors can be changed as required from all elements. WooCoomerce support is also offered and any other missing feature can be easily added through plugins.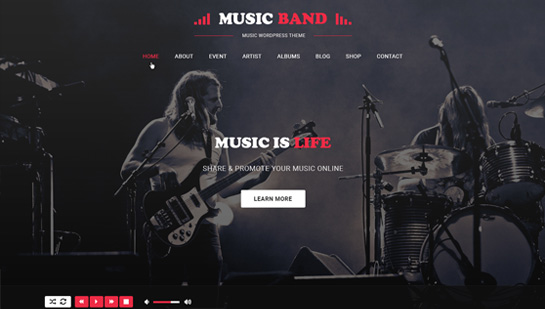 Music Producer is next in the compilation of event WordPress themes. This is again a multipurpose theme but it gives you full freedom to manage and modify the website.
This peculiar feature has won the hearts of hundreds of users. When you design a layout and template as per the choice of the audience then you are on the winning side.
You can decide on all aspects including fonts, layouts, style, segments, pictures, graphics, etc. Ultimately it can help you create a one-stop-shop location for all the happening events around the country. It is SEO-friendly and the coding supports all the prerequisite standards.
You can also find certain pre-built variations of the templates which can be applied quickly. In addition to all other segments, a blog section is provided for your use.
It can be translated to the desired language because it is translation ready and multilingual. All kinds of plugins including free and commercial can be installed and it does not impact the performance of the website.
Christmas has been an emerging trend when it comes to event management, promotions, and advertising. Events play a crucial role not only for commercial purposes but also for celebration events like wedding and baby-birth.
Hence, to do full justice to such scenarios minimal blog is the perfect option and has made it to the list of event WordPress themes.
When it comes to events they are vibrant and dynamic but blogging about them is a different thing altogether. Blogs are meant to be with minimal design but given the niche here, we can easily modify to bright colors.
In addition to blogs, you can also easily set up a gallery where pictures related to specific moments can be stored and captioned. In terms of performance, it has already proved its skills and is unbeatable.
The coding is SMO and SEO-friendly and it is translation-ready. Moreover, all kinds of minor and major modifications can be easily done.
Nuptials is amongst the most widely preferred commercial event WordPress themes. For any firm or individual who intends to promote the event in an organized and professional manner, this is the theme.
The design here is attractive and modern which makes it an ideal choice for a range of events. You can upload a prominent image on the default slider and create a strong visual impact in the first glance itself.
New and registered users both can enjoy all the updates with the facility of the newsletter that can be set up easily.
It has been configured in a manner that the most important information can be easily displayed on the homepage itself. If required it can be segregated into sections or pages for detailed information.
Everything from the colors to the entire template is modifiable to meet the requirements of the project. Plugins of various kinds and types are supported which enables you to enhance the features.
SKT Marathon is a professionally designed and developed sport event theme that has made it to the compilation of event WordPress themes.
It fulfills all the requisites in terms of design, flexibility, responsiveness, and ease of handling for a niche-based website. Additionally, all aspects, elements, templates, and layouts are completely customizable.
This provides an opportunity to establish and set up an impactful landing page and a mesmerizing website.
Even if you choose to create a completely fresh template then it will be retina-ready. This means that irrespective of the browser version, screen size, or device it will be featured perfectly.
All the basic and mandatory information can be displayed on the homepage including location, date, and artists/speakers. Early registration and payment in advance can also be collected easily.
All necessary integration of payment gateways and plugins is possible for better user experience. Lastly, the overall framework and structure of the site is solid and coded by experts.
This is an exclusive and one of its kinds of themes for creating an event-based website. It is versatile, multipurpose, and stylish along with being extremely impactful. You can quickly lay the foundation of your new website with its superior installation process.
The entire process and other necessary tasks are comprehensively documented for you. You can manage, add, or remove elements from the homepage to make it fascinating and feature-rich.
Including a timer or countdown can also be easily managed with the help of the plugin. If there are influential speakers or recognized artists then with panorama you can portray a larger than life-size image.
Establishing galleries for previous and future events with optimized photographs are easy. Setting up a blog if required is also easy.
If you are stuck somewhere before or after the launch of the website the customer support is there for your rescue. Overall this is a fine-tuned theme and perfectly eligible for creating a stunning event-based website.
This is an exclusive option in the event WordPress themes compilation that is particularly inclined towards weddings. A wedding is a once in a lifetime occasion and most people ensure that make it memorable.
In this entire process of organizing and arranging everything wedding managers play a crucial part. You can create a wedding management website and specialized wedding photographer website with this theme here.
All elements, templates, fonts, styles, transitions, pages, etc. are designed by keeping the wedding theme in mind.
Gallery will help you in showcasing all your previous achievements. Sliders will ensure that all the latest information related to your schedule or wedding is featured in style.
When it comes to functionality it is responsive, has the best loading time, and is optimized for SEO. Al kinds of plugins are supported which ensures that there is no deficiency of functionality. Video links can be easily embedded and booking can also be managed from the website.
The final theme in this awesome list of best ever event WordPress themes is SKT Funeral Pro. It is a perfect theme to conclude this compilation because it is powerful, multipurpose, and versatile.
You can easily feature artistic concerts, professional seminars, or corporate conferences with full control over everything. It has provision for all of them and you will 100% find a ready-made homepage suiting your need.
The entire design and layout will change with the homepage that you select so that each section and pages of the site reflects class and perfection.
There is no limitation to adding plugins and you also do not have to worry about the performance. It has the best loading speed and is responsive across browsers, screens, and devices.
It will perfectly serve your purpose of making an audience engaging website for the promotion of different events.