Driving School WordPress themes have been discussed in this article for your reference.
WordPress as one of the leading content management and publishing software is custom designed to make displaying any kind of individual and business content as easy, fast and agreeable as possible.
By means of its simple and easy to utilize interface and structural peculiarities, developed to be accessible to any average user with a blogging or publishing knowledge of any level.
These are the main reasons thousands of people worldwide turn to the driving school WordPress themes without any confusion and hesitation to proceed with their initiatives and trying to foresee all the success their online profile may inevitably lead to.
This time we have done our best to review the relevant theme market for today and handpicked the top –rated driving school WordPress themes to suit any type of driving institutes and schools for creating the best web experience.
And running an exceptional driving school website without any hassle resulting in directing lots of new clients to the target business and winning their confidence towards it.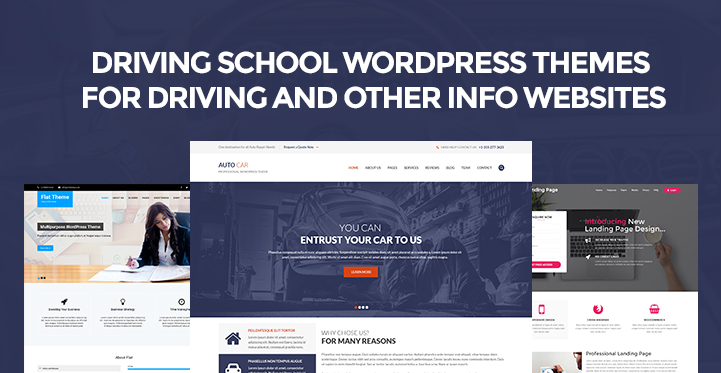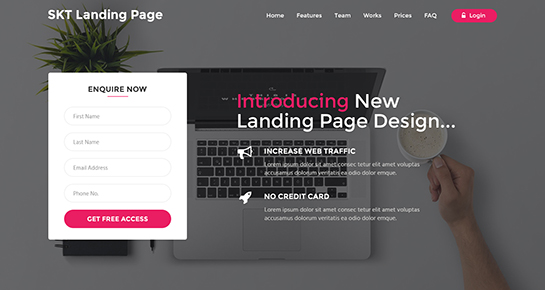 SKT Landing Page with its multipurpose and multiuse – ready nature is uniquely positioned to be a perfect content creation and management platform for all training centers, particularly those dealing with driving classes.
The structure of this high – quality and modernly stylized, easy to follow, understand and utilize, dynamic and creative, user and developer friendly, SEO – optimized.
Plugin – compatible theme is so flexible and adaptive, that it will be up to you to decide how it should look and function to boost your business presentation to a higher level of success.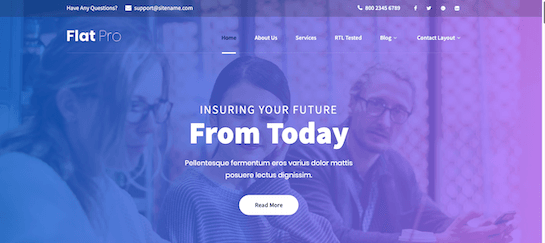 SKT Flat Pro is the next thoroughly thought out and seriously developed driving school WordPress theme to present professionally managed content specific to any driving school or center and let it be work stunningly across all the modern devices and mobiles.
The simplicity and versatility of this truly amazing and visually eye – catching template is annexed to all – inclusive package of prebuilt features and elements to give any single person unlimited customization possibilities to stress the core points of the relevant driving business and keep the website visitor's focus on them.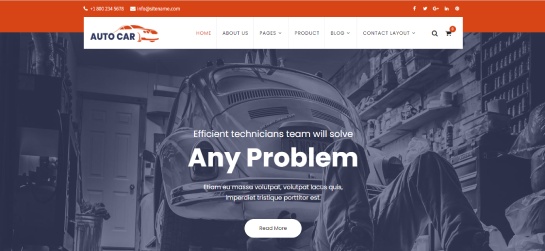 Based on strong and inherently dependable modern coding solution, commercial – friendly platform for WooCommerce compatibility and any e-commerce activity, powered to be retina ready and Google font included.
It is fully responsive and mobile – optimized, auto and automobile industry – centric, Auto Car has all the potential to be called a perfect website building tool for any driving school.
This creative and inspiring template features precisely arranged theme sections and areas to showcase all the relevant multimedia content, including all the available driving classes, types, pricing, photos of the cars and driving instructors, videos of some successful trainings or any other information relating to driving education.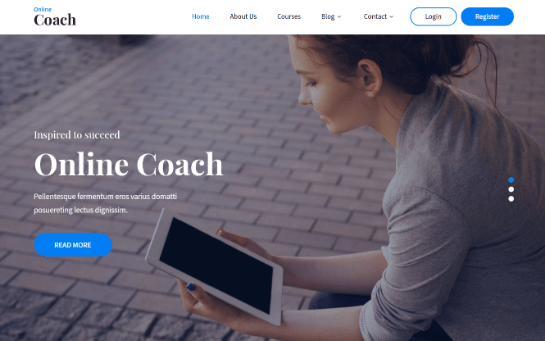 Online Coach Pro can be the best partner and assistance in your driving school business growth in the most effective way.
This versatile and resourceful, visually strong and motivational, technologically refined and easily navigable template has been built in such a way as to provide any target audience with the positive customer experience and get your website high on search engine rankings, since SEO and SMO – optimization has also been taken care of.
Anyway, the advantages of Online Coach Pro are not limited to the above – mentioned qualities and include also tons of customization and management options, multilingual support, event calendar plugin for scheduling the trainings, and finally 100 % responsiveness and mobile – optimization.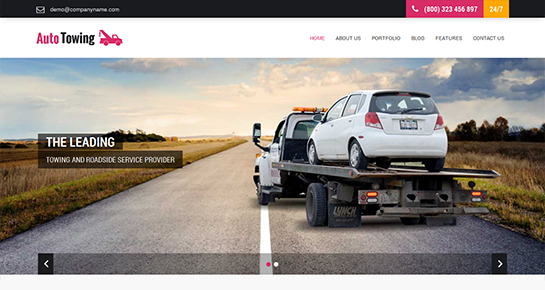 If you are looking for a highly perspective and totally competitive WordPress – supported platform to beat other driving institutions online, yet want to save your financial means and minimalize your efforts to be spent on the creation and configuration of your website.
Here is one of the cost – effective, yet amazingly practical and beneficial way to use on the basis of your online driving school.
This uniquely stylized and launched template offers lots of incredible features and elements each preloaded to somehow strengthen your web page performance and functionality, so that your website users will be able to enjoy the flawless navigation and high –quality browsing of the website without facing with any displeasure.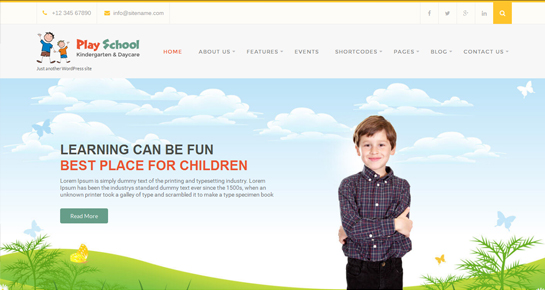 Play School is another ideal selection among offered driving school WordPress themes at your disposal to acquire and configure it to function as desired.
This template is especially suitable to deal with beginner or teenager segment of future drivers and offer your driving courses in the summertime or after their classes at school.
All in all, on account of your informative content and flexible schedule it will be a joy for every potential client to look for the needed information on your website first, and then choose the best educational driving course to pass.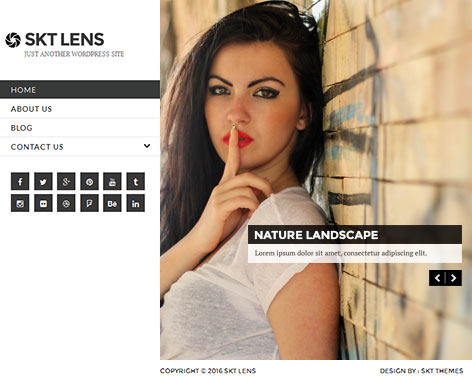 By the great support and professional disposition coming along SKT Lens Pro your driving school or institution will totally own the runway and will make it easier for your to achieve all your professional objectives in the nearest future and with minimum time spent.
With this fast loading and highly resilient, smart and secure, conceptually well thought out and visually engaging, translation – based and WooCommerce compatible, the immensely responsive and intuitive theme.
You will definitely get the successful online business manifestation you have always dreamed of and be able to keep it effective all the time.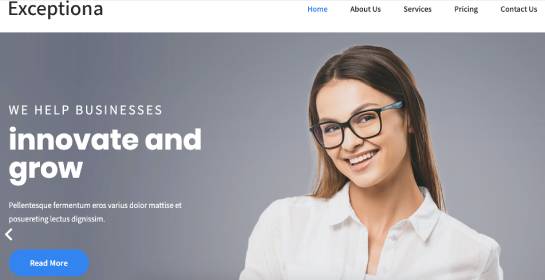 Exceptiona is polished and pliable, smooth and sleek, interactively designed and nicely stylized WordPress – authored driving school template.
It has all the potential of being transformed into the most competitive online platform, where each interested candidate will be capable of finding the detailed information about your driving business and perceive its advantages over many others.
Responsiveness, mobile and browser compatibility and flawless dropdown navigation are endless with this truly exceptional template, enabling your website to adapt itself to any screen size without causing any functional or visual losses.