Human beings need a bit of an adrenaline rush now and then, but our sedentary lifestyle doesn't provide that. This is the reason that amusement parks have always been popular. It gives people a feeling of excitement and adventure!
If you run an amusement park, you are more likely to attract the locals first. However, with time you can increase the reach of your amusement park by using a website.
If you can make an online presence, people from a greater radius will visit your amusement park. An online presence can range from a website to social media channels.
No one will deny that having a website is the first step to building your online presence. With a website, you can provide information about your amusement park, like its opening hours. Your customers will also be able to book tickets online.
Once you have figured out that you need a website, you will discover that you need to decide on a hosting partner and a CMS.
WordPress is one of the most popular CMS and it supports the majority of websites online. So, it is safe to choose WordPress and you can also check out the hosting partners they recommend.
Once you get started with WordPress, you will have to decide which theme and plugins you want to use. There are a lot of amusement parks WordPress themes in the market, but these are the best ones.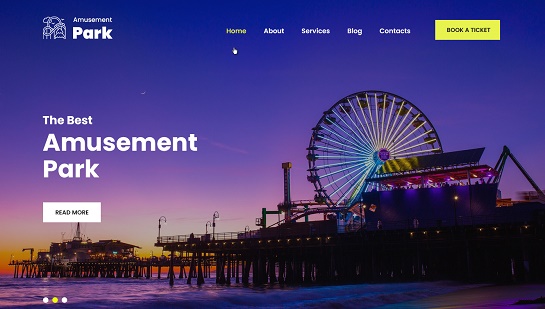 This theme makes people want to visit your amusement park. You can add lucrative images of your amusement park in the available space. You should keep track of the number of visitors who have visited your amusement park till this date.
This will help you run email marketing campaigns, and you can highlight such feats on your website. Of course, the SKT Amusement Park theme allows you to display the number of happy customers you have. With the help of this theme, you can display the different types of rides available in your amusement park.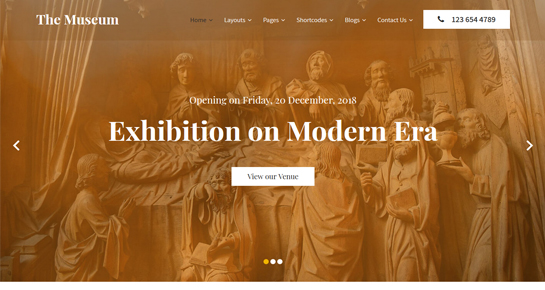 The Museum Pro theme has a classy look with a color combination of golden brown, black, and white. This theme urges the user to take action, as they provide a CTA on the header itself. It is perfect for museums, parks, sanctuaries, adventure parks, water parks, and other leisure locations.
You can highlight the rides that are popular with the customers right now. So, that rides are more likely to satisfy the customers and get more bookings.
Some companies have adventure parks in different locations throughout the country and the globe. This is especially true for companies that have existed for a long time and got their branding done before the digital age.
It is never too late, and now you can display the different locations of your amusement parks with the help of a website. Give your customers an easier experience by allowing them to book tickets online!
The Banquet Hall Pro is a great theme for any event-organizing company. With a few changes, you can use this theme for your amusement park too.
You can add pictures of different rides and explain the experience of each ride. When users find an interesting ride, they can click to book their tickets.
Many amusement parks provide tickets collectively for a combined pack of rides. If your adventure park has such different packages, you need to explain the packages on your website.
Thankfully, this theme has space where you can explain the pricing plan. You can add the different combos you offer, the rides included in them, and the price for each ticket. This makes it one of the easiest-to-use amusement parks WordPress themes.
SKT Extreme is a theme designed for the field of extreme sports. If you want to develop a website for your adventure park, you need a theme that matches the spirit of excitement.
This theme is perfect for the same. It comes with convenient copyright-free images. If these images are related to the activities of your adventure park, you will not have to change them.
You can highlight the number of activities provided by your amusement park so that people will know what to expect.
There is a lot of space to describe the activities provided in the amusement park. This theme has a section where you can explain why people should visit your amusement park. You can use animated elements to convince people to plan a visit.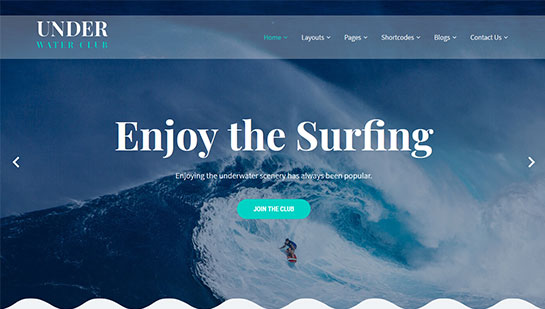 The underwater pro theme is best for aqua diving clubs, sea adventure clubs, waterparks, surfing clubs, etc. That's why the main color of this theme is cyan which resembles water.
This theme works in accordance with the updated version of WordPress. All the images you find with it will be copyright free. So, if you feel like it, you can use them without making any changes.
A slider is available with a call to action button of joining the club. You can take bookings by using this theme. Below the slider, you have space to show the different type of services you provide, like surfing, rafting, diving, snorkeling, etc.
You can edit the teme to add the services that your amusement park provides. The homepage of this theme is video friendly which makes attracting customers easier. This is why it is one of the best amusement parks WordPress themes.
SKT Marathon is a vibrant theme which can be used by marathon organizers. It has a lot of components which your amusement park can use.
This theme can sustain an active blog. Now you can gain the attention of potential customers with the help of your blog posts. It is extremely easy to install this theme and activate it.
GB Extreme is built for websites that are in the adventure niche. While this theme comes with extreme adventurous images, you can change the images and add the images of your amusement park.
Other than that, it has features which can help you gain new customers easily. This theme allows you to publish feedback from customers, make bookings online, publish blog posts, and describe your mission statement.
This theme is based around the niche of mountain biking because of this it has the vibe of adventure. That's why you can use this for your amusement park as it has elements which can be useful.
The header menu can guide the user about the different sections of the website. With the help of this theme, you can run a newsletter to keep the customers engaged even after they have left your amusement park.
This separates it from other amusement parks WordPress themes. The Mountain Biking theme has space for an entire gallery filled with images. You can add images of different spots from your amusement park.
Other than that, you can also add the WooCommerce plugin to sell products related to your park online. In the section above the footer, you can provide the important details like contact number, address, and contact form.
The adventure WordPress theme can be used for any adventure sports website, you can list out all the activities that will be conducted and sell merchandise.
This template is mostly used for summer camps, but it can also be used for an amusement park. It has around 600 plus social icons, so you can integrate your entire digital presence with this one website.
Some of your adventure rides are likely to do better with the consumers. You should highlight the rides that the customers love and you can do the same with this theme.
People are more likely to believe that an adventure park is good if they read customer reviews. Thankfully, this theme gives a lot of space to you where you can showcase positive reviews.
The Martial Arts theme has a certain design style which also suits amusement parks. With the use of this theme, you can convince potential customers for visiting your amusement park.
Visiting an amusement park is a relaxing experience, you can include this in the reason for visiting your amusement park. Describe your services with the help of animated elements and text.
Show the results of your amusement parks with the help of numbers. You can highlight the number of rides you provide, the number of years you have been in business, the number of satisfied customers, etc. After all, numbers can be used to build trust with potential customers.
This theme is great for summer camp websites. When the camping season hits, you can gain new customers with the help of your website. Make the booking experience effortless with the help of this theme.
This theme helps you describe the services that your customers can expect from you. Even if you run an amusement park it helps to let people know the services you provide and facilities you cannot provide them.
This ensures that customers come to you with right expectations. You can attract the right crowd by getting traffic from search engines.
This can happen if you publish a lot of content regularly. Thankfully, this theme is going to be used on one of the world's best CMS.