If you are thinking about using WordPress project management plugins and other resources to create better communication with potential clients and customers, save time and keep things in order, we are totally behind this choice!
In order to succeed in business, you need to be quick and organized all the time. Regardless of the field or activity you are in, planning and organization of your own resources, staff, members, etc. are essential to move a client's project, important task or program toward completion.
A professional project management is one of the top secrets behind the world's most successful businesses and undertakings.
From better workflow and efficiency in rendering services to better supervision over the projects, the advantages of having a multifunctional project management system at your disposal are endless.
WordPress can be a good choice when it comes to PM controls when equipped with relevant project management systems and tools. Moreover, the open source and extensible nature of it is more than enough for you to add all the required PM tools and manage them accordingly.
If you need a kind of roadmap on your website to keep all the important tasks, events and projects under constant control, check WordPress project management plugins and other resources we have compiled below.
All of them are well thought out and reliable from a functional viewpoint, so that the improved work and satisfied clients are guaranteed.
Choose anyone from the list below and have the view of your important projects and tasks, events and other scheduled works, and generally, everything that is going around your business.
Asana
Asana is one of the simple and easy to use WordPress project management plugins and resources you can integrate with your WP site and easily track your projects and tasks.
This application will walk you "from chaos to clarity" and help you find the best working way from start to finish.
First, you need to sign up for this service by registering your name and email. Afterward, you can register your team members to become the authorized users of your program or task sheet.
If you are going to register up to 30 users, then you can use this service for free. If your team is larger, you need to go to premium.

Asana Task Widget: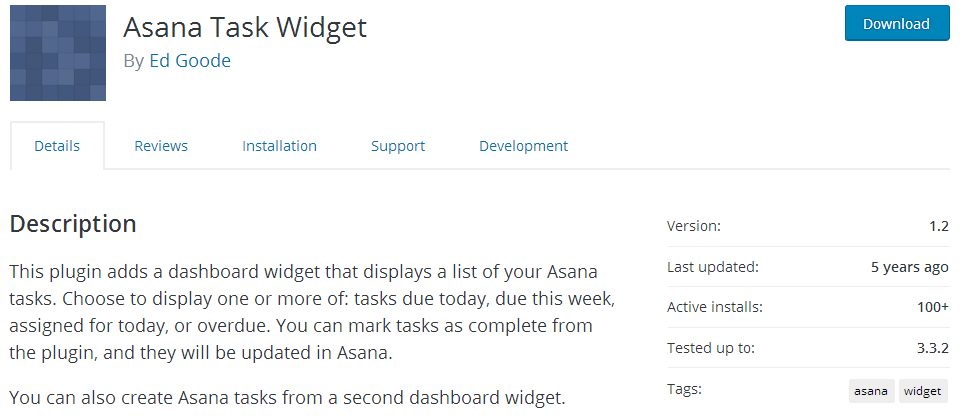 If you want to integrate Asana into your WP powered site and manage everything from your own profile, you will need the official widget of Asana called Asana Task Widget.
Once you are done with its installation, go to profile screen page, at the bottom of which you will need to enter API key and Workspace (you can check your Asana account settings to get API key and Workspace).
Now, you also need to select which types of task you want to show in the display widget, like show tasks due today, show tasks to be worked on today, show tasks to this week and more.

WP Project Manager
WP Project Manager is one of the most trusted WordPress project management plugins to bring every single thing you and your staff are working on under the same roof.
Instead of having workers scattered all over the place, notes and papers here and there, you will have one centralized solution to boost your workflow and get higher results and returns.
WP Project Manager comes with a simple and intuitive interface so that anyone will be capable of creating new projects via this plugin and supervise them until it is successfully finished.
Apart from creating projects and tasks, this plugin will let you set title and other details of them, assign users, use messages for discussions and add attachments to those messages, etc.
As for the projects and their edition, only editors and admins are authorized to create and edit projects. As for task and to do lists, messages or milestones, admins and project co workers will be able to create.

SP Project and Document Manager:
Another useful tool to coordinate your actions and keep your team well organized is launched as SP Project and Document Manager. It makes the management and supervision of documents and projects across different forms and fields amazingly simple and accurate.
Actually, it's an optimal tool to manage projects and documents easily within your WordPress site.
This plugin is available both in free and premium versions, with the last one with additional features and controls, including custom fields and custom email notifications, project thumbnails, responsive layout, file collaboration, etc.

TaskBreaker: Group Project Management: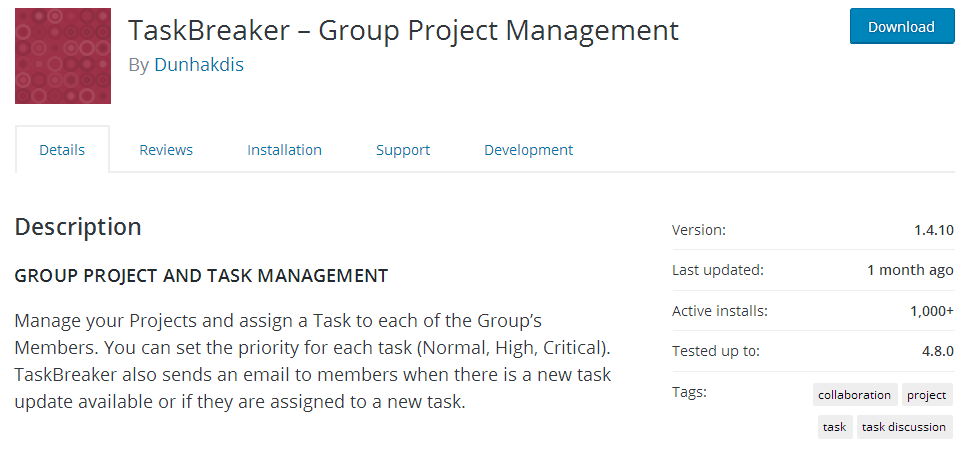 The next highly productive, yet lightweight tool among WordPress project management plugins is TaskBreaker. By the application of this tool, you will be able to break down your project and assign tasks to each member or co worker. You can also set normal, high, critical priorities for your tasks.
Whenever the task is updated, the plugin will send a notification email to the members whom the task is assigned to.
All in all, TaskBreaker can be your right hand to let all your team members know where the things stand and what each of them is supposed to do.
However, make sure that you are using BuddyPress or BuddyPress Groups Component, otherwise TaskBreaker will not work for your site.

Project Panorama
The last WP project management plugin that is going to transform your WP based website into a fully equipped and highly functioning business management tool is Project Panorama.
Inherently flexible and smart, this plugin will be the central source of truth when it comes to your projects and communication between project members and clients.
Keep all the parties up to date and reduce wasted time to be spent on constant calls and inquiries about the progress of the project.

Once the plugin is installed from the WP plugins directory and properly activated, you can go to the plugin, click on the Projects and make your first project live with relevant details, like description, start/ end date, milestones and more.
Micromanaging a project can often be overwhelming which is why you may want to migrate to an online environment and try handling the same with the help of some of our WordPress project management plugins.
This should enable you to seamlessly handle the work, delegate responsibilities, even hold conference chats, set up a group conversation and much more with ease.
Most of these plugins come loaded with various tools that allow you to micromanage the project with ease from start to finish and all that's left to do is to ensure that you have all the required PM tools and plugins you need, installed on your website.
Here are a reasons as to why you may consider opting for WordPress project management plugins for your website.
Ease of use: Most of these plugins come with built-in project management tools that you can utilize to communicate, share information and folders with the rest of your team. Apart from this, they are apparently easy to set up and moreover, you can customize these tools and even expand its use, as you see fit.
Tracking: Some of these plugins allow for real time tracking so you should be able to instantly see the status of your project and the various tasks that you had allocated to others. This is important especially if you are handling a huge project and currently micromanaging over 30 different team members, each handling a specific task that's been allocated to them. With this tool, you should be able to keep on top of events and even ensure that all the delegated work gets completed ahead of schedule.
Enhanced communication: Some of the plugins make it possible for you to initiate a group conversation with others in your team and even share large folders instantly, so that each person in the team had the required information they need to carry out their tasks. Furthermore, by communicating more often with your team, you are able to get a regular update and even handle issues more effectively as they crop up.
Motivation: Some of the plugins allow you to set up milestones while with others, you can set one up and integrate it with the calendar. This should serve to act as a morale booster and even motivate them to complete the milestone within the specified time frame.
Invoicing: A few plugins do feature this handy tool which makes it possible for you to invoice your clients and to track and receive the payments in real time. Assuming that your website features a payment gateway, you can use the same to disburse payment to other members of your team and even include a nifty bonus for a job well done.
These are some of the reasons as to why you need to download, install and activate the various project management plugins on your WordPress site at the earliest.
With the right tools at hand, you should be able to optimize your team's performance and be able to handle small or large projects effectively.