WordPress coupon Plugins are great when it comes to converting any WordPress powered website into fully integrated and flexible coupon and discount, e commerce or shopping environment.
With millions of online customers and shoppers trying to find best products, discounts and deals, seasonal promotions and pre launch offers, it becomes inevitable to make your website as versatile and presentable from a commercial standpoint is it is necessary for generating an unbeatable client experience.
This is where WordPress coupon plugins come into play for making your website or online storefront more effective and easy to use with coupons and deals functionality.
Whether you are engaged in food service and delivery, hospitality or service provision business, you need to take advantage of periodical special offers and discounts to keep customers and increase your profits.
Giving out your coupons with the help of your professional website is not only directed to guaranteeing more sales and customer engagement, but also to the establishment of your brand awareness and popularity, as coupons act just like brochures or printed advertisements and fix your specific business in the client's perception.
Hence, with all the above mentioned advantages of coupons for your website and not only, let's check out the best WordPress coupon plugins you can quickly add to your website to keep current audience and add new clients, as well as generate discount codes, display coupons, add countdown timer and more.
Finale is what will guarantee the comeback of all your marketing efforts. As one of the popular WooCommerce based WordPress coupons plugins, Finale is going to give you an ultimate freedom in your actions to promote your sales whenever needed, schedule sales and discounts campaigns, keep the visitor's eye on season discounts and coupons, etc.
This plugin is very lightweight and simple in usage and comes with preview options letting you preview your site's coupons once they are properly created and stylized.
Another must have functionality for e commerce platforms and stores is countdown timer offered by Finale to let your shoppers know the deadline of your offers so that they can plan their actions.
A wonderfully processed and all in one solution to creating and sharing coupons through your site is what Coupon Creator is all about.
Customize your own coupon while taking into consideration all the nuances and client requirements or upload a ready made image to be showcased as a coupon.
Once your coupon is ready, you can allocate it on your site wherever needed in posts or pages, as well as set the time it will be visible to your audience and after which it will be deleted.
Coupon Creator also offers add ons and Pro version for you to play with more options and management features, visual editor and much more.
Another valuable tool among WordPress coupon plugins to make your commercial environment more proactive and dynamic with diversified solutions and offers is called YITH WoCommerce Gift Cards.
Designing gift cards and coupons to match your logo or brand, to bear the same color gamut as your company or brick and mortar store does and share it on your website for the clients to acquire is one of the proven marketing tools as of present.
YITH is specialized in providing you with such working platform to enhance the sales and purchases of your online store based website.
The main features to be found in free version enable you to create customized gift cards with certain amount and send it to its end user or recipient via email.
With Pro version you are going to find more control over how your gift cards and coupons are presented, cancelled or refunded, presented with amount specified by the client and more.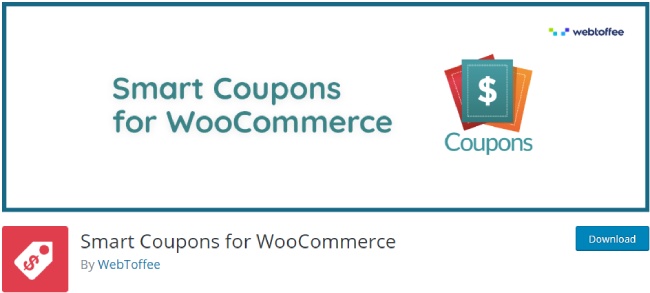 Rewarding loyal customers or first time clients is one of the working mechanisms in an e commerce based society. It always feels good to know you are personally recognized and rewarded by a company or business you have chosen to cooperate with.
Smart Coupons for WooCommerce is intended to bring this mechanism smoothly working with your WordPress hosted website, blog or commercial profile.
Use this flexible plugin to send rewarding coupons to the client who has done his first purchase from your site. It will win the loyalty and attention of many current and future customers.
You are also welcome to customize and finalize the subject and message to be sent via email.
Provide your deal seeking website guests with the best offers via affiliate coupons with the help of one of the best WordPress coupon plugins launched as Affiliate Coupons.
Create top of the line offers in the form of affiliate coupons and integrate them into your e commerce based online activities with Affiliate Coupons and do it in a matter of seconds.
Dozens of customization and management options are waiting for you to create coupons and display them via shortcode, offer filter and sort options for your audience to find what they are interested in, exercise widgets for adding affiliate coupons to your sidebar, manage categories with which they are going to be presented, etc.
Finally, this plugin is well taken care of and regularly updated with all the essential changes and required improvements.

If you are going to make your website superb with out of the box event registration, booking management, Google calendar integration and coupon codes generation, Events Manager will be ideal for you.
It comes with multisite supports and lets personal or group registration, events, locations and category management options, as well as booking forms and coupon codes availability in pro version.
As for the coupons and discount manager part, with Pro version you can create discount codes and apply them to the events presented on your website. You can either apply them to all the events, or some of them.
Hence this one also falls under WordPress coupon plugins list as it is a better applicable one.