So you have decided to start a blog and get profit of it? Great! Cause, in simple terms, a great majority of consumers spend a most of their time online chatting, communicating, posting, but most of all consciously or unconsciously making consumer choices.
That is why it's not surprising that most of businesses and brands understand the vitality of solid and strong online presence on a variety of platforms including Facebook, Instagram, Google plus and more comfortably, blogging.
You still consider the idea a bit complex? Good news: you are not alone.
It is a well known fact that the idea of running a blog might seem terrifying especially when you have no experience in the field.
But running a blog on a WordPress platform and turning your WordPress blog into a successful business does not require any technical knowledge.

How to start
First of all, take into consideration that running a blog for self expression or for sharing your life or some skills is much different from running a blog for profit. There are a few steps that you need to consider before you start:
1.Identify your field
Field identification is the most important step of the structure whenever you want to turn your WordPress blog into a successful business.
You need to understand and make clear for yourself which topic you are going to explore, develop and maintain on your blog.
Make it concrete. Instead of asking "What should I write about?" ask yourself "What I can write interesting and useful content about".
Some experts advise on starting a blog and exploring the field that is not much spoken about, whereas others suggest catching up with trends and giving useful information on a popular (at the time) topics.
2.Find, listen and target your audience
To have the profit desired and turning your WordPress blog into a successful business, you need to understand your audience.
No matter how good or useful your content is, the audience is not going to visit and especially make return visits if you blog is not interesting for them.
Understand the needs of your audience, make frequent surveys, read and reply all the comments, consider them for your following posts and make people feel that their voice matters. Be honest with your readers.
3.Make your blog a Brand
Identify your style, tone, your manner of writing, your posts and design. Make your blog as unique and original as possible. Your blog needs to establish a unique brand that can attract customers.
A little brand brainstorming on your values and your audience will help you create an authentic content and brand.
Branding on a business level is common, but today branding is becoming just as important on a personal level.
Related Post: 9 Ways to Monetize a Blog and Make Money Online
4.Use affiliate marketing
Affiliate marketing is one of the best techniques to be used if you want to turn your WordPress blog into a successful business.
An affiliate program also called associate program is a marketing program that allows you (the affiliate) to receive a commission for promoting a merchant's products. Affiliate marketing is an excellent way to earn money through your blog.
Think of affiliate programs as sales commissions, as they are very similar. Some affiliate programs pay a percentage of the sale, others pay a fixed amount, while others scale up based on how many purchases have been made from your site.
All the affiliate networks have their own tracking, reporting, and payment system which means that you are going to make profit just as much as promised.
Different affiliate programs (in-house and the ones on various affiliate networks) follows different models. An affiliate program model can be:
Cost Per Action (CPA)
Cost Per Action (CPA) model pays you for specific actions and it can be simple form submissions, downloads, surveys, etc.
Cost Per Lead (CPL)
Cost Per Lead (CPL) model pays for leads and it's usually a "signup" that involves email or credit card verification (because it makes the lead more valuable).
Cost Per Sale (CPS)
Cost Per Sale (CPS) model pays for actual sales and it means they share a percentage of sale value with you.
or even Cost Per Click (CPC)
Cost Per Click (CPC) model as you probably know pays for "clicks" — no matter whether your referral traffic helped them generate a lead/sale or not.
There are different affiliate programs that offer a wide variety of goods and services which means you can always find and publish products that correspond to the topic and field of your blog.
5.Sell Display Ad Space
Another reliable way to turn your WordPress blog into a successful business and earn profit from it is to sell advertising space.
A lot of advertising companies are ready to pay money to have their advertisements on your blog if your traffic and content are good for their target and reliable for their business.
6.Make your blog a shop
The popular blog tool and publishing platform WordPress has much to offer to those who want to turn their blog into a real profit bringing machine.
A good start for that is the right choice of eCommerce plugin that will have the necessary management tools for an easy run of a rewarding operation.
Choose a plugin depending on what you will be selling and what kind of features you would need to manage your online store smoothly and efficiently.
Next, you need to consider which payment systems you will use for accepting payments.
Here are some great eCommerce plugins:
Is one of the the most famous and used WordPress eCommerce plugin.
There is a large number of addons and themes available for WooCommerce. They also have a large and passionate user and developer community behind it.
This simple plugin has a set of management tools to start and run your online business. It is compatible with payment systems like PayPal and Google Checkout.
It is also popular for a variety of design customizations so that you can have the desired look and feel of your ecommerce environment.

This is another adjustable eCommerce plugin that can be an irreplaceable tool for managing anything from shipping methods to tracking sales.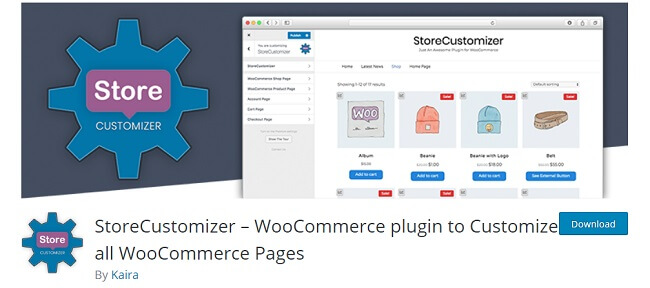 StoreCustomizer is a strong contender in WordPress eCommerce platforms. The best things about this plugin is multiple product types, easy and quick setup, intuitive UI and free stripe addon.