Top 10 Best free Posts Widgets for WordPress
Are you interest to read about best Posts Widgets for WordPress? So, come and read this page and get vast knowledge of updated widgets that can increase your website traffic and many more.
Without a doubt, our motive is to engage more audience with our website. After all, this can increase our profits. The more you publish the good content, the more you get the audience, organic traffic, visitors, conversion rate, visibility, etc. to make all things possible.
WordPress is one of the suitable content management systems that has been used over years worldwide. However, there are hundreds of debates on WordPress's pros and cons, but WordPress stands out the first in the queue of web development to manage everything with ease.
WordPress comes with various plugins that help website Owner to improve SEO and ROI of the website. Well, most of the plugins are paid, and for a newbie, this is an issue. Therefore, most of the people love to work on free tools or basic plugins that offer benefits to a little extent.
Apart from plugins, WordPress theme is essential to boost website performance. And for these widgets are the best. You have some great free Posts Widgets for WordPress that can help to increase your website appearance and performance.
What are widgets and how it works?
In WordPress, widgets are specific small blocks that perform a great function. Even you can add these into sidebars to the webpage. These are small, simple, and perfect designed and structure control units of WordPress theme by the user.
These widgets allow the user to add and widgets area in the theme. These are available in the different designs and features to perform specific functions.
Widgets are codes known to perform certain functions. For example, if the user wants to add a specific ad in the widget area, this can be done easily using a widget.
Well, widgets are of any type. But here in this, we are going to share some of the best free Posts Widgets for WordPress that can maximize your working experience.
1. Recent posts widgets extended
With this, you can display the posts in thumbnails, dates, or via widgets. It also allows the user many features that can attract your reader impressively. It is a highly customized and advanced widget that can better your experience.
Key features:
Give support
Give multiple filters
Support multiple languages
Display date, comment, and current post
2. Recent posts widgets with thumbnails
It is a well-known default widget in the WordPress named with "recent posts". This will format the posts in thumbnails and categories.
Moreover, it has the number of features to display the content in custom-tailored lists. If you have neither highlighted image nor content, you can use default thumbnail.
Key features:
You can customize the theme according to your needs.
Support multiple languages.
It will list the latest posts in thumbnails
It is effective and lightweight.
3. WordPress Popular Posts
It is a superb plugin post that can display recent posts from multiple categories in the widgets area. It is not like a default widget. It is a way to show multiple posts from different pages. The best feature of this, it will allow the user to choose the post which you want to display.
Key features:
Choose your feature posts
Display content from different posts
Featured with shortcode
4. Recent Posts Widget With Thumbnail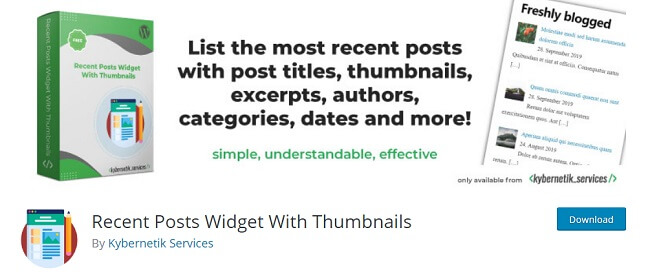 It is a basic/default widget that works exceptionally. If you need posts to type in taxonomy, then this widget is good. It is easy to use and help to show the numbers of posts, pages, and types of any combination. If you need to feature a particular content on the website, this tool is effective.
Key features:
You can customize the posts and images.
Use templates
It can control the output
5. Category Posts Widget

It is a new and advanced featuring widget in WordPress to manage the posts category with thumbnails. This comes under special configuration options to make your content appearance better.
Key features:
Easy to Customize
Provide awesome layout
It is also abbreviated as an RPWP widget. With this listing, you can create slides of content on your website. Nowadays, this comes with some advanced features as filtering posts for pages. Recent Posts Widget Plus can make your content super attractive in slides and link the content and images with specific URL's or posts.
Key Features:
Magic post listing offers three formation options Grid, Stacked rows, and List.
The posts will fit seamlessly in slides.
7. Content Blocks (Custom Post Widget)
This plugin is used for mobile users. Posts slider will show the recent posts in slider beautifully. It is fully-customize, easy, and perfect widget to manage the posts and its structure.
Key Features:
It 100% responsive.
It displays the content nicely that attracts readers.
It comes with hiding/display options.
Lightweight, easy to translate, and loaded with great features.
8. SiteOrigin Widgets Bundle
It is one of the best plugin used in WordPress to make a new widget in the widget area. This can help the user to add the widget to the WordPress theme. With this, you can easily list pages and posts by filtering them into categories, tags, and other custom options.
Key Features:
Add categories to pages.
Make your posts easier.
This will allow us to set and manage the content of the website with author names.
This new widget can display your posts in horizontal and vertical mode. In this, you have the option to select what you want to show and where. This is a new release, so we can't say much about it. Well, it has some good reviews from the customer that praise its features.
Key features:
Very easy to use
Lightweight
Doesn't show thumbnails
10. WP Page Post Widget Clone
This widget is perfect for those who don't about programing language and HTML. It is easy to use to create posts in a list that offer a fine amount of display to engage readers.
Key features:
Easy to use
Smart functions
Great features