Are you surprised by the testimony that podcasting can help you with SEO of your blog or website?
The truth is that it really has to do with the SEO rankings of your site a lot and is the one to make a really noticeable difference.
If you are thinking about the creation of a serious and results leading website or blog, it's high time to think about its SEO. SEO or search engine optimization is the philosophy of getting your digital profile to be displayed higher in the relevant search engines.
The principle is to find your potential clients, customers, website visitors and blog readers at the exact point where they are looking for you.
While there are primary ways to enhance your blog's SEO and result in higher rankings, boosted traffic and new flows of clients, podcasting has its unique place in the list of SEO tips, which needs a discrete explanation since it is sometimes underrated.
Obviously, high quality and unique content with relevant keywords, articles, posts, videos, etc is one of the essential pillars of the productive SEO strategy of your blog.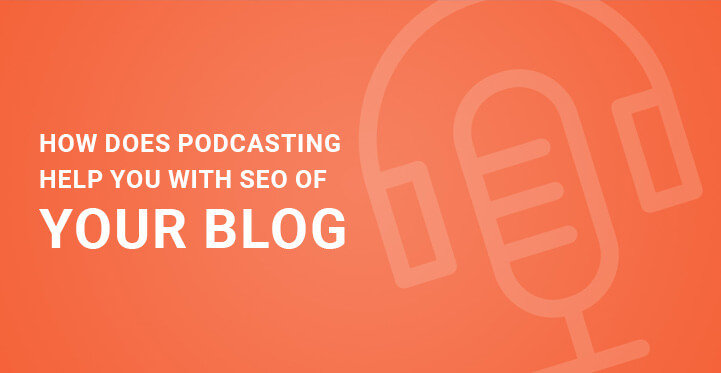 But the well written and engaging content is not the only thing to confide in as a SEO resource.

With tons of people across the globe constantly following, listening and downloading podcasts, they have already become one of the most trustworthy and effective communication ways to reach your potential audience.
Apart from being a powerful marketing tool and a storytelling channel, podcasting can help you with SEO of your blog as well.
Well, the optimization of your blog content via podcasts instead of blogging is a simple way to contribute to your blog's SEO results.
Moreover, today, with the mobile and tablet bandwidth and a mobile consumption of Internet increasing at a pace hard to keep with, sharing your podcasts online and serving them both to mobile and PC consumers is a must.
Now, let's see how podcasting can help you with SEO of your blog and assist you in your search engine optimization campaign.
1. Building your authority, identity or brand
Presenting and sharing your personal or business information in an audio format will help you convey your personality or brand in a much effective way. The reliability of your message will be clearly felt in the tone of your voice stressing all the important points in it.
2. Becoming more social friendly and shareable.
Once you win the needed reputation and social trust, you need to take care of your presence on all major social media platforms.
Since millions of people are active social media users, they would like to share your podcasts on their profiles and engage their friends as well. At this point, you are expected to make your blog podcasts shareable so that they can reach a larger social audience via social networks.
As SEO trusts social signals, ensuring your place and sharing your podcasting episodes in the over populated social platforms is one of the reasonable tactics to use and prove that podcasting can help you with SEO of your blog.
3. Value added or lead magnet content
Value added content is much appreciated by search engines. Videos, infographics, "How to" guides, newsletters, blogs, and finally, podcasts and other audio materials are among such lead magnet contents to be the secret SEO weapons of your blog.
Related Post: How to Add Podcasts and Audio Files to a WordPress Based Website?
In order to optimize your content for conversion, you can embed podcast materials into your WordPress website or blog with the help of podcasting plugins.

It is one of the top rated podcasting plugins to provide you with a comfortable environment to present your podcasts and episodes online. It's an easy to use podcasting publishing tool that is seamlessly optimized for higher SEO results as well.
PowerPress is the evidence that podcasting can help you with SEO of your blog, since it is ready made to improve the discovery of your digital products through Google, iTunes, etc.


Podlove is a reliable podcasting integration and management system to considerably affect your blog's SEO and let you enjoy leading positions online. From multi format podcasting opportunities to reduced working time and flexible templates, this plugin incorporates it all.

Well developed and user optimized, Buzzsprout Podcasting is what you need to embed your podcasts into your site without touching a single line of code.
It comes with fully iTunes support, HTML5 players, description and tagging options, which are relevant to your blog's online visibility.


This one will also let you display your podcasting materials with shortcodes or widget. It supports both audio and video podcasts and is entirely manageable.
You are free to use any post type and even run different podcasts from the same website. You can also arm the plugin with free stats add on and start collecting statistics about your audience.
4. Use online podcasting directories

ITunes, Google Play and Stitcher are online directories to serve as small search engines for your podcasts.
Using customizable URLs, taking care of proper descriptions, titles and tagging will optimize your podcasting materials to popup on these directories sites whenever people are making searches there.
All in all, it's a simple yet effective way to result in better conversion and popularity among the targeted audience.
5. Transcription of your podcasts
One of the best ways to increase the productivity of your podcasts for SEO results is to transcribe them. The transcription is a key element to be recognizable for search engines. Without a relevant transcription, Google and other search engines will be unable to track your podcasts.
Rev / https://www.rev.com/ is a useful service provider to transcribe your podcasts at an affordable price so that you will save your precious time and will be sure that podcasting can help you with SEO of your blog.
Transcribe/ https://www.transcribe.com is the next popular podcast transcription service to provide you with the text version of your blog's podcasts.