The types of bitcoin plugins that are listed below.
A cryptocurrency, such as the bitcoin, is a type of digital asset, which has been designed to work as the medium of exchange for commercial transactions.
As the name suggests, these assets use strong cryptography which makes them completely secure.
Bitcoin, known to be one of the most popular types of cryptocurrency, was first released in the year of 2009 by an unknown organization.
However, it did not take much time to gain the monumental popularity, and as of now, almost all the merchants of the online sectors, including the WordPress, are using it as their medium of exchange.
There are various types of plugins available for the WordPress merchants, which are known to help them in numerous ways, such as offering a cheaper or free transaction fee and minimizing fraud. However, each of the types of plugins generally comes with different features.
Thus, if you are looking to gain more information on this context, then make sure to check out.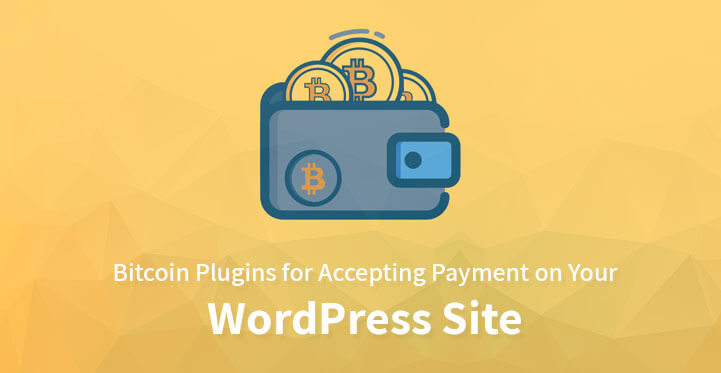 GoUrl WooCommerce
Formerly known as Bitcoin Altcoin Payment Gateway Addon is a type of WooCommerce plugin, which allows its users to distribute files through payments.
If you choose to use GoUrl WooCommerce, then, you also will be able to select the amount that you are thinking to pay. Most of the WordPress merchants consider this feature to be very beneficial as it helps them to attract a lot of customers.
With this type of bitcoin plugin, you would also be able to accept payments through numerous payment processors and gateways such as PayPal, InterKassa, PerfectMoney, Alertpay, Payza, Stripe, EgoPay, and Bitpay for bitcoin payments.
GoUrl WooCommerce allows the users to set the lowest amount limit for their payments. Also, when a financial transaction is completed, you will get a download link from the plugin, which is heavily encrypted and will be available for a limited time period.
Another amazing feature of GoUrl WooCommerce is its ability to download and support big files, which it does through X-send file mode. This type of plugin is also much quicker and easier to access than the others as it uses an AJAX-payment form.
GoUrl Bitcoin Payment Plugin
This type of payment plugin integrates directly on the website of the user without any other external payment pages.
Like some other plugins, GoUrl also allows the users to accept numerous types of cryptocurrency payments, such as Litecoin, Reddcoin, Vertcoin, Dash, PotCoin, Peercoin, Feathercoin, MonetaryUnit, and, bitcoin.
With this plugin, you will also be able to set your desired prices in more than 100 currencies.
GoUrl plugin supports automated synchronization, which takes place in your site and the payment data.
However, if GoUrl is unable to connect with your website, then, it will store the notifications as well as the payment transactions in the queue and will deliver it to you after the connection has been re-established.
The plugin provides its users with ultimate security by using one of the best encryption technologies such as the SSL encryption. This highly efficient encryption helps to protect all your data as well as your customers against hackers or crackers.
Thus, if you are looking for a type of bitcoin plugins, which accepts a wide variety of cryptocurrencies while not taking a single dime from you, then GoUrl should be your go-to option.
MyCryptoCheckout
Known to be one of the most popular payment plugins for the WooCommerce sector, MyCryptoCheckout helps the merchants to accept a wide variety of cryptocurrencies, such as Dogecoin, Dash, Litecoin, Black Coin, and of course, the bitcoin.
The main plugin of MyCryptoCheckout generally uses the Block.io API, which is completely free of cost and is known to be extremely secure.
MyCryptoCheckout can not only spare you from the middle man fees but can also protect your essential customer data efficiently. However, to use MyCryptoCheckout, you would need to have a PHP version of 5.6 with GMP and cURL enabled.
Cryptocurrency All-in-One
Cryptocurrency All-in-One is known to be one of the most popular bitcoin plugins among the people who are not much familiar with exchanges and wallets.
By using the Bitcoin and Altcoin Wallets Commerce, you will be able to transact not only bitcoin but also a few other cryptocurrencies such as Litecoin. Because of the user-friendly interface, this plugin will also be able to quicken the transaction process by a mile.
WordPress Bitcoin Payments – Blockonomics
Blockonomics is another type of bitcoin plugin which helps you and the customers to avoid the middlemen as well as any other third party.
This type of plugin allows the users to accept the payments directly into their wallet rather than utilizing the wallets, which are hosted by other payment gateways. Also, Blockonomics offers its users with 10 free transactions, which will help you to save even more money.
Bitcoin and Altcoin Wallet
It is a core plugin which can be used for both accounting functionality as well as fundamental bitcoin currency. However, like the other types of bitcoin plugins, bitcoin and altcoin wallet also comes with a few excellent features.
Some of these are:
It uses simple and easy shortcodes to quicken the log-in as well as the payment process. The codes also help the users deposit or transfer funds to some other users.
Bitcoin and altcoin wallet uses MySQL database for storing all the data of the users. Because of the highly efficient database, the plugin can cope with the data and files, which are quite large.
It is completely free and helps you as well as the users to avoid the third party and middlemen.
It provides a proper and genuine accounting for each and every user on your site.
As the popularity of the forms of cryptocurrencies is growing at a rapid rate, it is a high time for all the WordPress merchants to accept bitcoin as the only form of payment.
Thus, find the bitcoin plugin that suits perfectly for you as well as your business and make a lot of profits by using them on your website.