Pizza Lite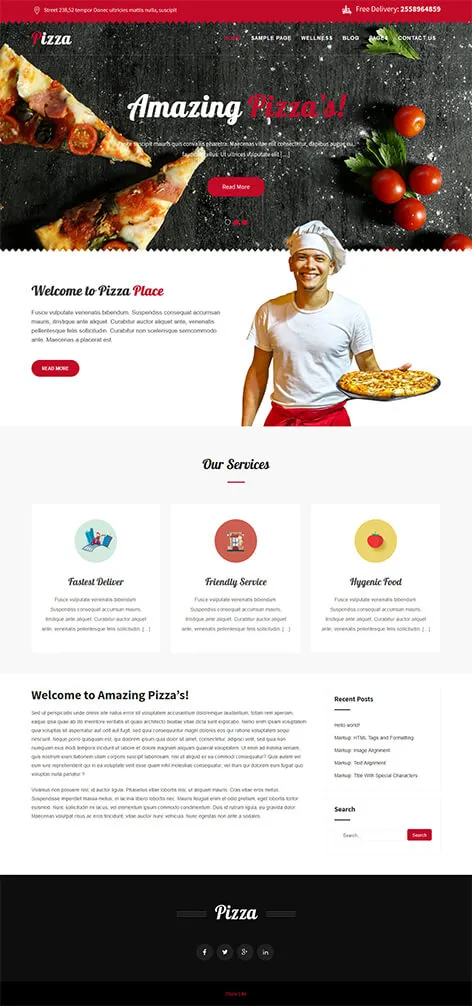 Free
Demo
360+ Themes for $69
Comparison
Free Theme
Less homepage sections
No inner pages
No Support
No Typography Options
No Icon Options
No Header Layouts
No footer Layouts
Less plugins compatible
Less updates
Less flexibility
More Time for Website Build
Free Pizza WordPress theme
Free Pizza WordPress theme is a multipurpose template and can be used for pizza delivery, online food ordering, recipe, chefs, restaurant, cafes as well as coffee shops, cafeterias, caterers and any other local business
Google mobile friendly and has passed its online test as well
Page builder friendly and works with visual composer, elementor, beaver, live composer, blox and other page builders as well
WooCommerce friendly and hence taking online reservations or selling your merchandise as well as products online becomes easier
Online recipe and menu plugins have been tested and found to be working just fine with the free pizza WordPress theme
Simple to manage and even novice and first time users can easily handle the template and make changes to it
Homepage with sections fading gives a nice appearance to the overall feel of the website
Fading effect on the homepage is done using CSS3 which can be disabled as well easily and works well with all devices
Compatible with shortcodes and hence a developer can add their own shortcodes or else can use shortcodes plugins as well to have fancy content anywhere on the website
Social media feeds like Facebook, twitter and others can be posted easily without any issues and one can use them to display the feeds easily
Widget friendly template and hence one can easily post their own widgets in sidebar as well as footer as well so that one can have call to action items like contact form as well as social media widgets and contact details too
Sidebar template of only right sidebar is provided and more templates are offered in page as well as posts for pro version
Standard pages like 404, search, category pages as well as archives pages are also available to give complete website solution
RTL compliant and hence one can easily have website in hebrew or arabic and other RTL languages
Optimized for faster loading with very less scripts and is compatible with cache plugins so that one can have a faster web experience
Reservation and booking plugins compatible and hence one can easily use the free pizza WordPress theme for bookings of table or order for online food
Online ordering WooCommerce compatible and hence one can easily settle payments etc online as well
Modern and interactive and hence has fading effect and animation on the homepage
Flat design approach for compatibility with old browsers as well as modern browsers and devices as well as HD ready too
Cross browser and cross device compatible and hence all types of devices can
Call to action possible with top having area for phone number and address
Commenting, blogging also come natural and hence one can easily have the commenting done using the blog section and blogging is also happening due to
Header and footer layouts as well as page layouts available in pro version
Header slider has 3 slides and more slides and animation and pause control given in pro version
Typography changes are provided in pro version and hence font changes can be done in the pro version
Free pizza WordPress theme has been designed and developed in order to work nicely for the pizza delivery outlets as well as restaurants, cafe, coffee shops, other types of food delivery websites, canteen and other sites as well.
Simple and easy to manage and maintain free pizza WordPress theme for the users who have been developing websites or for those as well who are novice and first time users.
Every business nowadays need online presence and hence pizza outlets and delivery centres also need an online presence so that people can find them online on search engine and then call them using those details.
Some people might want to check the menu as well and do not always have the pamphlets or other brochures handy and hence they might want to check the menu online quickly on their smartphones.
This becomes handy and neat for users to quickly refer to your online menu and then order food online. They can also use the online ordering system and then call you to enquire about their order which becomes even more easier for them to track and handle. Also they know before hand the charges that they are going to pay for the pizza and food.
Our free pizza WordPress theme is a multipurpose template and hence it is compatible with online recipe and menu plugins and hence adding an online menu becomes super easy using this template.
Also it is compatible with WooCommerce and hence one can easily take orders and money in advance for the delivery as well.
One can also use the template for restaurant and can take online reservations for table as well. This template will properly serve the purpose of the restaurant website as well. Since this is modern template it can be integrated with social icon feeds and can have social media feeds on the sidebar as well as on the footer.
Also one can integrate social media icons plugins in order to have more traffic and integrate social media with the website.
Events calendar plugin also can be integrated to let people know about the events taking place in your restaurant as well as your cafe.
Also that can be used to showcase discount coupons and offers as well for limited time.
Also Included with free pizza WordPress theme
Theme FilesTheme files are included in the zip you get when purchased
SupportYou can email us for support of this theme
Tags: pizza pie, slice, pepperoni pizza, pie, pepperoni, deep-dish, pizzeria, dish, meal, pizzas, deep dish, ravioli, calzone, pastry, pizza guy, pizza boy, pizza man, lasagne, pizza topping, pizza place, henry miller, anchovy pizza, leftovers, pitza, jambalaya, dessert, box man, pzza, pudding, cheese pizza, sausage pizza, pisa, pita, visa for pizza, pizza hut, crust, pizza dough, pizza company, pancakes, ragout, quiche, macaroni, patty, bowl, dishful, saucer, bag, base, beaut, knockout, circulating, spaghetti, hamburger, self rising, pise, pisan, soup, international student assessment, pitta, stepping, leaning, in pisa, flapjacks, programme for international student assessment, piece, stew, soup dish, honk, pizza-type, shallow dish, course, it beeps, stir-fry, piet, slurried, thick paste, thick stock, slurry, heavy-based, lured, seduced, home, going wide, peeta, beta, pizzerias, house, tortellini, beta-hch, pita bread, petey, toast, breadcrumbs, pizza joints, bagel, cashier, gets out, cannelloni, pizza places, pizza parlors, pizza restaurants, packer, packager, casserole, wrapper, bagger, plate, platter, sandwich, spreading, pies
Change Log
Updated December 2023
Working With Latest WordPress Version
Updated Google fonts for GDPR and Other Country Privacy
Updated to work with PHP 8+
Updated to work with at least one page builder (Elementor, Gutenberg or SKT Builder)
Compatible with popular plugins of SEO, contact form and WooCommerce
Updated performance to work with popular cache plugins and Cloudflare