SKT Fundraiser Lite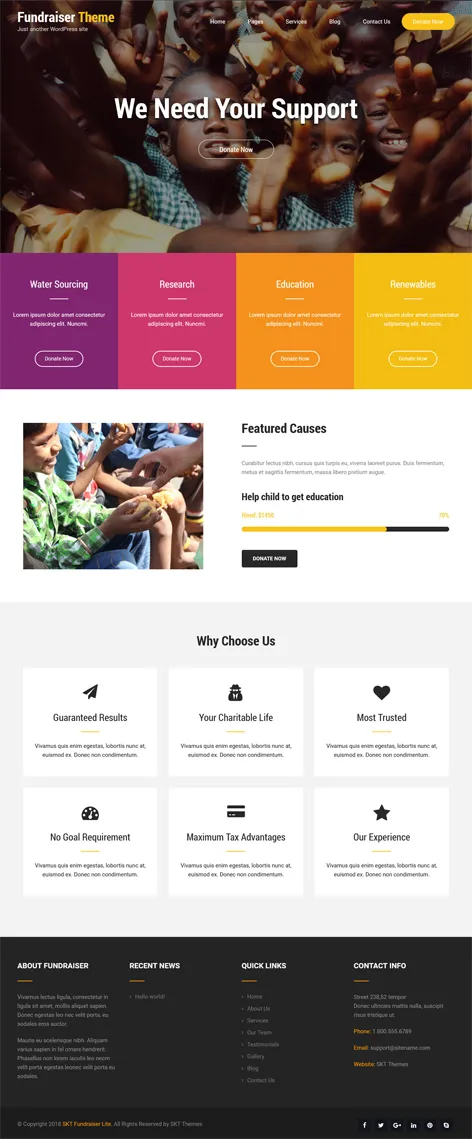 Free
Demo
360+ Themes for $69
Comparison
Free Theme
Less homepage sections
No inner pages
No Support
No Typography Options
No Icon Options
No Header Layouts
No footer Layouts
Less plugins compatible
Less updates
Less flexibility
More Time for Website Build
Features of free fundraising WordPress theme
Simple in terms of backend as well as simple in terms of front end navigation as well
Easy to use as free fundraising WordPress theme has been created that way
Customizer makes life easy with no script conflict in backend as its part of the WordPress core and also it is very easy to use for novice and intermediate users
Responsive 100% and is also mobile friendly passed and tested with a lot of mobile and tablet devices
Cross device compatible
Cross browser compatibility also tested and all popular browsers on various devices work fine with this template
WooCommerce compatible and hence have online shop to sell merchandise and also sell tickets to the events or have online donations as well online
Contact form plugins like ninja forms, contact form 7 are also compatible with this free fundraising WordPress theme
Inner pages given with single sidebar and more internal pages with sidebar layout given in Pro version
Widget friendly sidebar which can hold dynamic widgets which act different and show different on different pages
Call to action is ample on slider, on top header and in footer as well
Slider is given to give an impactful slider on the top with causes listed
Donation plugins also tested and found working
Gallery, video and sliders also has been tested and if someone wants to upload images, video and slideshow of events organized can post them easily
SEO friendly and has been coded to be compatible with SEO plugins of WordPress as well
Based on latest version of WordPress, CSS3 and HTML5 for latest technology used
Documentation given and limited support also available for help if needed
Single color scheme to change the color with more color choices in Pro version
Google maps, AMP, Schema also tested so that it is a complete solution for SEO friendliness
Retina ready, HD ready, high resolution ready
Translation ready and multilingual ready with several plugins have been tested which are popular ones and found to be working fine and POT file given inside can help with the translation of strings
Has been tested with a lot of page builders and found to be working fine
Free fundraising WordPress theme is completely responsive and has been created to adjust to all screen resolutions and is Google mobile friendly test passed
Translation ready because of the POT file given inside with all strings translation ready and compatible with loco translate plugin
Multilingual ready and any kind of multilingual plugin like Polylang, qTranslate X and others like WPML work fine with this free fundraising WordPress theme
It is fully readymade website and can be used as it is and is plug and play
Simple to manage and even a child or a noob can manage this template with just a few instructions
Multipurpose complete and with change of text and images one can easily use it for other purposes as well and other websites as well
Color scheme can be changed easily and from yellow it can be changed to something else
Documentation is complete and is fully provided yet not much is needed as it is self explanatory and is provided within appearance>customize area
Support is provided via email and limited support is provided even for this free template of fundraising
Sidebar is given by default for each of the page so that one can add whatever is needed
Widget friendly template with sidebar fully widget friendly and can hold any number of widgets as well as footer few sections are widget friendly
Call to action given is ample with header, footer and sidebar and navigation can have call to action items as well as in slider we can CTAs
Modern design tools and techniques have been used so that one can easily use this in old browsers as well as new browsers because they use flat design structure and gradient less design structure
HTML5 and CSS3 compatible free fundraising WordPress template
Theme Check passed and has been coded as per codex standards of theme review standards
Lots of plugins are compatible like contact forms plugins which can be used to gather and collect information and leads as well as subscription forms and gallery plugins for having fundraising events gallery and events calendar plugins for having showcased events nicely
WooCommerce compatible which means that one can sell tickets, and merchandise at will from their own website creating an online store
Homepage has several sections and slider given by default
Browser and device friendly and lots of browsers on separate devices have been tested making it cross device, cross platform and cross browser compatible
Customizer based template and hence is core based and does not cause any conflict. Plus one can check changes as they happen in real time
Blog is provided so that one can have a nice press release, blog for traffic and new content updates
Pages that are standard like archives, categories and others like 404 are provided so that one does not need to code them separately
Slider is given by default but more options of slider in Pro version
Fonts are also given in pro version
Free Fundraising WordPress Theme explanation
Fundraising websites are nowadays in demand because fundraisers are organizers for charity and by charitable organizations to have a common meet up for charity donors to help understand what they are doing and what they intend to do.
They can put forth what they have achieved till now and to achieve their ultimate goal why funds are required.
Raising money for causes can be by various methods and hence variety of causes and the money being donated along with the details of the RSVP can be posted on this fundraising website.
Also the details of the largest donors and the details of the organization as well as the details of the trustees along with donation online can also be felicitated.
Hence our free fundraising WordPress theme tries to reduce the bridge between trusts having a fundraiser website for charity and causes.
Getting a fundraising website can be difficult when your trust or organization does not have the required IT members and hence we have tried to make it as simple and easy to understand in terms of backend as well as in terms of front end navigation.
Keeping the backend simple would mean that any novice who does not have experience with coding websites can also handle and set up the website in no time.
Also documentation is given which gives the required steps to complete and set up the free version in no time.
Free fundraising WordPress theme is an answer for those charity who want to bring donations and charity for various causes and these fundraisers can be organized and their dates, details etc can be published then on the website easily.
After fundraisers happen the details and images, gallery, videos can also be posted online in this website and the next date can also be published thus making it an easy affair to be managed yearly.
Other fundraisers and causes can also be posted on this same website using this free fundraising WordPress theme.
Thus it can be become a full fledged charitable website for fundraisers and events to be organized.
Even event management companies can also have a look and use this template for their events which may or may not be charitable.
Contact form and contact form plugins like ninja forms and contact form 7 are compatible with this template so that one can easily get appointments or bookings or contacts.
Google maps work just fine which can be used for location map in the contact page.
Ample call to action opportunity with the header having Donate button and the footer having social media links and website address and location with other details like phone number etc.
Thus this website can be fruitful in getting the fundraising organizers the desired results with the slider having 3 slides to showcase the 3 main causes.
Inner pages have a sidebar which can host number of widgets and variety of different widgets.
Blog and other standard pages like 404, search and archives are also coded and given within the template.
Simple to manage and since this template is based on the Customizer and can be handled from backend with changes being checked live.
Also with WooCommerce plugin compatible any merchandise can be sold easily without any problems as the plugin behaves plug and play with this template and is fully compatible.
Free fundraising WordPress theme can be used by fundraisers like campaigners who campaign for various charity events, NGOs, and other non governmental organizations which provide them with nice funds and desired funds to carry on various activities.
Fundraising team needs to list all the causes or the main causes which is provided and as well as many pages can be listed as it has 5 levels of drop down in navigation and hence several pages can be added to list various causes and other important pages like mission of the charity and other history and team members.
Also donation plugins are compatible with this free fundraising WordPress theme which can be used for various fundraisers and to collect payments including PayPal donations as well as other eCommerce donation plugins like WooCommerce.
Also one can sell merchandise and tickets for this charitable event.
Events calendar plugin also compatible so that one can easily post events and list them and also have the events register and payment for the tickets also can be done.
Thus a complete plug and play solution is provided right from colour scheme change to dynamic content change due to WordPress and also management of the theme as per the requirements of the non profit.
Various non profit companies can benefit due to this free fundraising WordPress theme because it has several benefits and features as has been listed.
Various call to action items have been given with footer showcasing location as well as the header having call to action buttons like donate.
Also contact form plugins are compatible so that one can have appointments and contacts from various prospects.
Also one can connect using contact form and become a volunteer for the organisation.
Gallery plugins are also compatible and various gallery plugins work with this template which can be used for showcasing successful fundraising campaigns of various types that have been done in the past.
Thus a complete website solution is provided in the form of this website which includes color changes, dynamic website text and image changes with a nice slider which is animated and auto rotates and has 3 slides options for showcasing important slides for the campaign and non profits and causes can also be listed.
Since the sidebar is widget friendly one can list the organization details or else the partners of the non profit and charity trust or the donor names also can be listed.
Various widgets can be included in the sidebar for reference and can be turned into a dynamic sidebar.
Also social media icons are included for linking them to social media so that more and more outreach can be done using this.
Check our other WordPress free themes for getting more options for creating a website.
Included with every free fundraising WordPress theme
Theme Files Theme files are included in the zip you get when purchased
SupportYou can email us for support of this theme
Sample DataSample data of homepage included by default and with WordPress theme unit test data one can get the other pages as well
Tags: fundraising event, Bake Sale Fundraising Event, Afternoon Tea Time , Cooking Competition , Recipe Books , Board Game Night, Ice Cream Social, Movie Night, Scavenger Hunt, Talent Show, Tie-Dye Party, free fundraising WordPress theme, Yard Sale Fundraiser, Donate a Drink For A Cause, Art Show, Video Game Fundraising Event, Fashion Show , Film Fundraising, Art Auction, Creatively Construction, Costumed Race Fundraiser, Rollerblade fundraiser, Indoor Cycling, Peer-to-Peer Fundraiser, SPORTS FUNDRAISERS, Football Tournament, Basketball Tournament, Bowling Tournament, Local Olympics, Local Concert, Silent Auction Fundraiser Dinner Party, Summer Fundraising, Fall Fundraising, Winter Fundraising, Fundraising for Growth, Fundraising for Giving Tuesday, trusty, non profit organization, NGO, charity, donation
Change Log
Updated December 2023
Working With Latest WordPress Version
Updated Google fonts for GDPR and Other Country Privacy
Updated to work with PHP 8+
Updated to work with at least one page builder (Elementor, Gutenberg or SKT Builder)
Compatible with popular plugins of SEO, contact form and WooCommerce
Updated performance to work with popular cache plugins and Cloudflare