Organic Lite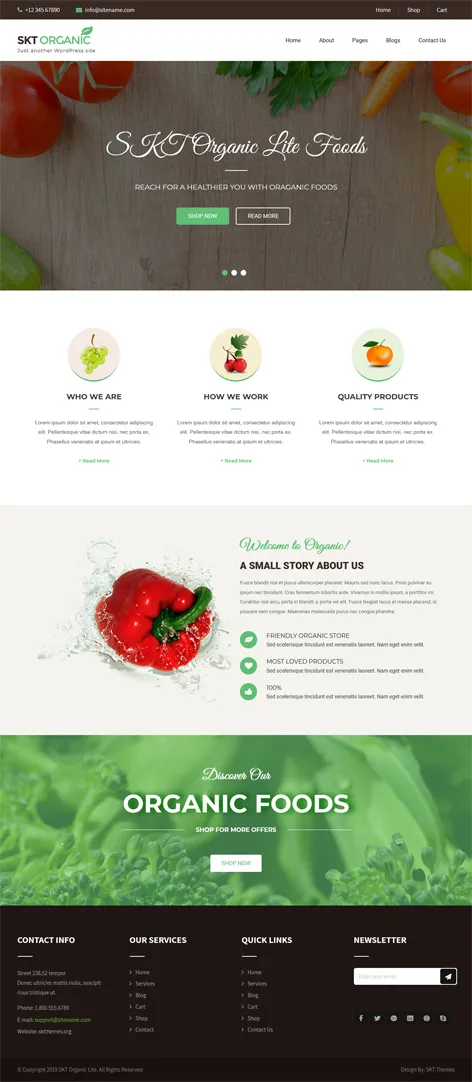 Free
Demo
350+ Themes for $69

Comparison
Free Theme
Less homepage sections
No inner pages
No Support
No Typography Options
No Icon Options
No Header Layouts
No footer Layouts
Less plugins compatible
Less updates
Less flexibility
More Time for Website Build
Features of free farming WordPress theme
Responsive 100% and Google mobile friendly test passed template
Cross device friendly and has been tested with a lot of hand held and desktop devices
Cross browser compatible and across various OS has been tested for cross browser experience
HD resolution and retina readiness also tested
Translation of this free farming WordPress theme is easy as POT file is available
Compatible with all kinds of multilingual plugins available free or paid
Simple to manage using Customizer and novice can also handle it
Compatible with page builder plugins
Compatible with WooCommerce for merchandise sale
Limited support available on this free farm WordPress theme from our end
Color scheme which is green can be changed using color picker although advanced color options available in Pro version
Gallery, events, shortcodes plugins also have been tested and work just fine
Several sliders, and other complex plugins as well as SEO plugins also have been tested for compatibility and found working just fine
Documentation and manual is given with this theme
Customizer based and hence with simple instructions anyone can follow and use the site even if it is for the first time
All pages like search, blog, archives and category are included by default as well as 404 page
Single sidebar template given and blog template given
Built on single Google font although more Google fonts and font choices given in pro version
Slider given by default although more options and slides given in paid version
HTML5 and CSS 3 based and hence any kind of CSS3 animations can be used
Fast loading free farming WordPress theme due to lesser number of scripts used
Free Farming WordPress Theme and its explanation
Free farming WordPress theme is a nice template to be considered when someone is doing an agriculture website or a nature website or a farm land or organic farming website.
Farm food can be sold using this template using WooCommerce which can be used to sell items online and to showcase your merchandise on your website.
Similarly contact form plugins can be used to get contact information of your visitors if they choose to fill the form.
Quotation and call us details can be given above in the header as has been shown in the template.
Free farming WordPress theme is also compatible with several gallery plugins which can be used to simply put up your gallery images and nicely showcase what has been done and what you do and other various pictoral and images with descriptions.
Various services with nicely placed images in the form of icons are given on the top underneath the slider.
The slideshow by default includes 3 slides to showcase what your company does and then the 3 services.
More options for slides and slider options with pause time and more service columns are available in the Pro version.
Welcome text area is also given which makes people understand about the website and gives a general overview about the business and its interests and services.
Footer is 4 column and more options for footer and header options are given in the paid version.
Sidebar template is given for the inner pages and the sidebar is widget friendly whereby one can add as many widgets as needed.
More page templates and blog templates are given in the Pro version of the theme.
Free farming WordPress theme although has been created to suit farming websites but can be suitable for all types of nature, eco friendly, eco green and other kinds of websites as well.
Included with every free Farming WordPress theme
Theme Files Theme files are included in the zip you get when purchased
SupportYou can email us for support of this theme
Tags: nourishment, victuals, nutrient, nutriment, foodstuffs, goodness, beneficial, nurtures, edibles, eatables, vitamins, minerals, food products, chow, feed, grub, food items, mends, nutritional value, nutrimental, wholesomeness, fuel, meat, feeding, keep, nourishment, finger food, nosh, comestible, cuisine, diet, groceries, conditioners, nutriments, drugs, solids, agri-foodstuffs, health, fitness, herbal, homemade, good stuff, herbs, plant, vegetable, plant-based, herb tea, vegetable, crop, grassy, botanical, floral, herbal medicine, medicinal herbs, grass, verdant, herbaceous, grass up, botanic, medicinal plants, weed, herbage, plant origin, flavorer, herbarium, mossy, grasses, herbals, flavourer, herb garden, vegetative, phyto therapeutic, fruity, vegetal, planting, medicinal herb, herbal remedies, vegetable origin, flavouring, seasoned, herbal medicinal products, harvest, cultivate, agriculture, agriculture products
Change Log
Updated June 2023
Working With Latest WordPress Version
Updated Google fonts