Play School Lite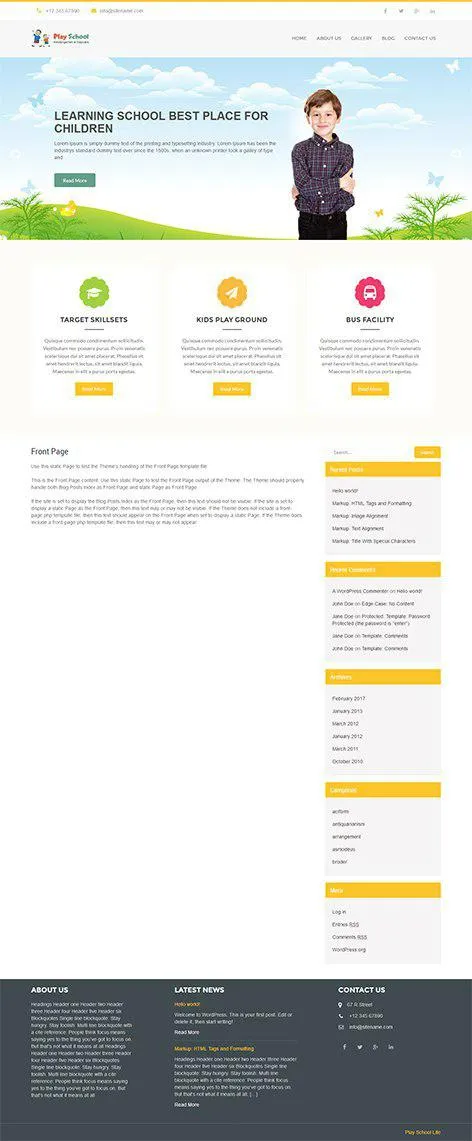 Free
Demo
360+ Themes for $69
Comparison
Free Theme
Less homepage sections
No inner pages
No Support
No Typography Options
No Icon Options
No Header Layouts
No footer Layouts
Less plugins compatible
Less updates
Less flexibility
More Time for Website Build
Features of free education WordPress theme
Very lightweight and only a few KB sized free education theme
Fast and SEO friendly template for educational institutions which is why the fast loading site can bring in more visitors and traffic
Compatible with relevant plugins like knowledge base, FAQs, tutorials, LMS and other relevant plugins for educational programs
Social Media friendly as the top header has all the popular social icons listed for them to be linked to their relevant sites
Very Simple to manage from backend and hence school and college authorities can easily manage and handle the free education WordPress theme from backend and edit and control the website easily
Responsive to the last element and hence can be easily accessed across various devices of various screen resolutions
POT file is provided and hence the site template is translation ready and can be edited using PO Edit or Loco translate and converted into other language websites as well
Multilingual ready and is compatible with all kinds of multilingual plugins you can think of
Website based template with full demo content and sample content can be included using theme unit test data and hence one can have a complete website in no time
Colorful because younger generation likes colours and reflects the youth nicely and that too can be changed using color picker given in the backend
Multipurpose template which is why it can be changed and used for any other kind of website use as well
Color scheme can be changed including the navigation and button colors and sidebar colors
Documentation is provided and hence following step by step guide one can easily set up the website template
Support is also provided even though its a free template of education WordPress
Sidebar is completely widget friendly and can hold any number of widgets
A host of Widget plugins ranging from social media feeds, to contact forms and others work just fine with this theme
CTA is provided and it is ample considering it is given in slider, header, sidebar as well as in footer to ensure maximum leads
Modern day tools like flat design, material design approach and silos structure and SEO friendly and coded theme review standards have been used to make it theme review compatible
HTML5 and CSS3 based and hence latest animations and tools can be used like shortcodes plugins with animations
Theme Check plugin passed
Plugins
WooCommerce compatible and hence sell tickets, merchandise, fees, donation and other usage
Homepage has host of sections and welcome area
Browser and device friendly with all popular browsers and devices tested for cross device, cross platform and cross browser compatibility
Customizer encoded and hence check changes live as they happen in real time
Blog provided and hence one can add tips, news, and events declarations
All the standard pages like blog, search, 404, archives and category pages are also content and hence this becomes a full solution for website
Fonts are also provided in the Pro version and typography control given in that along with a host of other features
More page layouts are given and provided in the Pro version of this free educational template
Page builder plugins are fully compatible with all pages and can easily help you add fancy content which one can showcase in directors page, principals desk page or about us and other pages of importance
Website is needed nowadays by every kind of business small, big, or different kind of businesses as well. From preschools to higher educational colleges, elearning courses online or online coaching every kind of business in educational sector also needs a website.
A website has for a person become an online resume and so for a business a common place where people would get links to their social media. People can search and get to know more about the institute, its alumni, history, vision and mission and how trained the staff and teachers are.
Ranging from pricing and school fees to tuition fees and academic courses everything can be listed on the school and college website.
Thus a website makes perfect sense for educational institutions as well.
Thus we created a free education WordPress theme for those schools and colleges run by NGOs with no or very less budget who can use this template to create their maiden website with ease and get a nice website with their own preferences as the web template is color changing and sidebar has widgets so the sidebar is also dynamic and changing.
One can easily change the layouts of the website and also have contact form and location map on the contact page so that one can easily locate the institution and also its contact details.
Header and footer have ample call to action fields like phone number and email address on the top along with the social icons listed.
So basically parents want to check reviews online for any school and college and they can check Facebook reviews and Google reviews with the help of the social media links posted on the top of the site.
They can call the school in case they want to which is given on the top or can email certain questions and queries if they have.
Also the students can do the same and inform their elders about the same.
Thus it becomes very easy for people to contact using this template.
The slider is great and is fully wide and can hold upto 3 important slides which the school authorities can decide on what to put.
Then comes the 3 boxes which can showcase and link to important pages like curriculum links, events calendar, contact us or the features of the school or college.
We have thereafter the whole page which can be edited and placed with any type of content as needed.
This free education WordPress theme is fully compatible with page builders and shortcodes plugins and hence on the homepage and inner pages one can have any kind of fancy content as they need to.
For the inner pages banner image is editable and hence one can post any kind of banner image for the entire inner pages.
Since this free education WordPress theme is coded on top of Customizer which is part of the core and does not cause any conflict with the actual backend of the WordPress website it is lightweight and very fast loading and SEO friendly as well.
Sidebar can hold any number of widgets like school or college contact form, location, social media feeds, and other important widgets like events list and other important items.
This template for education which is free is compatible with various gallery plugins and hence any kind of school gallery and pictures and video slideshow can be posted because of the gallery plugins compatibility and slider plugin works nicely.
WooCommerce compatible free education WordPress template and hence it is fully working fine to make an online shop for the school for selling their merchandise or online donations for the school funds or principal funds.
Or else one can accept fees online as well via WooCommerce.
Attendance system plugins, Events calendar plugin for posting of several events and other important and relevant plugins also work fine with this educational template.
Lastly any educational template which is free has to be simple and intuitive and this one is so that authorities can manage it and change color scheme and other details easily.
Also Included with free education WordPress theme
Theme FilesTheme zip file is provided along with this which can be added via appearance>themes>add new area
SupportCan email support for any issues or queries and documentation is also provided
Sample DataSample data is provided for homepage and inner pages can use theme unit test sample data from WordPress dot org
There is no limit to learning and the whole online world has a lot of things which deals with learning centers, institutions, etc. WordPress platform is in a constant effort to create great support for the users to help them find interesting elements that can help them create a website. WordPress started with a blogging platform and has made every effort to bring in changes which will support the users.
The constant evolution has kept it going. It is an open-source platform and it adds new functionality and elements on a continuous basis so that the users find everything of value.
The main element which is used commonly from the website is the theme. The platform understands that every particular business niche, will need a specific kind of WordPress theme. The platform thus has created a whole range of business themes and for the education niche there is specific free education WordPress theme.
These themes are created with specific functionalities and features which are required to the education sector.
The free education WordPress theme is very lightweight and uses the space of just few KB. The templates are fast and SEO friendly that means that they load quicker and has all the features to enjoy higher ranking in the search engines. This will ensure that there will be more visitors to the website and it is common knowledge that the websites which have higher traffic enjoy more customers.
The free education WordPress theme is designed by professionals who have added many features to it. The features or functions which are not a part of the website can easily be added with the help of plug-in. The plug-in compatibility includes but is not limited to FAQs, tutorials, LMS, knowledge base etc. There are also efforts made to include the social media. The theme header has all the popular social icons which can be listed linked to the site.
The free education WordPress theme is very simple and easy to manage this means that the authorities can focus on the other function and still be able to manage the website. The backend management is kept simple so that the users do not have to face issues with the website. The users can manage and edit the website easily.
There are many devices which are used to access the websites. The theme is thus created with the functions so that they can be used across various devices. The responsiveness is a feature that is must these days and with the increasing use of the small screen devices, it is here to stay. The screen resolution, content everything is created with the intention that when it is viewed on the small screen it should be easy to read and maneuver.
The education sector is dynamic and it is growing with the growing demands for courses and awareness around the world. The free education WordPress theme thus has all features which will be required to make it impressive. It has multi-lingual compatibility as well that will increase the visitor base by manifolds.
Tags: tutoring Students, Home Schooling Services, Teaching Your Hobby, educational Toys, Selling Lesson Plans, Online English Teacher, Employee Training, Online Courses, play school, School uniform making, Stationery business, Software Training institute, Spoken English classes, Online e-library, Manufacturing of notebook or note pads, YouTube channel , Education instructor, Customized education material, Printing press, Coaching classes, specific subjects, Career counselor, Home Tuitions, Drawing school, Education project business, Manufacturing of school , college bags, Bookstore, Stationary item manufacturing, Online teaching, Education Blogger, Chalk making, E-book writing, Foreign language classes, Education day camps, Daycare center, Work from Home Ideas , Teacher Training Institute, kindergarten, creche, toddlers
Change Log
Updated December 2023
Working With Latest WordPress Version
Updated Google fonts for GDPR and Other Country Privacy
Updated to work with PHP 8+
Updated to work with at least one page builder (Elementor, Gutenberg or SKT Builder)
Compatible with popular plugins of SEO, contact form and WooCommerce
Updated performance to work with popular cache plugins and Cloudflare