Aquarium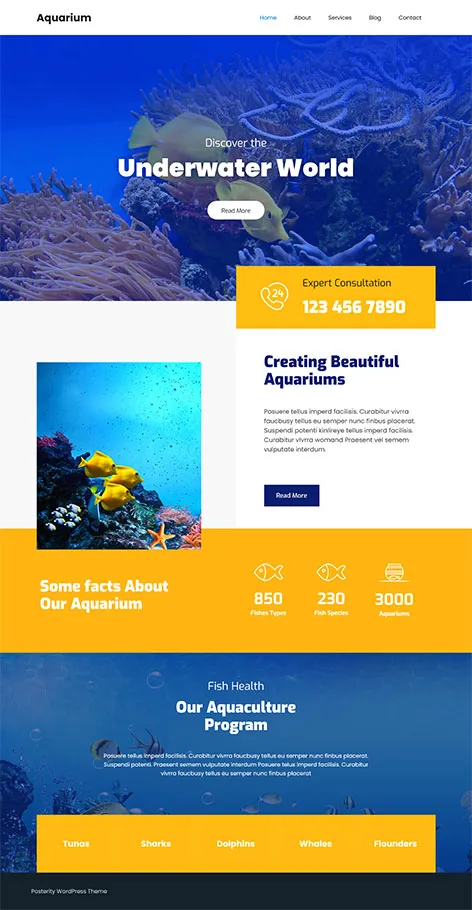 Free
Demo
360+ Themes for $69
Comparison
Free Theme
Less homepage sections
No inner pages
No Support
No Typography Options
No Icon Options
No Header Layouts
No footer Layouts
Less plugins compatible
Less updates
Less flexibility
More Time for Website Build
Free aquarium WordPress theme
Aquarium is a splendid and good looking free aquarium WordPress theme that has a very responsive and user-friendly layout.
The template is most useful for creating a website who sea animals, looking for pet services, hunting to open animal shelter, launching pet grooming services, and veterinary clinics.
The inbuilt sections of a template are very easy to manage and avail with some features to give a trendy look to your online business.
The template is viewable on all screen resolutions without scrolling right and left side.
It has so many options such as fonts, slider settings, colors, widgets, social media icons, and more.
The theme is designed with newer technology and however, it is also compatible with the new version of the software.
Major and most popular plugins such as contact form 7, WooCommerce, revolution slider are compatible and works great.
Aquarium is available with translation ready and multilingual features to target a wide number of audiences.
The content is very easy to edit via the page builder option.
free aquarium WordPress theme is very easy to view on new browsers and handheld devices.
By default, it comes with retina ready display.
The complete template is very easy to install in just one click.
One-click import option supported for easy setup.
By integrating social plugin share buttons one can easily share posts.
With best SEO practices the template is optimized properly.
Supported with WPML plugins to make your website a totally multilingual website.
You will notice that the working process with Aquarium is just easy, less time consuming, and effortless.
Very important features no coding is involved neither you need to be having basic technical knowledge.
You do not need to hire any developer or designer to create an eco-friendly website for you.
If you are not looking for further changes then you can get the same look and feel as the demo does with easy import option.
Easy to setup up pages in no time.
Supportive with 3rd party plugins.
Faster loading speed.
4 basic slider options.
User-friendly navigation.
Theme customizer option available.
Light and flat design.
Fulfilled with all SEO standards.
Option for logo upload.
Comes with an inbuilt homepage demo.
Compatible with elementor, WPBakery, and other responsive page builders.
Easy to upload photos and descriptions of products.
Option for online transactions.
International shipping will be possible with WooCommerce integration.
Google font's integration
Highly functional website.
Great template for brand awareness.
Highly responsive and appealing design.
More than 3 sections are available.
The best template redesigns your existing website to enhance its functionality and make your business visible on search engines quickly.
Also works best for the zoo, safari related industries, pet shops, pet care centers, nonprofit organizations, and more.
Do you believe in recycling or do you love animals and want to take a step forward by saving their lives or want to explore some ideas on preserving the ecosystem and clean air? If you belong to any of this filed then you should consider the free aquarium WordPress theme to take your valuable idea to the next level.
Without investing money you can get your brand on the internet by creating a website that will help you to explore your services and the products in a single place. You will find that this template will benefit you with so many customers. Aquarium is a very modern and simple looking theme that has so many features to offer you for free.
Aquarium has amazing inbuilt sections that will spread your business motto and your love for the wilderness. The template will motivate wide audiences about why to care and how to care for animals and natural things in the world. WordPress is the popular CMS that gives you a wonderful online presence for your business and helps you to add new functionality without any problem.
Because of the easy availability of the web world, more and more people incline to browse for their needs online. People browse on the internet to purchase accessories, shoes, clothes, fish pots, organic food, and even pets too.
The web is the best trustworthy place where people can find their needs without struggling more. People can shop for animals and can adopt them very easily. There are also so many institutes who want to run a blog to spread awareness about animals and other living things.
The one question that can strike your mind is why you need a free aquarium WordPress theme when there are so many eCommerce templates available on the internet that can be used to create an eCommerce store? Well, Aquarium is specially designed for a business that focuses more on pets and wildlife sectors.
If you check the homepage layout you will get the idea that ho you can represent your pet's business is a good and professional way. There will be no chance of forgetting anything to add. The template is just perfect to explain the workflow of pets and animals related businesses.
The page layout is just outstanding that will represent your business content in an informative way including training centers, pet stores, and pet clinics. Thus, the process of building animals and pets related websites is very easier with a free aquarium WordPress theme.
Aquarium is a multipurpose and professional-looking template that will fit all kinds of your business needs. The template has followed with new proclivities so that you can make sure your website performance to the top note.
If you think your businesses need some more functionality to be added on the website then you are free to add plugins. You can attract more customers' attention by adding a slideshow plugin to your website's homepage. You can add a call to action buttons for easy and faster communication between you and your customers.
You will have access to lots of features that you can choose it wisely to build an outstanding and unique appearance on the web. Also, the blog is supported so that you can also start creating blog posts on pets and animals.
Also Included with Free aquarium WordPress theme
Theme FilesTheme files are included in the zip you get when purchased
SupportYou can email us for support of this theme
Tags: aquarium shops, decoration fish dealers, aquarium accessories service providers, public aquariums, fishbowl, aquatic museum, marine exhibit, vivarium, Aquarius, fishery, aquarium park, goldfish, aquapark, menagerie, pond, fish pond, dolphinarium, fish tanks, goldfish bowl, seaquarium, seaworld.
Change Log
Updated December 2023
Working With Latest WordPress Version
Updated Google fonts for GDPR and Other Country Privacy
Updated to work with PHP 8+
Updated to work with at least one page builder (Elementor, Gutenberg or SKT Builder)
Compatible with popular plugins of SEO, contact form and WooCommerce
Updated performance to work with popular cache plugins and Cloudflare