With WordPress get started your business by creating a Google Site Kit. Google Site Kit is a tool that is useful for online businesses.
By creating a Google Site Kit in WordPress you will get lots of functionality by using different SEO tools for example access to the Google Analytics tool for keeping track of your website visitors.
So, if you ever thought of creating a Google Site Kit tool then this article will help you out. In simple way you can create Google Site Kit in your WordPress account.
Summary of Google Site Kit in WordPress
In WordPress, Google Site Kit is the most famous SEO plugin which is useful for marketing and promoting your WordPress blogs online.
If you use this plugin in WordPress you will be able to add or extract data from the admin control panel. Most of the bloggers and witters make use of Google Site Kit to keep track of their breakthroughs in the web market.
For example, they can check the total views they get on their post or articles, average impressions, and average CTR.
Why you should create 'Google Site Kit' tool in WordPress
You should be aware of why you should create Google Site Kit plugin in WordPress only. With the help of this tool, you can manage multiple products in WordPress.
The feature is not just limited to this because it also gives you access to check the statistics and milestones on your admin dashboard.
Steps to add 'Google Site Kit' in WordPress CMS
All know the real fact about WordPress, that it powers more than 35% of web users in the world. This is the biggest reason that Google is collaborating with WordPress to create the best plugin called Google Site Kit.
This plugin allows you to access different Google tools such as Google Drive, Google Apps, Google Analytics, Google photos and more.
Install Google Site Kit plugin in WordPress

It is very essential to know about the basic requirements before creating a Google Site Kit so that your users will get good experience by provide impeccable SEO services in your business blog and articles. You first need to activate your account or blog page.
By visiting the official website of WordPress you can find Google Site kit plugin. Now its time to install and activate this tool for that you just need to download and run the app.
Now open this plugin and go to the dashboard option. Then go to upload option and add zip file of Google Site Kit. Now run this file by clicking on the active option.
Configure the plugin in WordPress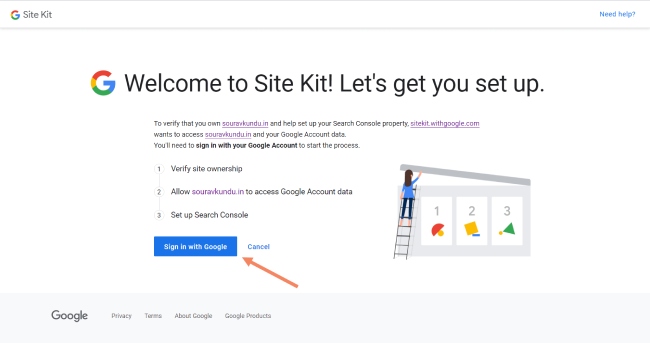 Without configuring the plugin you will not be able to create Google Site Kit successfully. The configuration is done so that you can use Google tools via Google Developer Console.
This can be performed by creating a client configuration. You have to provide credentials via your Google account.


To use this tool in your business you should have permission to the Google Analytics tool to make the complete process automated. This Google Site Kit plugin is very easy to create. You just need to copy and paste.
Log in to access the primary Google account.
Disable ad blocker plugin.
Go to the admin panel.
Go to developer.google.com/web/site-kit
Go to the project name on the admin panel.
The project name should not be simple as "demo".
After filling all the details you will get customer code.
Copy and paste it to complete the process.
The process to link your Google Search Console account to your Google Site Kit
If you want to use SEO tools via Google App for your business, then you have to make sure to link your Google Search Console to the site kit.
Because you have set the Google site kit by configuring in WordPress now you have to make it authorized. By doing this it helps you to manage your domains in business.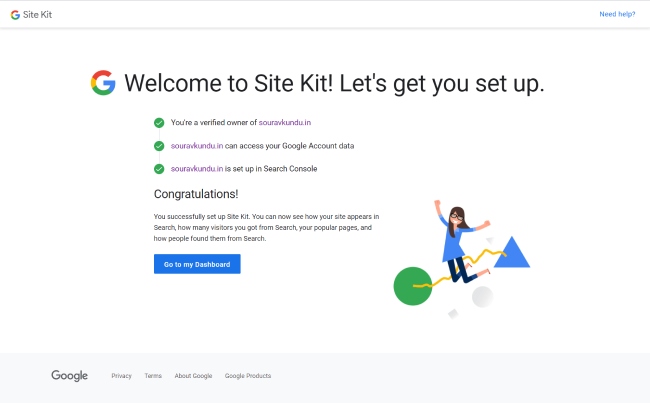 Go to dashboard
Go to Google
Give permission for search console to dashboard
Go to primary Google account
Logging into the primary account
Click on allow
Verify URL
Make sure that the URL is correct. Verify all the requirements and recheck the official information provided on the dashboard or a website. After confirming this click on CONTINUE. You will find that the account is already connected.
Create and add some extra services such as connecting Google Analytics tool with WordPress

While creating a Google site in WordPress you have to add some services. For this, you have to visit the setting option. Then press the connect additional services option.
The reason for connecting Google Site Kit in WordPress is to identify or analyze the data from the admin panel.

For linking Google Analytics in WordPress plugin you have to visit the WordPress dashboard. After that go to setting page option and press connect to more services option. You will find out the screen which will be showing an unverified app.
Still, you don't have to feel bad. You have to click on the proceed option. after this, the application will ask you to give permission for some domains. Permit permission to this application.
Check before granting permission and press the allow button. The app will take you to the WordPress dashboard page. Now you just have to configure Google Analytics.
WordPress is truly a blessing that is used by thousands and millions of users blogging, writing or creating a website for their businesses.
This is why Google makes a good decision to collaborate with WordPress and they both together invented Google Site Kit as one of the most important WordPress plugins.
Which makes you overwhelmed by utilizing SEO tools features to keep track of your social media engagement.
This tool is best for individual and agency that gives all in one solution to create, manage and understand Google tools to make your business website successful on the internet.
So move ahead by experiencing the astonishing features of Google Site Kits in your WordPress dashboard.