If you are a photographer or happen to operate a studio, then you would be more than familiar with video editing software.
While domain knowledge is essential, the fact is that video editing software has become so simplified that your 'run of the mill' users have started to use it with the same ease as real professionals.
Video editing software enables you to create fresh video with the help of the same as well as to help process raw data into digital format. With the right software in place – you can view various videos in your laptop, smart phone and more.
Moreover, you can upload the software to your website as well, so as to enable your users to watch your various videos with ease.
What does video editing mean?
Video editing is the process by which you choose various short clips, edit them to make them to a single clip and present it as a unique video, one that is apparently different from the original.
You can tweak the original video, customize it and even create brand new fresh videos with clips sourced from the original content.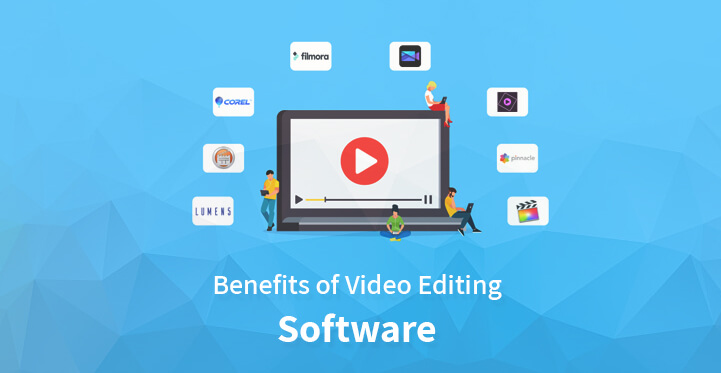 It comes with varied functionality but the chief one happens to be for trimming content – that's what most online users utilize it for; they primarily use the video editing software to delete the content they do not need and to leave the rest intact.
Video editing software is not just for personal use and in fact most production houses use the same software to process their movie/ video clips and to filter out the content that they no longer want or have a need for. Or they could edit the video to add in a separate scene or to tweak the colors and more.
Here is an example, let's say that you are recording your son's high school recital and while you had recorded the whole event, your son's portion (which was for about ten minutes or so) is right between the various other kids.
And that is why you need video editing software, since with the right software you can trim the video to the all important one concerning your son with ease.
That way, you end up with the video of your son's recital and you can further add colors and other effects to the same to make it stand out.
Furthermore, by editing the video, you should be able to upload the same to face book and other social media platforms to share the same with your family and friends.
Various uses of video editing software:
These are some of the main uses of video editing software as most online users utilize it for the same.
1. Deletion :
With the right software in place, you can delete parts of the video that you no longer need. This way, you can bleep out parts of the video which are either not that great or contain something that you no longer require. And you end up with a product that matches up with your specs.
2. Produces a stream :
Your video clip must be continuous so that it is able to tell the story. In fact, you can ensure that there is a smooth flow to your video so that one clip leads smoothly into the other, and that the flow is seamless and continuous.
3. Insert special effects :
With the right video editing software, you can make your video stand out. You can insert audio as well as other special effects to go with your video which in turn should help make your content stand out.
4. Mood music :
If you are into mood music, you can use the software to integrate the same with your video. You can also increase/ decrease the speed of your video as well.
5. Major benefits :
These days, you can opt for some radically fast video editing software to edit and process the changes you need in a matter of seconds. With new digital technology, video editing software has become a lot more powerful than earlier on.
And what's more, the software in question does not come with an exorbitant price like before. Instead most of the various video editing software in the market, happen to be priced quite attractively.
When you are set to purchase video editing software, you may want to do some ground work and take a look at the various video editing software products in the market.
A close read of the various reviews posted online should clue you in as to whether the product in question happens to be good.
Moreover, you may also want to check and see that the product in question comes with timeline editing feature and comes packed with all the necessary core functionality that you are looking for, at the moment.