Good web design is more important than ever for businesses if they want to thrive. A business's consumers, collaborators, and competition primarily interact in the online world in many cases.
Designing – or commissioning – the perfect business website is an achievement that depends on a great many factors. Most notably, the type of business a website is being designed for should influence its overall design.
This sounds simple enough until you consider the huge variability in business models and the different needs these business models necessitate.
The biggest digital content management systems like WordPress enable the use of thousands of different themes. This makes the larger DCM systems a good place to start if you have never developed or commissioned a website before.
They make the maintenance and Search Engine Optimization aspects of web ownership far easier to achieve without any specialist training or knowledge.
Alternatively, you could commission a completely unique website to be built from the ground up by a specialist developer. This is only really a useful strategy if you have a large budget and a unique set of web design features that you require.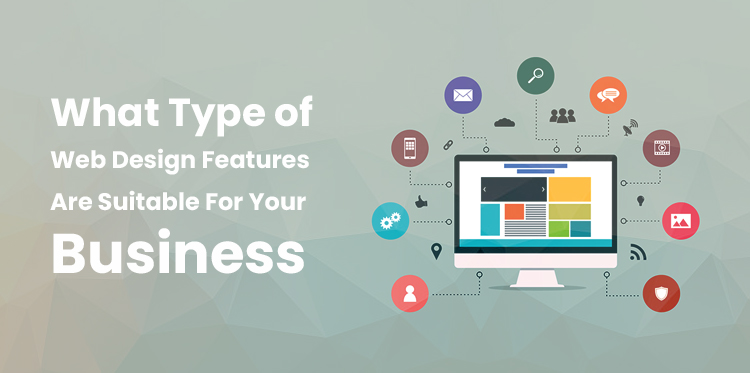 This article aims to give a short outline of some of the web design features that are suited to different business types. Finding an appropriate theme that is compatible with your CMS or commissioning a website with the right features for your business is very important.
ECommerce
Ecommerce is an absolutely vast industry. According to figures collated by Statista, ecommerce revenue totaled 4.8 trillion dollars in 2020. If your business wants to have a piece of that (ginormous) pie, then it is going to need to put its website front and center.
Ecommerce is an inherently online industry. The quality and user experience of a website are some of the most important factors in its success as a retail hub.
Ecommerce website themes need to have several standard web design features:
SEO Friendly Content
People are not going to buy your products if they can never find your website. Search Engine Optimization – or SEO for short – is the process of optimizing your website so that it ranks highly on sites such as Google.
Producing content that is contextually important and full of keywords is a good start. Laying out your website theme in an easily readable way and including appropriate metadata with images and videos will do you even more favors.
Mobile-Friendly Design
Mobile browsing accounts for over 60 percent of all ecommerce traffic. Despite this, sales via mobile are lagging behind their expected average.
Some retailers have bucked this trend by taking a 'mobile first' approach to web design. By making mobile navigability a priority, companies like Schuh have turned their mobile traffic into mobile sales.
User-Generated Reviews
Testimonial reviews from customers help assure potential buyers about the product they are looking at. Ecommerce giant Amazon uses testimonial customer reviews to great effect – although the veracity of some reviewers leaves a little to be desired.
Make sure to save a prominent space on your ecommerce website for reviews.
Quick Checkout
The time it takes for a consumer to go from a browser to a customer is partially reliant on just how easy it is to make that switch. Make sure to add as little obstruction as possible to the checkout process.
Price Comparison Website
Price comparison websites have been around almost as long as the internet itself. The first example – BargainFinder – launched in 1995.
This rather hyperbolic 1995 article in Wired profiled BargainFinder as a powerful consumer tool that utilized market information to harness deals.
Today, price comparison websites dominate some markets, like car insurance. Other more obscure markets where price comparison sites hold sway include the business water sector, where Utility Bidder offers price comparisons for UK businesses looking to decrease expenditure on water and electricity.
Price comparison websites typically need a few unique web design features in order to succeed:
Listings
Price comparison sites need to be built around a listing system. Consumers type in a query and receive an easy-to-understand list of prices.
It is important to include information specific to the field in any list given on a price comparison site. For instance, a travel insurance listing would need to include information about pricing, premiums, and conditions. A mobile phone price comparison site would appear senseless if its listings included this information.
Alerts
Good price comparison sites keep customers coming back. A good way of doing just that is to offer email alerts when prices related to a customer query are lowered. This turns the previously short-term relationship with the customer into a long-term one.
Reviews And Ratings
Showing what previous customers thought of a service they have purchased through a price comparison site is a good way of instilling confidence or helping customers to choose a service. A simple star rating or link to a review portal should suffice.
Artist Portfolio
Online portfolios are essential for any artist looking to sell works or be commissioned. As an artist, game designer, or sound designer, you need to be a creative entrepreneur in both the offline and online worlds. Artist portfolios need to have features such as:
Image Centric Design
The art needs to be the central feature of an artist's portfolio. Some amazing WordPress themes have been developed that do just that. High-quality images of your work should be displayed as prominently as possible.
Links To Reviews And Previous Exhibitions
Previous professional reviews in magazines and online should be linked to clearly. These are some of your most precious accolades. Likewise, if you have ever taken part in a residency or exhibition, you need to link to any evidence of this.
Prominent Contact Details
Potential collaborators and buyers need to be able to contact you easily. Make sure to display your contact information prominently.
Social Media Connectivity
As a creative entrepreneur, you need to be able to develop a network. Connect all your social media activity to your portfolio to make sure that you are spreading your online presence. Your website visitors will love interacting with you elsewhere.