Real Estate Broker WordPress Theme has been showcased here
In the current world of business, you are either widely successful or you are constantly creeping and falling behind your competitors.
And one of the shocking things we can witness at present is how many businesses underestimate the importance of a website as the primary source of their information, as well as the main communication bridge between them and their market – base.
The worldwide networking system has arguably made it possible to stream voice and messages across websites and social media and other platforms. The said runs also through the real estate industry and all its branches, ranging from construction to brokerage and trade.
By and large, one of the best marketing tactics any real estate agent or broker should widely exercise is a top – notch and easy to use website.
Whether you are a seasoned realtor or agent, broker or real estate agency manager, establishing and styling client – optimized and feature – rich real estate website, proper listings or directories working in online mode will be the best stimulus for generating more real estate sales and leads.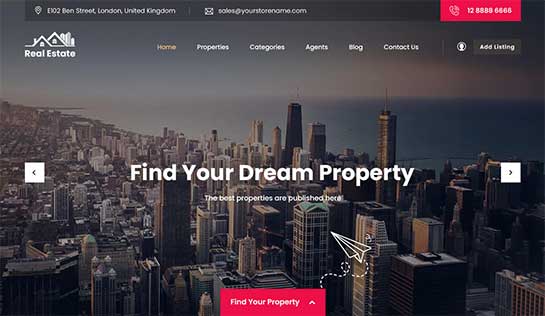 With the relevant purchase prices being quite affordable at an entry level, running a user and admin – optimized and client – centric website seems to be something achievable with ease.
In this article we are not going to drop a word in favor of Real Estate as truly convenient and top – rated real estate broker WordPress theme available for any agent or broker which is also cost – effective.
We are just going to dig out its essential touches and controls and leave the work of making judgments to you.
If the lot falls upon Real Estate to act as the basis of your future real estate or property website, then you are lucky enough to enjoy incalculable advantages at every step of your website creation and customization.
All in all, with this template you will never fall into error. WordPress content management system comes with open – source nature. It means that lots of developers across the globe are doing their best to contribute to this system and its products.
It means, that every single WordPress template, among them also Real Estate, are deployed by the best solutions and strategies. Subsequently, with this template you can be sure that your website will anytime bang up to date and will be fresh – faced and avant – guard.
Neither large budget nor any kind of coding knowledge are required to own this real estate broker WordPress theme and satisfy all the website visitors needs who are looking for a new apartment or house.
Any broker or real estate agent will be quick in adapting to this theme since it is fairly simple and flexible in usage. You can easily publish your content in the theme's section and parts and make them easy to search and find for your potential clients.
Home section can be the best part to welcome your web visitors with full –width slider and introduction text, about us can professionally outline the core points of your business origin and basis, its policy and business visions, etc.
Contact us section acts as one of the most informative parts of the whole skeleton of the theme with your contact details including addresses and phone numbers, website and e-mail, etc.
Since photos and images of homes and apartments, buildings and offices, working and residential places and their surroundings matter the most.
A picture is worth a thousand words. This idiom is specifically true for real estate industry as people prefer to see even a single photo or image instead of millions of descriptions and reviews.
And since photos and images of homes and apartments, buildings and offices, working and residential places and their surroundings matter the most for real estate broker website, separate gallery section can be valid for your to showcase your gallery albums and images in the most categorized and eye – catchy fashion.
Real Estate also comes bundled with widget – friendly sidebar to locate wherever seems more expedient and present additional pieces of content, as well as footer and header areas for social media integration, recent posts and contact details.
You can profoundly use color picker of the theme to add your touches to the existing framework and identify your business nature through the right color combinations.
Armed with lots of shortcodes for easy content setup, this smoothly navigable real estate broker WordPress theme is also translation ready.
It means that you can have a multilingual and internationally accepted website with the ability to change languages easily and shift away from one language Internet users.
Blog can also be the indispensable part of your presence to interest and entertain your website viewers and keep your face always fresh and unique.
With a massive shift to mobile internet and mobile internet consumption, responsiveness and cross mobile – compatibility of your website can no way be disdained. Stay in the game by increasing your website presence across different browsers and devices with this highly intelligent and smart real estate broker WordPress theme.
With this theme your website's proper display will be sorted in minutes while responding to the requirements of any screen size and resolution and adapting itself to it.
What can you gain as a result of this fluid and responsive web design? The answer is challenging enough! Higher ranks, higher conversion rates, client trust and credibility, and finally, increased sales and deliverables.
Real Estate is coded and managed to have lots of add-ons in the form of different plugins such as WooCommerce and other popular ones to create fully comprehensive and all-inclusive commercial environment and sell whatever is needed.
This real estate broker WordPress theme totally makes search engine optimization for your website a breeze with its search engine – optimized coding.
Although search engines are quite sophisticated at present, your website needs to comprise certain SEO traits to be fully legible for automated search inquiries which are substantial in bringing more and more potential clients to your pages.
SKT Themes has similar such great WordPress Themes for sale which you can check out.
In this world of changing business, either you are successful in adapting yourself with the changing trend or falling behind your competitors.
One of the trends we are experiencing nowadays is the shifting of business from traditional methods to the digital world. And one of the most common features in this digital world is showcasing your business offering with the help of a website. Without a website, your business has no value in the online market.
Whether you are a real estate agent, broker or agency manager establishing a stylish, optimized and content- rich website will help you to generate more and more real estate sales and leads.
Nowadays owning a domain and running a business website is quite affordable and easy to maintain with the help of an online tool known as WordPress.
There are various themes available in for real estate business available both paid and free with a lot of customizable features and highly optimized.
It is not necessary to spend a large budget or have knowledge about coding to own a real estate broker WordPress theme. This theme is fairly very simple and flexible to adapt and use to build a perfect looking website for customers who are searching for a new house or apartment.
In case of updating a custom build website, one has to take a lot headache, whereas WordPress themes can be easily updated from anywhere and anytime you want. These Real estate broker WordPress themes are very easy to use and come with detailed instructions on how to get it started.
Our Real Estate Broker WordPress Themes come with a built-in search engine optimization features that will act as a marketing tool for building up your website's rank in search engines like google, bing, etc.
What makes our themes great is the ease of its integration with different types of plugins. A plugin is a piece of software that is used to add a new feature on functionality to your website. So if you need to show your customers a brochure of a property in PDF format, you could do that by using the PDF viewer plugin.
Or if you want your customers to schedule a visit to one of your apartments listed for sale, then that is also possible by using the contact form plugin. Social media buttons are also available in these themes which will greatly act as a marketing tool to expose your business to a larger market base.
Another smart feature of these real estate broker WordPress themes is that they are highly responsive, that means anyone can access these websites from any device they want and there will be no compromise on the smooth user experience.
A real estate broker's business relies on the hope of selling a property to a potential customer. So you definitely need to welcome them to your website with a good looking homepage with images of different properties give your customer a good impression about your business.
You can customize the colour, header, footer and the menu of your website according to your needs to give your viewers a top notch experience in exploring through different pages of your website.
So, if you want all these features on your website and want to make a strong grip in this cutting-edge competitive market, then your choice should be building a smart, flexible and good looking website using these Real estate WordPress themes.