Round up of housekeeping WordPress theme and their features
Modern life is busy enough. From working to watching after children, cooking and cleaning, taking care of the entire family, every single activity takes time and energy.
And even If you are spinning like a peg top, chances are not high that you may manage to do everything on time and feel confident. In this situation getting help from professionals has long become a necessity and not a luxury at all.
Subsequently, at present there is a host of housekeeping services out there ready to simplify your life and help you save your precious time to enjoy.
While giving you the gift of free time, they will professionally organize all the relevant housekeeping and cleaning works and will keep your residential place, apartment or office in a presentable and pristine condition.
With the immense necessity of cleaning and repair, janitorial and other housekeeping services the relevant supply has been formulated in the face of diverse organizations and agencies, companies and centers.
They are actively using also the online platform with an intention to exemplify their expertise in the field and to conquer the trust of the all the customers to – be.
Hence, without any ado, let's delve into some of the niche – specific housekeeping WordPress themes, HVAC and cleaning industries to occupy their remarkable position in the digital world and let their clients get in touch with them easily.
Each and every housekeeping WordPress theme summarized below is an exceptional product that will never give you whatever your proficiency in developing or web design is.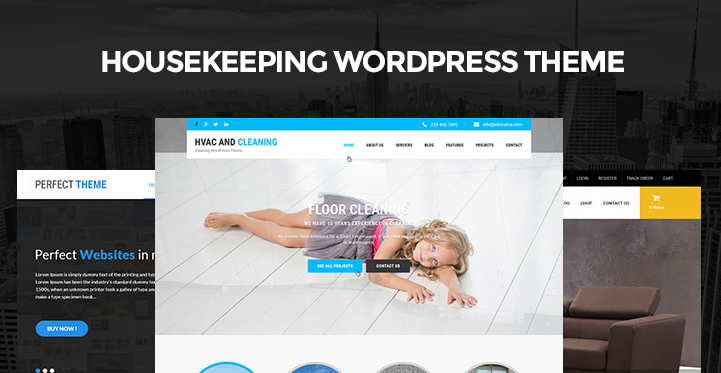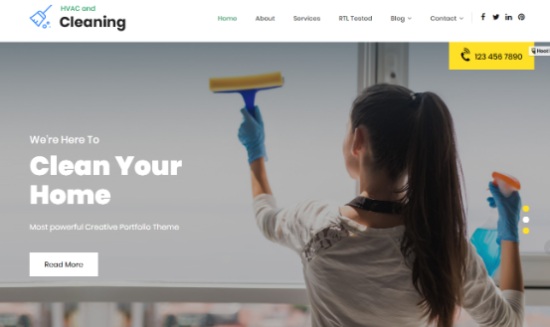 Offer a variety of your cleaning services with HVAC and Cleaning as polished and pliable, simple yet entirely energetic housekeeping WordPress theme.
If we try to weigh the pros of this modern and precise – looking template, will easily dig out an offshoot of advantages you anyone can take pleasure in.
The range includes color changing options, preloaded shortcodes to deal with easily, page and blog templates available to add pages as well as blog section for constant breezy face of your profile.
This responsive and cross mobile compatible template has also been stylized with material and flat design styles to make your presence trim and streamlined, joyful to navigate, as well as visually elegant.
With admin – friendly dashboard tooled up with handy controls and features, HVAC and Cleaning is ideal for showcasing your cleaning services checklist, pricelist and whatever may concernment your web visitors.
Cache plugins, SEO plugins, WooCommerce, NextGen Gallery and Contact From 7 are fully compatible with the theme as well.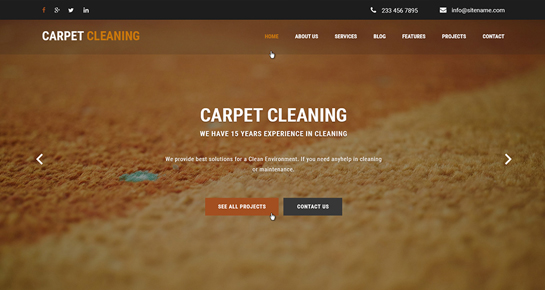 Cleaning Company is another top – quality and high – end WordPress – based template ready to reckon with any kind of narrow – specified requirements and objectives of housekeeping – related industry.
This totally adaptive and comprehensive template can be used as a digital strategy to take on your housekeeping business in a systematic and well – managed fashion.
The theme comes with homepage full – width slider to visually impact all the potential clients and prompt them to take certain actions to communicate with you and order your services and workers.
Gallery section is also available for collecting your photos and images in one place and let the user review them quickly.
From page and blog variations and contact section to social media integration and total responsiveness, Perfect Cleaning is truly perfect in everything.
It means that you are highly challenging and open to social interaction, as well as amazingly convenient with your clients on the go.
General – purpose and avant – guard, entirely smart and intelligent, powered with advanced technology, Furniture Pro is the next valuable housekeeping WordPress theme to lead you to the peak of your career or business.
Leverage all the essential controls of Pest Control and establish your cleaning or repairing company's or center's identity across the virtual reality.
The handy tools and elements, nicely – arranged parts and sections of this wonderful website builder make the establishment and further customization of your profile as easy as a pie.
Thus you are powered to choose the right typography with the available fonts, use more than 100 shortcodes, change the given colors, backgrounds and images whenever needed, arm the homepage slider with high – resolution images, etc.
You can even create stunning and user – friendly shopping environment and sell your housekeeping – related tools and accessories, clothing and equipment, as well as services.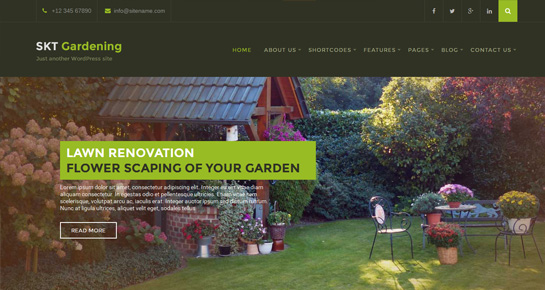 Based on HTML5 and CSS3 coding language and styling unity, coded and developed to shine among many other WordPress – powered products, SKT Gardening is fresh – faced and fantastically credible template with multi – purpose working strategy.
Hence this premium – quality housekeeping WordPress theme can be irreplaceable when it comes to presenting all your services in a complex format, including indoor and outdoor housekeeping services and caring, repair and renovation, interior design, gardening and landscaping and much more.
SKT Gardening has been nurtured with all the primary features which provide semantically stable and accurate performance of your future website.
SEO – friendly nature, translation – ready framework, 100% responsiveness, as well as standard controls inclusion of the theme are also substantial for the continuous variability and even future scalability of your website.
SKT Sanitization Pro can be the cradle of your digital power. Purposeful and dependable, designed with modern flat design traits, this housekeeping WordPress theme will reduce the distracting factors of your website to the absolute minimum.
It will let your website riders scan your content and make relevant conclusions without digging out the whole website material.
While in compliance with the major WordPress prerequisites, SKT Sanitization Pro incorporates everything significant and practical, ranging from convenient sections to flip boxes, footer and header areas to give social media links, contact and other details.
Widget – friendly and customization – compliant, this template has been also checked for its ultimate responsiveness and cross – mobile compatibility, as well as plugin support.
In case you want to serve your content in multilanguage mode, you are free to do so via the support of translation plugins.