The real estate sector is the most promising and financially rewarding business. Approximately 90% of real estate companies utilize websites to showcase properties. These online property listings attract potential buyers and investors interested in the real estate market.
Therefore, real estate businesses must possess a standout website that facilitates effective property listings and incorporates a mortgage calculation feature. Here are the top ten free real estate WordPress themes with demo content carefully designed for your business needs.
Top 10 Free Real Estate WordPress Themes with Demo Content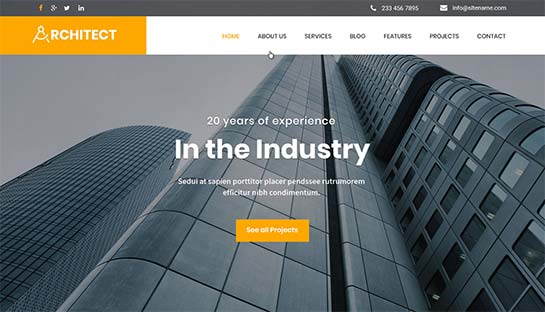 If you happen to be an interior décor firm or a supplier of home décor items, the SKT Architect Lite theme would be an ideal choice for your website.
Given the significance of presenting everything attractively in your line of business, capturing the attention of potential buyers becomes crucial. SKT Architect Lite provides an effective platform for showcasing your product portfolio in a visually appealing manner.
One of the standout features of this theme is the slides feature, which adds a stunning touch to your website. You can leverage these slides to showcase your previous work or highlight specific products.
Utilizing slides is an excellent way to emphasize your most successful or aesthetically pleasing items, capturing the interest of your visitors effectively.
Presenting a property or interior design through online images indeed demands considerable effort. Images in real estate websites are crucial as they must be high quality and load quickly. Convincing customers to invest in a property merely through images is challenging.
However, thanks to free real estate WordPress themes and demo content, it has become possible to entice prospective buyers into property investments. With international property buyers often reaching out to realtors through their websites, attracting global investors requires a website that utilizes the SKT Patterns theme.
This theme excels in highlighting images and facilitating secure financial transactions. By incorporating a contact page and showcasing your portfolio, the theme enables prospective buyers to contact you easily.
As a result, you can list properties online and attract clients from different states and even countries, broadening your reach significantly.
Roofing, industrial plants, and construction businesses can also reap significant returns by establishing their websites. The Windows Door Lite theme, available for one-click download, offers seamless customization options for showcasing products and creating a contact page.
The roofing industry is experiencing a surge in popularity, especially with many households transitioning to solar energy, often requiring roof repair and reconstruction.
Given that most people use digital devices to find properties and roofing companies, having your website listed online in the local market can attract more clients.
To optimize your website's potential, select one of the free real estate WordPress themes with demo content, allowing you to showcase your services effectively.
You can utilize the website to build customer trust by displaying testimonials and feedback from previous clients, further enhancing your credibility. This approach can significantly contribute to the growth and success of your roofing business.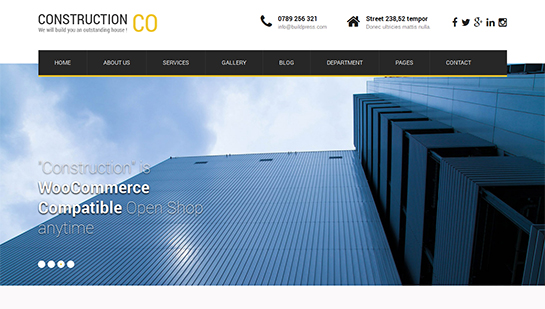 For construction businesses, maintaining a strong online presence is as vital as it is for an online store. A website that is SEO-friendly can make a significant difference in this regard. An SEO-friendly website ranks higher on search engines, thus attracting potential clients.
Our SKT Construction Lite is among the free real estate WordPress themes with demo content, and it is specifically optimized for SEO. By utilizing this theme, your construction business can improve its online visibility and increase the chances of attracting new clients.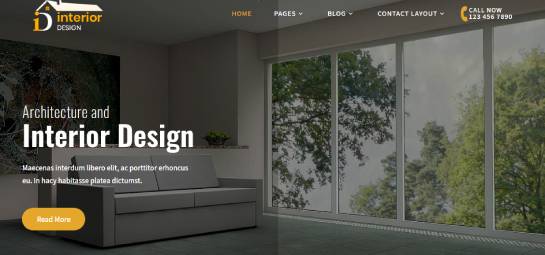 Indeed, having an appealing online portfolio is just one of the methods to attract customers online. For an interior décor business, a website that has an attractive portfolio and effective search engine rankings can be prove quite lucrative.
Establishing an online presence means outshining competitors and implementing an effective call-to-action strategy. All of this becomes achievable through a dedicated theme. Interior Lite is one of the finest themes to explore to elevate your real estate business to new heights.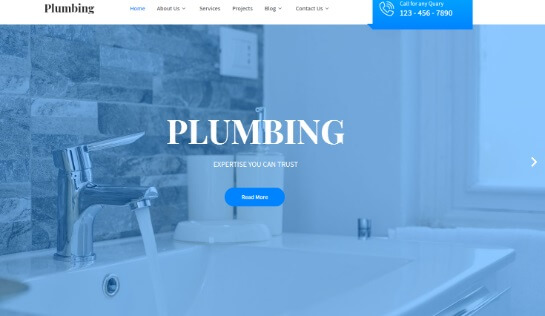 The plumbing and construction industries are interconnected, with construction projects often requiring plumbing services. Reputed construction companies typically opt for well-established plumbing companies for their projects. Thus, a website displaying your top-notch work, products, and services can instill trust in potential clients.
SKT Plumbing Lite is a pre-designed WordPress theme that enables easy installation and immediate use with a single click. This theme offers a wide selection of Google fonts, captivating layouts, and designs that enhance the online appeal of your business, presenting it as a promising option for potential clients.
The kitchen is a central part in a home, and it's no surprise that families allocate a significant portion of their income towards remodeling and designing this vital space.
As a kitchen design business owner, not having an attractive website could result in missing out on potential clients. Nowadays, people are just as interested in kitchen accessories as home décor.
The Kitchen Design theme by SKT is part of the selection of free real estate WordPress themes with demo content. The theme can effectively elevate your business's online presence.
With the Kitchen Design theme, you can improve your search engine ranking and present a professional image online, ultimately attracting more customers to your kitchen design business.
Some businesses require more than sliders, portfolios, and image galleries on their website. Potential homebuyers or property investors might also be interested in learning about various aspects, such as "how to take a mortgage loan." Blogs serve as an excellent way to keep visitors engaged constructively.
SKT's Stone Lite theme is designed to enhance your website with blogs, a search bar, archives, and many other useful features. Its one-click installation feature ensures easy usability.
A website can be an excellent solution for property consultant businesses aiming to attract clients from different countries. A well-crafted website allows you to showcase reviews and feedback from satisfied clients, demonstrating your expertise in successfully closing property deals. With a dedicated contact page, visitors can easily contact you for property-related inquiries.
The SKT Contractor, a free real estate WordPress theme with demo content, offers an impressive preview of how your website will look. You can use this theme to incorporate Google Maps to display the physical location of your business.
This feature makes it convenient for prospective property buyers to contact and even meet you in person, strengthening their trust and confidence in your services.
There is a growing interest in purchasing eco-friendly properties. The concerning impact of global warming has motivated people to prioritize environmental protection. Consequently, many homes and businesses have adopted solar energy and reduced their use of plastic bags.
If your real estate business actively contributes to environmental preservation, you can communicate this message through your website. The SKT Solar Energy theme provides an ideal platform to showcase your eco-friendly practices in constructing homes and offices.
With its attractive layout and designs, this theme allows you to highlight your commitment to sustainable and environmentally conscious approaches, thus appealing to environmentally conscious clients.
Conclusion:
If you are unsure about selecting themes and require expert guidance, contact SKT Themes today. Our team consists of enthusiastic WordPress developers with extensive experience in the field. We fully comprehend the significance of having an attractive and professional online presence.