SKT Full Width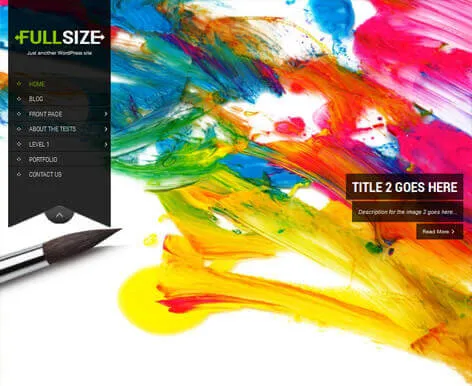 Free
Demo
360+ Themes for $69
Comparison
Free Theme
Less homepage sections
No inner pages
No Support
No Typography Options
No Icon Options
No Header Layouts
No footer Layouts
Less plugins compatible
Less updates
Less flexibility
More Time for Website Build
Features of SKT free Full Width WordPress theme
SKT Full Width WordPress Theme is FREE and fits all screens of all sizes
SEO Friendly coding
Coded with WordPress Theme Unit Test Review Standards
Blog section has possibility to add photo as well as videos
Easily change backgrounds of any page including home page
Sliding menu bar on left and can be also set to right
Compatible with complex sliders and gallery plugins
Visually attractive and can be used for multipurpose industry websites
Inner pages have nice background and on top of transparent sections content is placed giving a nice look and feel
Compatible with WooCommerce for online shop
Compatible with contact form plugins for appointment and bookings
Ready to use in a plug and play system
Compatible with latest version of WordPress
Coded with HTML5 & CSS3
SKT Full Width our latest full width WordPress theme is offered for free. It is a great theme with background rotating for home page and for inner pages one can change the background to whatever he feels like.
The free full width WordPress theme is very easy to use and comes with demo test content.
The free full width WordPress theme scrolls over the backgrounds which you set for each page and looks beautiful. Since the backgrounds are full width backgrounds hence the name of the theme is kept as Full Width.
Full width WordPress theme comes with a sidebar which slides down and up based on what you set for your home page background.
This comes handy for people who want to showcase only pictures for their home page and show it as a portfolio.
So photo bloggers, portfolio owners or photographers can use this to their credit. Since photos speak more than words this is a great feature.
Also one can set the sidebar with menus either to left or to the right hand side.
The blog section uses the post format as well as the normal way blog posts are used with categories. One can take advantage of featured images to set their features images of blog posts. One can also use WordPress in built player to play video files.
The home page background also works like a slider where one can add title, description and read more linking to any page/post.
Also Included with every SKT Full Width WordPress theme
Theme Files Theme files are included in the zip you get when downloaded
Sample Content XML Format which can be easily imported to WordPress via tools is also included
MySQL File You will also get a MySQL file for easy upload of database in case you are a developer
Why are full width sites needed?
Full width and full screen websites are an excellent way to showcase any type of website which contains images because full wide screen spanning images look better and give a lot of visual impression to the users. Hence photographers and architects or interior designers and the others who want a nice and cool portfolio website to showcase their images should opt for such kind of websites.
Photographs and videos appear stunning and visitors can then turn into prospective clients by getting impressed with such website view.
More emphasis in these themes are over the images than the presentation of content and hence images get the maximum exposure.
Promotion of a product or a model or a nice landing page can be built using these type of websites.
Search engine optimized and has coding done keeping in mind the search engine valuations and algorithms.
Also the free full width WordPress theme is SEO friendly and social media friendly with social media sharing plugins compatibility and social media feeds compatibility for sidebar and social media icons included in the footer with more available in Pro version.
One can even sell merchandise of photographs or other items using this template. It is retina ready and is compatible with all kinds of browsers used by different devices. Also cross device compatibility is tested for mobile, hand held and tablet devices amongst desktop devices and their different OS also have been taken into consideration.
Slideshows and gallery plugins have been tested so that there is no dearth of options while using this template to showcase your portfolio even in the inner pages.
This template is youthful and attractive as well as works for any type of corporate, serious business website to the models, photographers and any kind of portfolio website as well.
Contact form support means that any type of contact form plugin can be plugged into this theme and used as a page to gather details of your prospective clients and visitors who want to contact you or your business.
Checkout our other WordPress free themes which are useful and can be used for other industry usage as well.
Tags: celebrity, portraitist, camera addicts, camera-man, journalist, photoshooter, artist, videographer, aesthetic pleasure seeker, photo lover, artist, press photographer, photographing, camerawoman, woman, photography enthusiast, photographist, freelance photographer, assistant, independent photographer, camera operator, photomaker, cameramen, artist, camera, photography, illustrated, producer, photoshoper, picture, phototaker, full wide, panorama, wide screen
Change Log
Updated December 2023
Working With Latest WordPress Version
Updated Google fonts for GDPR and Other Country Privacy
Updated to work with PHP 8+
Updated to work with at least one page builder (Elementor, Gutenberg or SKT Builder)
Compatible with popular plugins of SEO, contact form and WooCommerce
Updated performance to work with popular cache plugins and Cloudflare