Adventure Lite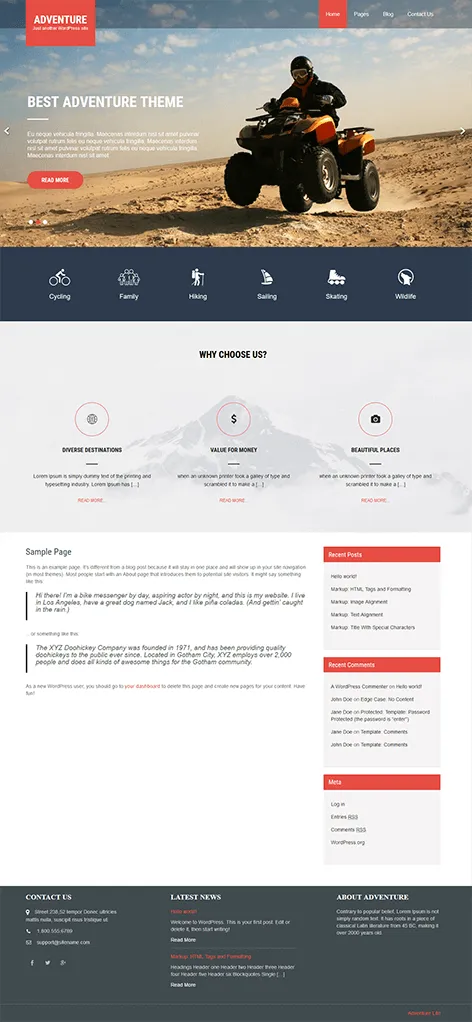 Free
Demo
360+ Themes for $69
Comparison
Free Theme
Less homepage sections
No inner pages
No Support
No Typography Options
No Icon Options
No Header Layouts
No footer Layouts
Less plugins compatible
Less updates
Less flexibility
More Time for Website Build
Features of Free travel blog WordPress theme
Fully Responsive 100% and has been tested with several different kinds of devices and screen resolutions for complete Google mobile friendliness and tablet ready
Simple and easy to use free travel blog WordPress theme
Comes with basic documentation and complete documentation for the pro version
Sidebar is complete widget friendly and can hold as many widgets as needed
Photo gallery like Huge IT portfolio, nextgen gallery and others are compatible
Compatible with various SEO plugins for SEO purposes
Compatible with multilingual plugins like WPML, qTranslate X and Polylang
Compatible with other language editor plugins like PO Edit and Loco translate for translation into other languages
Footer is also widget friendly and can hold any type of widgets
Various call to action has been provided for having call to action friendly free travel blog WordPress theme
Slider by default is provided with 3 slides and more slider options and slides available in pro version
Using static page one can have the sections and the blocks of the homepage
Appearance>menus drives the top menu which has 5 levels of drop down for various pages
Category, 404, blog, author, search and other standard pages have also been coded
Has been tested with theme check plugin and plugins for security vulnerability
Compatible with contact form 7 and ninja forms and caldera forms among others for great form submissions
Compatible with WooCommerce and thus one can have an online store
Compatible with all kinds of social sharing plugins as well as social widgets
Theme unit test data compatible and works with several kinds of fonts and characters
Coded with HTML5 and CSS3 and compatible with latest WordPress version
Flat design and material design approach taken
More About Free Travel Blog WordPress Theme
Free travel blog WordPress theme has been created to help all the travel bloggers with having a great website and having the best out of the this blog cum website which will be helpful for your next website.
Travel blog can have adventure sports, adventurous travels as well as other portraits and photo shoots and for this purpose our free travel blog WordPress theme uses plugins like nextgen gallery, huge IT portfolio as well as several sliders like smart slider, crelly, cyclone slider, master slider, nivo slider and others to have a great slideshow of pictures and photographs so that one can view them as per albums and check out the travel related blog content.
Apart from that this serves like a journal type of blog which showcases various travel related logs of the user and others can view them and can comment on them.
Our free travel blog WordPress theme also consists of several other features like having the sidebar fully widget friendly so that one can place travel related advertisements in there.
One can have weather widgets and different time and other kinds of widgets placed on the sidebar.
One can use WooCommerce and can have a nice shop as well on the website so that one can sell those travel related merchandise online.
One can also sell online digital photos as well online which can be shot by the travel blogger.
Free Travel blog WordPress theme is also compatible with font based icons and social widgets so that one can have social networking follow up on the website.
Also one can easily get the social sharing done on the blog to get more traffic. This free travel blog WordPress theme is secured and has been coded as per the WordPress codex security standards and WordPress theme review team standards and hence is also fully theme check plugin passed and works well with all kinds of devices and screen resolutions because of this as well as because its a responsive template.
It is also compatible with various plugins and hence adding functionality to this template is a piece of cake.
Simple and effective to work with travel bloggers need not do much to set this up and also the navigation on the top is 5 level drop down deep and hence one can have a large website set up in no time.
Travelling is one of the amusing parts of everyone's lives. It breached monotony of life and work. Life, for most people, is a delirious rush from one place to another, from one activity to another, trying to gather as much as possible. In this fast-paced life where people do not have time even for them to relax traveling made things different. That is why people plan to go out in trips either with family or friends. There they have an opportunity to explore themselves and contemplate the beauty of nature.
Trips can be of diverse types like adventure, visiting to the holy places and likewise. Traveling is a time when people relax and realize the beauty of this wonderful creative scenery of the world. Not only this, traveling also help us to get more information about different customs and cultures. We learn new things from outside realm which we can never learn only from reading books or surfing the internet. But, in this tech-savvy world, here also technology plays a major part. If anyone plans a outing or a trip then all the ticket bookings and hotel bookings are done in advance to evade any trouble in the trip.
There are many blogs also about traveling from which you can grasp knowledge. The success and future prospects of any blogger highly rely on the cohesion of the strategies adopted and knowledge of blogging. But, as you all are aware of the fact that it is somewhat impossible to attain success without assuring your presence in this highly technical online world. If you are also a travel blogger who want to explore the world with their travel blogs then you can design your amazing travel blog website.
Designing your website is one of the optimum pavements by which you can reach to a larger array of people. And, if you are in a skepticism which platform to choose and how to design website. Then, you need not worry we are here with this grandiose free travel blog WordPress theme. This theme is one of the topnotch themes for designing your travel blog website. Creativity yet minimalism, awe-inspiring functionality, and features, richness yet easiness and user-friendliness in installation and usage are what make free travel blog WordPress theme as one of the top-rated travel themes for travel bloggers and for those who want to travel the world.
Apart from being polished and lightweight in usage, it is much functional. By the utilization of the prebuilt options and features, this exceptionally thought-out and resilient travel blog theme is open for diversified extension. So, you can take your website to a new level of excellence by exerting this palatial theme. With this theme, it will be quite easy to insert maps for showcasing your location, videos displaying your travel and eye-soothing traveling images.
Designed with the backbreaking efforts of our expert designers this theme will let you stand out from the crowd. Based on modern technology, HTML and CSS3 this will give you a website with a pleasant and professional appearance. Except the palatial look it does not lag behind in inner functionalities.
SEO tasks have been taken care of as it is one of the vital features required by any contemporary website. Social media encompassing proved to be just mind-boggling. You can share your website content crosswise various social platforms and thereby attracts more traffic to your website. WooCommerce compatibility made you competent to open an online store or online travel agency with this theme.
Free travel blog WordPress theme is just beyond perfect in all aspects. Try this theme and see its results by yourself.
Tags: traveling, trek, happy movement, expedition, cruise, backpack, visit, trips, tour, vacationing, voyage, roaming, action, go, roll, move, journey, safari, touring, journey, trip, go abroad, peregrinate, riding, journey, motion, movement, change, taking a trip, stay, holidaying, spring break, vacation, furlough, summer vacation, vacancies, vacation time, tour, travel, vacay, breaks, offseason, vacationing, resort, summer vacation, breakdown, weekends, recesses, rests, package, outings, staying, summer holiday, summer break, summer recess, major holidays, high holidays, big holiday, great holiday, long vacations, break, summering, long vacation, summer recreation, holiday, summer activities, summer enjoyment, summer entertainment, summer fun, summer gaiety, summer joviality, summer joy, summer merriment, summer pleasure, summer relax, summer relaxation, summer rest, summertime, entertainment, summertime fun, summertime joy, summertime pleasure, holiday period, summer leisure activities, summer camps, great festivals, large parties, summertime, major festivals, major feasts, spend the summer, festivals, main festivals, spring, midsummer, estate
Change Log
Updated December 2023
Working With Latest WordPress Version
Updated Google fonts for GDPR and Other Country Privacy
Updated to work with PHP 8+
Updated to work with at least one page builder (Elementor, Gutenberg or SKT Builder)
Compatible with popular plugins of SEO, contact form and WooCommerce
Updated performance to work with popular cache plugins and Cloudflare