Ele Attorney Lite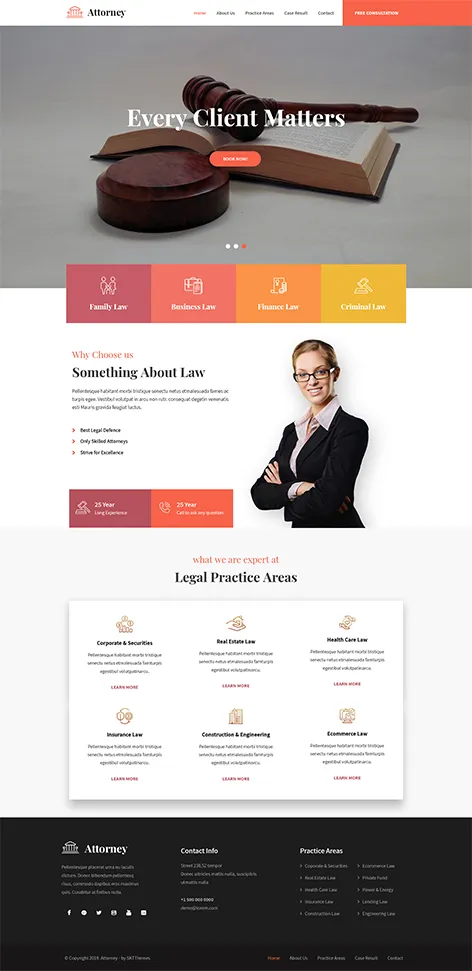 Free
Demo
360+ Themes for $69
Comparison
Free Theme
Less homepage sections
No inner pages
No Support
No Typography Options
No Icon Options
No Header Layouts
No footer Layouts
Less plugins compatible
Less updates
Less flexibility
More Time for Website Build
Features of Free Law Firm WordPress Theme
Ele Attorney Lite is a fresh and groundbreaking free law firm WordPress theme created with an awesome page builder that is elementor.
The template is created on the elementor page builder so that the non-technical business owners can create a legal attorney website in an easy way.
The demo is specially designed for advocates, attorneys, court, legal consultant, and different lawyer businesses.
The attorney based website is very easy to set up due to the availability of shortcodes.
With the strong theme option, you can modify the content that you want.
The website build with the Ele Attorney Lite will allow you to add some extra third-party plugins to enhance the functionality for your business website.
By adding plugin your website will be easier and act friendly with all your users.
With social media plugin embedment on the website, law firms and lawyers will be able to reach the maximum clients.
You can even plan some events with the event calendar plugin.
Your clients will be able to check event details by visiting your website.
Every content will look attractive as color picker, fonts option, widgets are available for free.
The homepage can be redesigned as you need by using the widget option.
The demo content is given for a single page but you can get complete theme pages to demo by becoming a premium member.
The live customizer tool is accessible while modifying the theme content or colors.
One can check live customization with a live preview option.
Elementor page builder will help you in setting up the web pages.
Maximum 5 images can be added to the slider of your website.
With page builder, you can add image or video slider very easily.
The footer section of a website can have different icons, widgets, and sidebars.
Header and footer area can have icons for emails, social media, phone numbers, etc.
Footer has a setup for copyright text and embedded with social media icons.
You can manage the footer section on your own.
Footer can be managed with a customizer option.
From the theme option, you can upload the logo of your business brand.
You can change the background color of the website so that it will suit your business logo.
Various types of browsers are compatible.
The sidebar area is to manage the content of a homepage.
Add the sidebar of your choice to any section of the page.
Your client will never face any issue while browsing.
The Ele Attorney Lite is included with the translation file such as PO and MO file.
You and your clients can change the complete theme to their native language.
The theme works best on all types of devices.
We assure you that the free law firm WordPress theme is the best platform to get started your small law firm business right away.
Law firm and attorney businesses are the most important business in every country. Therefore every business owner related to this sector should be familiar with the latest trend to connecting with more people. Hence, showing online presence by creating a website is the most significant and professional way to explore services with your client. You can easily target clients from your local area, city, country or through the world. Lawyers will be able to reach their targeted clients very easily with the help of the website.
But choosing the appropriate theme that will best suit your business idea can be the hardest task. It is not easy to find a theme with all the functionality that you need and another problem is trust. If you are looking for themes that will cost you zero but will give the functionality that you looking for a long time then you must give a trial by crafting a website with a free law firm WordPress theme.
Ele Attorney Lite will go with the business like legal office, legal consultancy, law firm, legal practitioners, legal counsel, justice, solicitors and attorney based businesses. The web template consists of high features that will make your people find your business on the internet and will be able to inquiry about lawyers and other legal stuff. We have done deep research about the attorney business and the features that these kinds of business need.
The free law firm WordPress theme can be used for a multipurpose business website such as one that can create a website related to consulting or commercial business purposes. In case you need a complete eCommerce functionality than also you can make use of this theme by integrating the Woocommerce plugin on the website. Also, it can be used for creating a portfolio based website.
Most demandable features like the number of widgets, responsive slider image, responsive background, a different type of content allowed, social share buttons compatible, control on layouts are given and more.
If you ever thought of using the generic website then your strategies will go in the wrong direction because the generic theme does not provide specific features that your law business will need. Therefore you need to choose a theme that is specially made for law-related businesses.
For example, if you want to showcase some cases and client testimonial or attorney profiles then you can display it in a professional way with a free law firm WordPress theme only. It has given an area where you can add profiles, testimonials, cases, etc.
Most of the clients look for support or chatbox where they can connect with one of the consultants. Hence you can integrate chatbox plugin or any other plugin that you want to stay connected with your clients. You can also make use of the MailChimp plugin for email marketing purposes.
Your website will get a low ranking on search engines by SEO if your website content is not visible to every customer. Because Ele Attorney Lite is coded with the W3C standards the complete website is optimized with all the screen sized and web browsers. The images, text, videos, colors, components all will look as it should be. High-resolution images and videos are allowed to be used for accomplishing the desired attention of customers. A premium theme will come with the two color variation that is a dark theme and light theme option.
Also Included with Free Law Firm WordPress Theme
Theme FilesTheme files are included in the zip you get when purchased
SupportYou can email us for support of this theme
Tags: authority, legal, papers, lawful, legitimate, legislation, judicial, rights, valid, authorized, rightful, juridical, permitted, attorney, licensed, rule of law, solicitor, barrister, jurist, legal practitioner, counsellor, assistant, legal representative, mouthpiece, law agency, trial lawyer, surrogate, attorney-at-law, pleader, promoter, legal adviser, prosecution, agent, deputy, law officer, law, lawyer, advocate, state attorney, adviser, legal expert, company lawyer, officer, assistant, deputy, manager, defense counsel, manager, agent, manager, legal counsel, legal officer, paralegal
Change Log
Updated September 2023
Working With Latest WordPress Version
Updated Google fonts