Natural Herbs Lite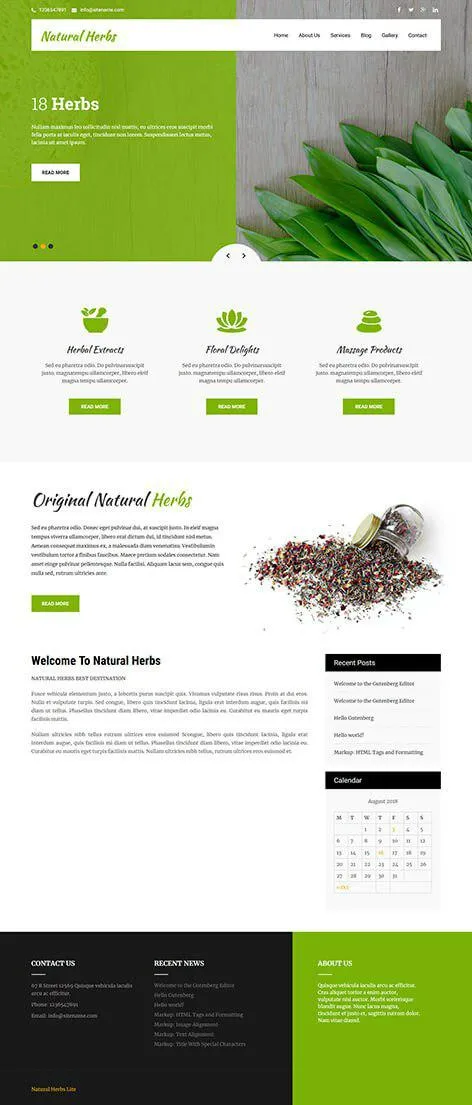 Free
Demo
360+ Themes for $69
Comparison
Free Theme
Less homepage sections
No inner pages
No Support
No Typography Options
No Icon Options
No Header Layouts
No footer Layouts
Less plugins compatible
Less updates
Less flexibility
More Time for Website Build
Free Herbal WordPress theme
Free herbal WordPress theme can be used to design websites like natural herbs, natural beauty products, Ayurveda, herbal and similar website.
Even neophyte users who do not have any prior knowledge oh handling websites, can handle it well.
Due to its widget friendly design you can add widgets to various sections like header, footer or sidebar.
One can focus on image as well as content on your herbal website. As free herbal theme is designed with minimal design approach.
Blog section incorporation keep users engaged with your website for a long. In blog section, you can update posts or articles related to your herbal agency.
Demo content is also provided along with the theme so you can design your herbal website with much ease.
Free herbal theme is designed to be mobile-friendly. Your herbal website can be viewed with convenience in device of any screen-resolution.
Your herbal website can be translated to any other language. It is possible due to the POT file encompassing in this theme.
Your visitors can comment as per their choice. As a default comments template has been created with the nested commenting option.
Free herbal WordPress theme is designed affable with various social media plugins like Disqus, Facebook and others. As social media sharing is vital for attracting more traffic to your herbal website.
Your herbal website can be viewed in any mobile as the theme is congenial with AMP plugin.
Free herbal theme is tested with various RTL languages like Hebrew, Arabic and others.
You can make your herbal website visually captivating. This can be done by representing your posts in various formats like with text, multimedia, video and other elements.
Free herbal theme is affable with various multilingual plugins like WPML, qTranslate X and Polylang. Hence, you can design an elegant global website using this theme.
Based on your requirements you can add as many widgets you want in various sections. You can also incorporate widgets in pages of your website.
You can tweak the color of any element with the use of a color picker option which is provided.
Free herbal theme is tested crosswise various browsers like Opera, Chrome, Safari and others.
Schema friendly so that Google review, as well as author profile bio, also get listed on search results.
Pages can also be used to show static content like a description about your herbal agency and products.
You can make your herbal website more engrossing by delivering your website content in a brew with images, sideshow, banner or video.
Congenial with WooCommerce plugin hence you can open an online herbal products shop. You can accept payment online and can do all online transaction with convenience.
Free herbal WordPress theme can be handled effortlessly by anyone due to its immaculate design.
Designed to be entirely responsive. Therefore, one can view your website on laptop, desktop or any other device with ease.
Incarnation of various social media icons in sections like header and footer results in inflation of traffic rate.
Page builder plugins like Gutenberg, Visual composer, Beaver, Elementor, Divi, Live composer and others work well with this theme.
Intact look of the theme allows you to represent your content and images in an uncluttered manner.
Your herbal website will be congenial with old and new browsers. As herbal theme is designed based on flat and material design approach.
Header, footer and sidebar sections can be designed with CTA buttons or text and widgets can also be encompassed. Free herbal theme incorporates a quick call to actions.
You can add additional functionality to your herbal website as there is an incorporation of various shortcodes. Even more shortcodes can be added with the help of shortcode plugins which work at its optimum with this theme.
Contact us section is incarnated in order to provide your customers convenience in contacting you.
Free herbal theme has been designed based on customizer. Hence, you can catch-up a live preview of changes happening on your website.
You can view your herbal website with a more professional and magnificent look. As the theme is coded with HTML and CSS3.
Coding of the free herbal theme has been done based on the WordPress codex theme review standard.
You can shield your website from malicious attacks and hackers with the incorporation of security plugins.
Pro version of free herbal theme consists of various fonts and layouts options.
Free herbal theme is coded based on SEO standards and it is also affable with various SEO plugins. Hence, your website can have good search rankings.
You can make loading speed of your website faster with the incorporation of cache plugins which work well with this theme.
In this modern era, people are fervent about fast foods. Specifically, teenagers are just fond of fast food like Pizza, Pasta, Sandwiches, Burger, Chinese food and likewise. But, along with this, it is also seen that some people are diet conscious. For them, good health is first priority. Such people are always in a search for natural and organic food. They also prefer medicine and herbs which are natural like Ayurvedic or Homeopathic.
So, we have designed this elegant website using which you can design a splendid herbal website. Ayurveda has its root from earlier ages. It is good for health as it does not have side-effects. If you are an owner of a shop who deals with herbal products then it is impeccable theme for you. Free herbal WordPress theme designed by our nimble designers. This is the topnotch brew of visually engrossing images and latest features.
Coded with HTML and CSS3, hence you can have a herbal website with more professional and aesthetic look. It will not be outmoded soon and will enhance your sales for a long haul. One of the mandatory features is its responsiveness. You can design an awe-inspiring website using this theme. And, one vital feature is, it can be used to design any kind of website.
Design your website with free herbal WordPress theme and inflate your sales noticeably.
Also Included with free herbal WordPress theme
Theme FilesTheme files are included in the zip you get when purchased
SupportYou can email us for support of this theme
Tags: nourishment, victuals, nutrient, nutriment, foodstuffs, goodness, beneficial, nurtures, edibles, eatables, vitamins, minerals, food products, chow, feed, grub, food items, mends, nutritional value, nutrimental, wholesomenes, fuel, meat, feeding, keep, nourishment, finger food, nosh, comestible, cuisine, diet, groceries, conditioners, nutriments, drugs, solids, agri-foodstuffs, health, fitness, herbal, homemade, good stuff, herbs, plant, vegetable, plant-based, herb tea, vegetable, crop, grassy, botanical, floral, herbal medicine, medicinal herbs, grass, verdant, herbaceous, grass up, botanic, medicinal plants, weed, herbage, plant origin, flavorer, herbarium, mossy, grasses, herbals, flavourer, herb garden, vegetative, phyto therapeutic, fruity, vegetal, planting, medicinal herb, herbal remedies, vegetable origin, flavouring, seasoner, herbal medicinal products, harvest, cultivate, agriculture, agriculture products,
Change Log
Updated December 2023
Working With Latest WordPress Version
Updated Google fonts for GDPR and Other Country Privacy
Updated to work with PHP 8+
Updated to work with at least one page builder (Elementor, Gutenberg or SKT Builder)
Compatible with popular plugins of SEO, contact form and WooCommerce
Updated performance to work with popular cache plugins and Cloudflare