Recipe Lite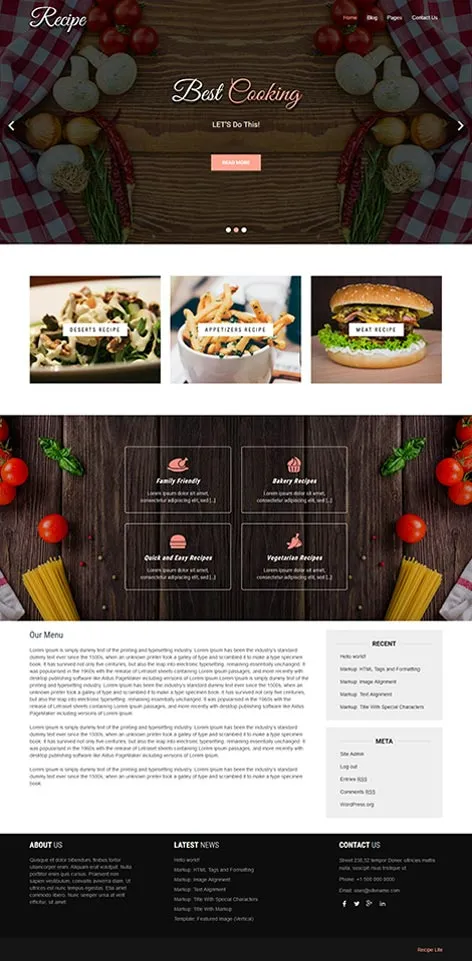 Free
Demo
360+ Themes for $69
Comparison
Free Theme
Less homepage sections
No inner pages
No Support
No Typography Options
No Icon Options
No Header Layouts
No footer Layouts
Less plugins compatible
Less updates
Less flexibility
More Time for Website Build
Features of Free Food WordPress theme
Simple to follow and based on Customizer for doing changes real time
Easy to understand and novice use can also get it done
Free food WordPress theme is Page builder compatible which are Visual composer, Divi, Elementor, Live Composer and others
Full Width page template is given so that one can easily set up page builder layouts as they wish for
Create your own layouts with the help of full wide template and page builder plugins
Shortcodes compatible and shortcode plugins work just fine with this free food WordPress theme
Every where on sidebar, footer and slider buttons call to action has been kept in mind to get more and more business
Color changing and easily using a color picker the whole site color tone can be changed
Slider by default is provided
Responsive 100% and has been tested for cross browser, cross device and cross platform compatibility
Free food WordPress theme can be considered as complete website solution
Flat and material design approach has been used which means all modern browsers covered
Sidebar is widget friendly and can hold unlimited number of widgets
Recipe plugins are compatible and hence one can showcase nice food related blog
WooCommerce compatible and works like plug and play and hence opening an online food ordering store or selling food packets online won't be a great deal
Other Plugins like slider, gallery, events calendar, SEO plugins, and other popular ones like page builder, widgets etc are all compatible
Social Icons given in built for a few and one may add other social sharing plugins too
Effective areas of importance like call area, slider buttons and others are also provided
SEO plugins like Yoast, All in One SEO and others are compatible
SMO friendly with social sharing plugins working fine on blog areas
Static pages like 404, search, category, archives and others are provided
Blog layout can be set up easily without any issues
Comments like disqus, facebook, intense debate and other plugins are also compatible
HTML5 and CSS3 used which works for all modern browsers and looks nice due to animations
Lots of gallery plugins and slider plugins are compatible as well
Multilingual plugins like WPML, qTranslate X, Polylang and others are
Screen resolutions of HD, Desktop, mobile, tablet and others have been tested and found to be working fine
POT file is provided for easy language string translation
5 levels of drop down have been provided so that any user can easily add their pages and other links of the website
Homepage itself contains various menus by which visitors can navigate easily through the different sections of the whole website.
Free food WordPress theme is full of eye-catching images.
Incorporated with cache plugins so that loading speed is faster.
Security is being maintained as various security plugins are has been incorporated.
Different social media buttons are included.
Free food WordPress theme has been created and designed to cater to any type of food, online food ordering, pizza delivery, cafeteria, cafe, restaurant, caterer, food packaging and other types of multipurpose business use.
Free food WordPress theme is multilingual and is compatible with WPML, qTranslate X, polylang and other types of multilingual plugins.
Free food WordPress theme is also translation ready and has POT file within the theme language folder which helps someone to easily change the strings of language files into any other language.
Recipe plugins are also compatible with free food WordPress theme which means one can easily add recipes of food themselves and set them up.
One can add as many pages as needed in navigation with the help of 5 levels drop down as given.
Full width layout is also provided so that one can make use of popular page builder plugins and make the pages as per their requirements.
Sidebar is also widget friendly and can hold as many widgets as possible. Complete documentation is provided.
By setting the homepage to static page one can easily have the sections displayed nicely.
Animated homepage is set up with the help of HTML5 and CSS3.
Sidebar can hold call to action using contact form etc.
And on the bottom as well one can have the information needed with the help of widgets.
Free food WordPress theme is also set up to be multipurpose and can make use of WooCommerce to accept online food order or online bookings as well.
Compatible with contact form plugins and other gallery plugins for setup of image gallery etc.
This is a great template for food bloggers and food industry chefs, recipe makers, caterers to showcase their recipe and portfolio.
This is also a great free food WordPress theme which can be used for caterers or online food ordering websites to book orders for food, pizza and other deliveries.
Free food WordPress theme also takes care of novice customers who are just starting with the website development using WordPress.
It gives an easy way to customize via the customizer and one can easily watch all the changes happening real time.
It gives an easy way to change the colors. Also providing an easy way to change the widgets, menu and appearance of the site.
With the help of full wide template and with default gutenberg plugin installed one can easily have nice fancy content posted anywhere on the website.
Compatible with Google maps, Google analytics, Facebook pixel and others to help you track your business website for all kinds of traffic and help you grow it SEO wise and viral traffic wise.
It will be great ease of use for any visitor as there is a listing of various menus in homepage so that users can navigate to different sections of the website as per their requirement. So, it will become so easy and convenient for them.
As this theme consisting of eye-catching images so it will be a part of attraction. Visitors can not stop themselves to take a deep look into your website and in turn, traffic will be increased.
Website's loading speed plays an important role on the traffic of website as if your website response is slow when a request is made then it will discourage visitors, it may be possible that they will bounce off to another website and not visit your website again. Fast loading speed can be maintained on your website as it consists of cache plugins.
If you are thinking to build your website then first and foremost requirement is the security. As these days hacking is on a rise. So, website's security can be made strong as various security plugins are being incorporated into this theme.
Social media sharing is important if you want to enhance traffic. So, for this purpose social media buttons are included, in case, if anyone wants to follow your social media pages then it is easy for them by these buttons.
Recipes section is designed makes it easy for any visitor to find a different recipe and in that also categories are being mentioned. Visitors can smoothly search for the recipe which they want.
There is a section of the newsletter also so that if any of the visitors who want to subscribe your newsletter can subscribe easily.
Footer is designed neatly with different heads which are 'about recipe',' quick links', 'recipe category' and 'contact info' is also been mentioned so that in case of any query, visitors can contact easily.
As it is a fully responsive theme so anyone can access your website easily no matter whether they are searching from any of the devices like mobile, laptop, desktop or tablet. Usually these days people prefer to do browsing by mobile phones as it is most convenient.
Compatibility with different browsers is also an important feature. Some people prefer only a specific search engine for searching so if your website is not compatible with different browsers then it is a minus point for your site. But with this theme, your site will work fine with any of the browsers like safari, opera, Firefox, chrome and many more.
SEO tasks have been taken great care of as one wants to design a website for people convenience and to increase their popularity also. Designing website with this theme helps to improve your site search rankings in search engines.
POT files inclusion make it translation ready so that it will be very easy for any visitor to translate your site from default language to any other language it will be a greater convenience for them.
Many shortcodes are included and more can also be encompassed by shortcode plugin. So that customization becomes much easier.
As it supports multilingual plugins so if one wants to build a network worldwide so it is possible by designing a website using this theme.
Free food WordPress theme is very well designed consists of all features required by an aesthetic and well-versed website.
Also Included with free Food WordPress theme
Theme Files Theme files are included in the zip you get when purchased
SupportYou can email us for support of this theme
Tags: formula, prescription, method, procedure, dish, receipt, system, cooking instructions, blueprint, plan, secret, technique, formulates, instruction, scheme, modus operandi, means, strategy, program, prescriptions, way, formulas, secrets, means of achieving, way of achieving, takings, dishes, course, cooking directions, meal, feed, lunch, dinner , nourishment, sustenance, cuisine, foodstuffs, eating, grub, chow, cooking, feeding, diet, victuals, nutriment, provisions, eats, rations, edibles, nutrition, fare, dish, meals, foodstuff, nosh, eatables, eaten, supper, dining, dishes, nutrient, snack
Change Log
Updated December 2023
Working With Latest WordPress Version
Updated Google fonts for GDPR and Other Country Privacy
Updated to work with PHP 8+
Updated to work with at least one page builder (Elementor, Gutenberg or SKT Builder)
Compatible with popular plugins of SEO, contact form and WooCommerce
Updated performance to work with popular cache plugins and Cloudflare