SKT Construction Lite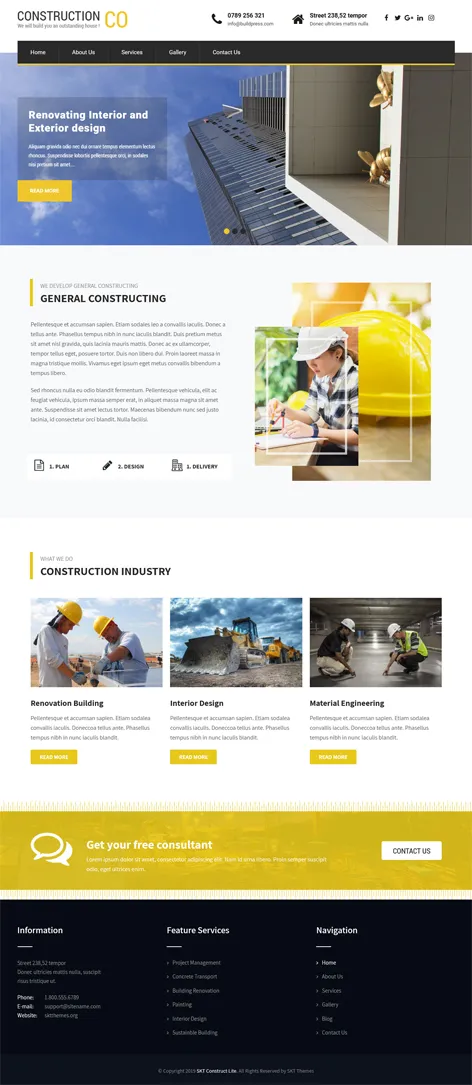 Free
Demo
350+ Themes for $69

Comparison
Free Theme
Less homepage sections
No inner pages
No Support
No Typography Options
No Icon Options
No Header Layouts
No footer Layouts
Less plugins compatible
Less updates
Less flexibility
More Time for Website Build
WordPress construction theme free download features
Free Responsive Construction WordPress theme which is designed and developed to cater to all requirements of construction website
It is a responsive theme which looks good on all devices as well as passes Google Mobile friendly test
Check changes done real time as it is built with customizer API
Nextgen Gallery and WooCommerce and Contact Form 7 among popular plugins tested and compatible with
Multilingual with the use of qTranslate X
Has 5 slides in the default slider
Pages like 404 and other standard pages like blog, search etc present
Lots of white space and the design looks good with the off white color
Ability to change link colors anywhere on the site
No coding required or any html css knowledge needed to set up the theme
Easy to use and set up homepage and other pages
Support link and documentation link given inside the theme panel
Blog sidebar is widgetized
Compatible with WordPress latest versions starting 3.x to 4.x as it has been coded using handbook and codex reference coding standards of WordPress.org
Coded with HTML5 & CSS3
SKT Construction Lite is a free responsive construction WordPress theme designed and developed to cater to all kinds of construction business and industry as well as real estate, architects, landscape and other industries and domains.
It has been built upon Customizer API so that you can do changes real time and check and test their effects on the website.
You can also change the color of the links anywhere on the website by clicking a button. Using the easy to use customizer you don't need any html or css knowledge.
Easy to set up homepage boxes and front page content.
Slider used has default 5 slides and fade effect with more slides available in the Pro version as well as animation and pause timings available in Pro.
Font settings, full color change effects are available in the Pro version.
Only single page template available whereas all kinds of page templates including the ones for blog are also available in Pro version.
More sections and animated sections are available in the Pro version. Lack of shortcodes is there in this free responsive construction WordPress theme but still one can set up a website easily using this theme because it is compatible with various plugins.
This free Construction WordPress theme has been offered for helping construction companies realise a nice look and feel website. Any skilful worker like carpenter, plumber, architecture, repairmen and others can also benefit from this website as this template can be used for such skills and companies as well. Even handyman companies can also use this template for themselves.
This is a highly scalable due to lots of plugin compatibility and a highly flexible template with several shortcode plugins and several other plugins readily complaint and found working and hence can be increased in features at any point of time using plug and play mechanism.
Construction and building companies and businesses need something very simple in terms of backend because most companies don't want to invest a lot of time on their website management and instead focus on their actual business and hence easiest management tool WordPress has been chosen and a free construction WordPress theme has been built on top of it.
Effective components of a free construction WordPress theme website
1. Large photos of projects: Projects currently going and having done in the past let other customers and prospects understand what the company is capable of and what the company potential is in real terms of handling complex projects. Hence photos and pictures which are actual photos of the past and current projects are important and should be showcased nicely. Our pro template offers the same however the free one is compatible with several gallery plugins like NextGen gallery and hence they can be used in order to display pictures nicely.
2. Easy Navigation: Easy navigation is always important for any website and not only this kind of particular industry because if users can navigate easily then they can easily understand the different services and go through the various pages of the website with ease.
3. Compatible plugins: Several multilingual plugins and gallery and event plugins as well as SEO plugins and others like slider and eCommerce plugins have been tested and found to be working just fine with this WordPress construction theme free of cost.
4. Blog room: Blogging just like responsive has become an integral part of any website and whatever may be the industry people need to post fresh content in order to get views from search engines.
5. Optimized for mobile phones: Responsiveness of any website is an essential feature nowadays and one cannot keep it optional even for their free ones as well. Hence we kept this template just like the others we offer fully responsive and optimized for mobile and cell phones as well as tablets of all brands and tested them for cross device as well as cross browser compatibility which features popular mobile and tablet browsers as well. Thus this is a well tested WordPress construction theme free for download and available with slider as well.
6. Brochures available for download: Brochures can be offered available for download for each of the project as this free construction WordPress template is compatible with PDF and PDF plugins. So basically various brochures of the current projects can be displayed for customers to easily download them when necessity arrives.
7. Team members and expertise: Team members and their expertise can be listed easily with the help of some plugins. Paid version of this theme does have the team members nicely displayed.
Choose any free themes in case you are a startup or small business to create your first website without much information or issues.
Included with free construction WordPress theme
Theme files have been included which includes the zip file
One can make use of the theme unit test data in order to fill the sample data needed
Tags: inventor, originator, founder, maker, mastermind, engineer, builder, planner, designer, patron, originator, initiator, entrepreneur, deviser, author, director, manufacturer, designers, artificer, artist, person, agent, innovator, constructor, architecture, draftsman, planner, designer, progenitor, director, producer, planner, craftsmen, peacemaker, agent, artisan, producer, maker, generator, fabricator, craftsperson, structure, design, organizer, architectural, pioneer, founding father, author, brains, originators, instigators, implementer, contractor, contriver, real estate developer, building contractor, design engineer, property developer, brick layer, land developer, establisher, handyman, maintenance, décor, laborer, land consulting, roofing, artist, portfolio, profile, roof top, repair, real estate, colorful, adornments, cannery, surroundings, home decor, color scheme, embellishment, garnish, furnishings, interior decorations, interiors, set design, scenography, flourish, design, redecorating, decorative style, ornaments, environments, designs, interior construction, painting, trimming, interior decorating, decoration, emblazonry, home decorating,
Change Log
Updated June 2023
Working With Latest WordPress Version
Updated Google fonts