Salient Features of lawn care WordPress theme:
Color changing lawn care WordPress theme
Easy to use shortcodes which are in built
Visual composer, and other page builders like Elementor work fine with this theme
Great visual capture for online visitors
Call to action buttons like social media and phone number on top
Working hours widget also given
Services explained explicitly on homepage
Complete gardening solutions explained with visual icons
Creating keeping in mind for lawn care specialists
Recent projects also showcased nicely
Our services explained in 3 different ways
Team member is optional and can showcase lawn care specialists
Testimonials are important for any local business and online reviews help build trust
Footer is fully widget friendly and so is header and sidebar
5 level page drop downs are available
Google fonts of more than 600+ are available for selection and implementation
Typography is more supported by use of latin and cyrillic sub sets
Use of font based icons to have a great fancier and better visual look on the website
SEO friendly coding with coding standards of WordPress maintained
Simple and effective Customizer based Lawn Care WordPress theme
Check your changes online live while getting them done
In built 100+ shortcodes for use in the overall site
Use shortcodes plugins as well along with the ones present
Use page builder shortcodes and widgets along with them to have unlimited possibilities
Several plugins like contact form, WooCommerce, SEO plugins, and others like slider and gallery are compatible for added functionality
Based on HD and retina ready as well as devices and browsers tested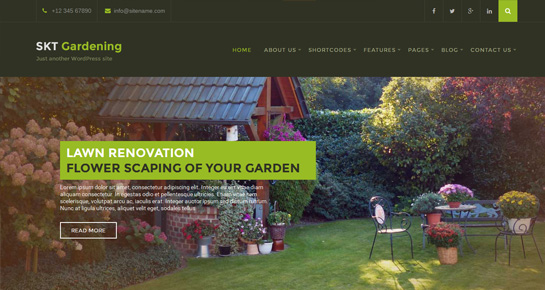 Lawn Care WordPress theme for lawn services
Lawn Care WordPress theme are suitable for lawn services and gardening services. It has been been created to satisfy and fulfil the requirements for such websites.
Since lawn care WordPress theme belongs to local business category all the features which are essential for local businesses like social media, contact forms, call to action like phone number on the top and other features as essential for any local business to get maximum sales and leads from their websites.
Any lawn care Company requires their services and information are nicely displayed for their website so that they can showcase their content nicely and efficiently.
Since this mobile optimized responsive template has all these facilities it becomes obvious for them to nicely display everything.
Lawn care website has the options of displaying services in 3 different ways one with full images and little content.
One with the help of a nice image and pointers using font based icons. And third with the help of columns and using fancy icons.
Our team is also displayed which can again be used for other things like client data or to explain lawn specialists or more services.
Testimonials are reviews are necessary because they help build genuine interest of any visitor into your website and work.
Latest posts are also displayed and so is the footer with lots of variations.
There are several variations of footer and header possible and above that both of them are widget friendly.
Different and more options are available for inner header pages as well to display anything like a map or a slider in inner page.
Also for the homepage one can have slider as well as replace it with anything else of their choice.
Full slider controls like animation effects and pause timings are given in this theme.
Lawn care WordPress theme also focusses on call to actions and hence on the header social icons for social interaction and phone numbers are given.
Also footer showcases working hours of the lawn care company.
And contact us involves in built contact form for the lawn specialists WordPress website.
Lawn care specialists can also avail the great resources in hand like the documentation and full manual available to create the same impact like the demo.
Once the WordPress theme is installed it installs itself with a set of homepage and inner pages can be set up easily without any troubles.
If you're planning to start a lawn and gardening service-oriented business, then the first thing to remember is the kind of services you are going to provide. Lawn or gardening services is not easy to do.
A single miss cut of a tree or bush and the whole backyard will look bad. For that, you need to hire professionals too. When business is being started, only two things matter – the idea of implementation and investment.
So, if your implementation is right but you don't have the investment to make, then it's totally not going to work.
Same goes for the other side too. Another thing, that will also greatly decide your success, is how much diverse you can be for your business.
In this online age, every service has a website. So, if you're also planning to build one for your business development, then you will also be needing the right tools too.
And that's where Lawn Care WordPress Theme comes into play. Now you can also showcase your social media platform handles, along with ways of contracting, combined with the fact that users can also call you.
This makes the business a lot easier to care for and also help it to grow, as well. The website will be mobile optimized as well, therefore any customer who visits your website on his or her portable devices can also take advantage of your services too.
The website will be packed to the brim with functionality and customizability, along with having the visual appeal too. These three things will make the website even more impressive.
There will options to put your business' testimonials and customer reviews as well, thereby making other customers know that they can trust the service.
There are over 600 plus Google fonts, from which one can customize or choose to use. There will be options for sliders and galleries as well, thereby making the website look more modern and sophisticated.
Combine that with the support of SEO tools. SEO means Search Engine Optimization. With this tool, your website will be SEO friendly, and it will be ranked at the top of the Google Results when any customer will search for lawn and gardening services.
In that way, the customers when they see your website, and if they become interested, they will be more source of income for the business as well. All this is possible due to the presence of these WordPress Theme.
There will be support for numerous widgets and as well as plugins too. So, you can add more functionality and beauty to your website, if you so want to. There is also support for Woo Commerce to monetize the website and bring in more revenues.
In that way, the profits will help the business to steady the ship, and thereby improve upon the services too. The amount of assistance Lawn Care WordPress Theme will give you in building up your website is insane.
That's why it is always recommended to always use this option, for getting the work done at a more affordable price.