Listing free responsive WordPress themes for your reference:
Before you start with a business, it is essential that you pick the right platform to publish it to gain the most views. To cause the most uproar about the product you're representing. You want to stand out from your rivals.
You want to achieve all this hassle-free. If that's the case, then these free responsive WordPress themes will end all your troubles. They are easy to use, user-friendly. Even novices can use some themes.
WordPress themes will provide you with an easy solution to all such problems. They come with the most flexible, multipurpose themes for your website.
You may alter them to fit your aesthetics. The fact that they are free is what makes them more appealing. With that being said, some of the themes are listed below for you describing their functionalities.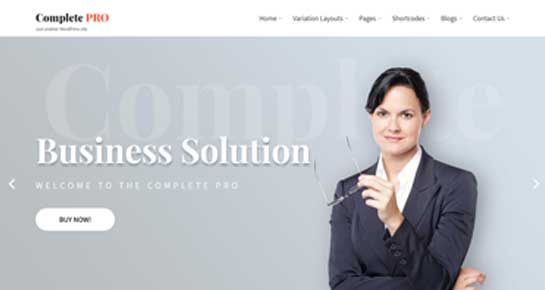 SKT Complete is one of the best free responsive WordPress themes due to its easy use. This theme comes with a step by step demo.
When you first activate it, you will be given a set of instructions to follow for your ease. It was designed for your comfort zone.
Even people with no coding knowledge can get a good grasp on how to use it. Once you're done setting up the template, the homepage is comparatively easy and comes with a modern design to edit. The sidebar is designed to be widget-friendly. It can help you in holding dynamic widgets for all pages.
If you wish to use this template the best way possible you can choose to have no sidebar across the whole website. This theme was designed to be used for any work. You're given over 50+ different icons and features section boxes to give your website a fancy touch.
If you feel like something is missing, this theme also provides you with shortcodes and adds a plugin for your needs. You can make a decent website to start with your work using this theme.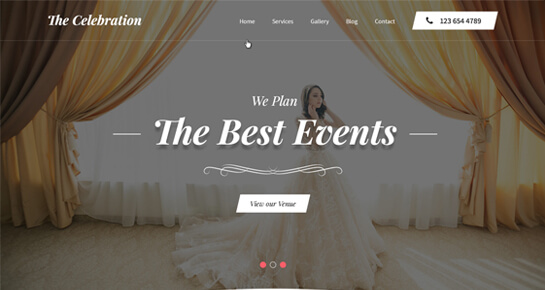 This theme was designed for event planning. If you're looking to make an impact online, this is the right theme for you. The features give it a look you need for your professional business. This theme has a beautiful design.
It also contains all the basic and advanced features required for an event planning website. From all the WordPress responsive themes free, this one is a multipurpose theme.
Which means this theme does not only work for planning events but small businesses such as decorators, wedding bands, catering, marriages, conferences, exhibitions, games planners, etc.
It is WooCommerce tested, which enables you to shop online and put your products on sale. This theme does not require any coding, so that eliminates the need for additional charges hiring a developer to set it up.
Different kinds of security tests have been performed for this theme, and it has passed each one. You can also add various plugins for additional security. It's a cross-browser supported theme.
It's also multilingual. It contains the POT file, so it is translation ready. Call to action features on the homepage enables you to connect directly with your customers by providing your personal details for enhancing your business' performance. Overall, this is a perfect theme if you're looking to start up an event planning business.
WordPress themes are also suited for businesses like filmmaking and video making. SKT Filmmaker is one of WordPress free responsive themes keeping in mind people who struggle with finding the right platform for video making and film making.
It provides you with a gallery to keep the viewers up to date with your work on the website. Gutenberg editor helps you with the block feature to make your website look fancy and appealing. It's an easy-to-use website.
It doesn't have any complicated features to it. Even beginners can have a good grasp on how to set it up. Some of the many features provided to you on this website's demo are header options, retina ready, font and color changes, and many more.
It's SEO friendly widening your search engine. You're given up to 3 slider options where you're able to add images of high quality to attract people to your work. The header menu bar contains social media options such as facebook, Instagram, etc.
You're given the freedom to upload your logo with the color of your choice or adjustment of the size. If you feel like something is still missing, you're able to add more plugins to give your website the touch it needs.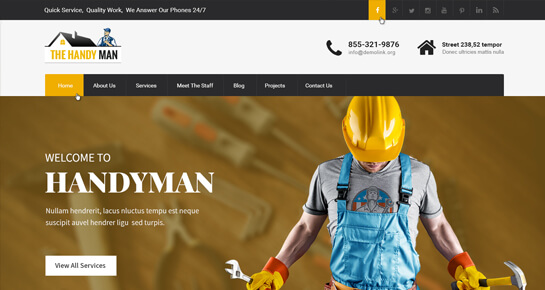 Nowadays, online presence has proven to make businesses flourish more than other regular methods. If you're working on a maintenance company, Renovations Company, the risk of having better rivals is always high. Since these services are much required.
SKT Handyman is one of the free WordPress responsive themes designed keeping in mind such problems. This theme will give you an online presence to help your business grow. Advertising is essential, no matter what business venture you choose.
This theme is multipurpose; it can be used for any service. It's a fully editable theme; you can change layouts, add or remove the widgets, and more. The header has links to social media platforms for further advertising of your business.
After that, there are about four blocks given to you to utilize. You can use these blocks to describe your business to make it as appealing as you want for your audience. It comes with a call to action button which provides direct contact with your clients.
POT files are included, which makes it translation ready. It's a cross-platform theme you can view this website on any platform including iOS, Windows, etc. It is also compatible with many SEO plugins, and it has inbuilt shortcodes for better functionality.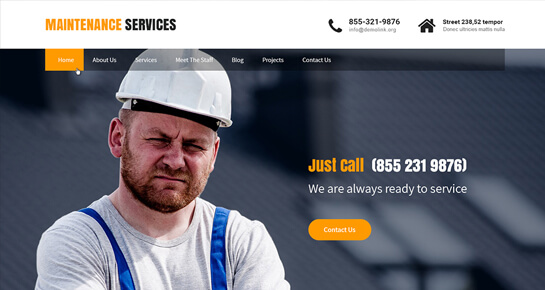 Maintenance is vital for every household. Be it plumbing, renovation etc. Maintenance services theme is one of many WordPress themes free responsive. It is a multipurpose theme catering to many maintenance related services.
It's compatible with Gutenberg and the latest version of WordPress. It's compatible with renovations plugins allowing you to showcase your services further. The theme also has gallery plugins like Nextgen, nimble gallery, etc. for your portfolio.
Maintenance services helps in giving your website great appeal. It's a user-friendly theme which allows you to make changes to it however you please. It's compatible with social media plugins for sharing.
There are security plugins compatible and tested with this theme, such as iThemes Security, sucuri, Wordfence, etc. 100+ shortcodes are provided at your disposal to make the theme more functional along with blocks.
Overall it's a free theme available for your business with lots of features. It's also mobile-friendly. It's also multilingual tested with QtranslateX.
Anyone looking for starting up a security service can use this theme as a platform. It has all the features required for it. From WordPress free themes responsive, this one will prove resourceful in terms of security service due to its unique features.
This template can be utilized for creating sites showcasing bodyguards, security protection, corporate security departments, etc. This theme is created by various SKT Page builders, including Gutenberg, Divi, Elementor and much more.
This template involves features like call to action where the viewers can review services and other information about your service. After the slider you're given about five columns where you can explain the type of equipment you use in terms of security.
You can use these columns to share more information about your business, like CCTV's, intercom system, etc. On the homepage, you're given two columns. Those two columns are utilized to provide detailed information about your services.
In the footer section, you can set up links to guide your viewers to blogs along with social media profiles about your service further informing them.
This template is SEO friendly; it comes with SEO plugins like Yoast and All In One SEO. It's a retina ready theme which will look good on high pixels. It's a 100% responsive theme, and it is free.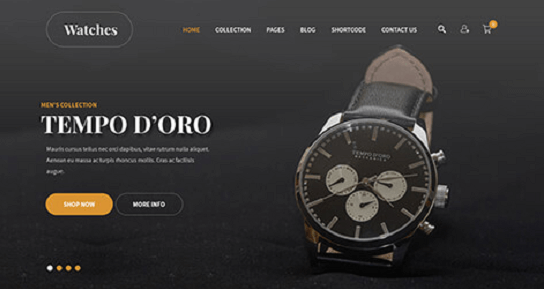 If you're looking for a theme to make a luxurious website, then SKT Luxury is the best option. It's one of the responsive free WordPress themes. This theme was built to complicate luxurious brands and styles.
SKT Luxury is a flexible theme, and it can work for mobile phones, or brands that create diamond and gold studded phones. This template is suitable for brands like Versace, Dior, CK, DKNY, and other brands that involve fashion.
It's compatible with security plugins like iThemes and Wordfence. A default slider is provided which can host up to three image slides. These slides can further be linked to a page and can get a slider image.
This template is compatible with WooCommerce, which means you can sell your product or buy other products through this website. The inner page banner is easily manageable. It's RTL compatible, which means languages like Arabic Hebrew, etc. can also work.
It's cross-browser and cross-device friendly. SKT Luxury has many more features to it, and it's free to download, which proves this website suitable for luxurious brands.
From the list of WordPress themes responsive free Kitchen Design is a fully responsive theme, and it works on all devices. Kitchen Design has passed the Google mobile friendly and Google mobilegeddon test.
It's a cross-device friendly theme which means it can work on any device such as laptops, phones, tablets, etc. Kitchen Design has further been tested for being cross-browser friendly; it is compatible with different types of browsers.
This theme is free to use, and it has the feature of color picker. Color picker lets the user change the color of any element on the website. It's WooCommerce compatible, allowing you to sell your products online for your business to be a success.
It's compatible with SKT Page builder, which means you can make your website as fancy as you want to match your aesthetics. It's a translation ready website containing the POT file. Kitchen design has also been tested with polylang to being multilingual.
A default slider is given for call to action feature on the website. Kitchen design is a multipurpose theme and can be used for any home-related industry.
It contains new technology shortcodes, and it's coded with HTML5 and CSS3 (Cascading Style Sheets Level 3). It's also compatible with Gutenberg which is compatible with the latest version of WordPress.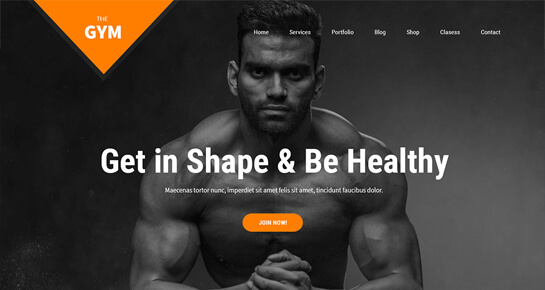 Fitness is an integral part of life. Taking care of your health is essential. Therefore the competition is fierce. You will need something that will make you stand out. SKT Gym provides you with the perfect theme for your services.
It's a flexible multipurpose theme. It can be used to design websites for fitness clubs, yoga, aerobics, etc. A default slider is provided to you where you can add images of your gym describing your services further.
There's also the feature of call to action button on the home page for visitors. SKT Gym comes with six columns, each you can use to add more information about your gym. You can guide your viewers about your services and what you have to offer.
There's also a timetable section where you can add timings of your gym, or yoga classes for visitors to see for the whole week. The call to action feature can allow your visitors to book their classes for your business to boost. It's translation ready with POT files given.
It's also supported by various SKT Page builders for you to create page layouts and pages of your liking. To add more functionality to your site, shortcodes are provided.
It is compatible with the latest version of WordPress, and it's plugins. Speed plays a vital role in your website; it is supported by cache plugins to increase your website's load time.
This theme focuses on business, like mobile phones, computers, laptops, tablets, etc. From the various WordPress responsive free themes, this theme has a responsive design that fits any screen. It's coded with the most high-level languages being HTML5 and CSS3.
It's a translation ready website with POT files. If you wish to design your website to suit your fancy needs, it is supported with SKT page builder plugins. It has "make an appointment" features on the slider which gives you the benefit of direct contact with the client.
It is compatible with social media plugins such as Facebook and Disqus to make their website more social. Laptop Repair is designed to be a dynamic theme; it allows you to make changes to images and texts according to your liking.
Homepage section has six columns for you to show your visitors your services and keep them informed about updates. This theme has passed the Google mobile-friendly test. Laptop Repair theme is compatible with WooCommerce enabling you to sell your product online to your visitors.
It has been designed with the latest modern technology and design. The header and footer is widget friendly so that you may add the content as per your need.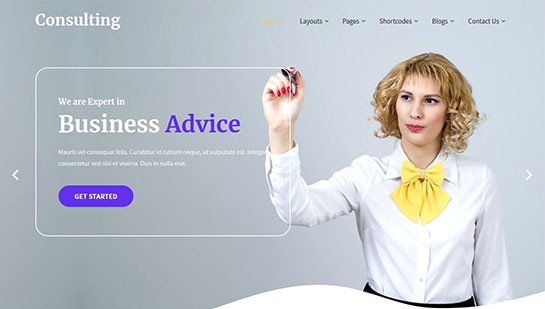 If you're a financial advisor or you have an investment company, SKT Consulting will cater to your needs with its exquisite design. It's free to use, and it has many features that prove it to be perfect for people looking to promote their finance-related business.
The homepage has been designed using an SKT page builder, giving it a modern look. First impressions are everything. If your website has good design, viewers will be attracted to choose your company more.
SKT Consulting is compatible with Gutenberg and the latest version of WordPress. It is compatible with slider plugins such as Crelly slider, smart slider 3, cyclone slider, etc. It has four types of footer layouts.
It is compatible with WooCommerce; therefore, you can quickly provide your visitors with online shopping. It is created to be SEO friendly; it is compatible with various SEO plugins, including Yoast SEO, All in One SEO and other SEO plugins.
Social media helps boost your sales by promoting them through it, SKT Consulting is compatible with social media plugins such as Facebook, Disqus, etc. It is a multilingual theme tested by various plugins.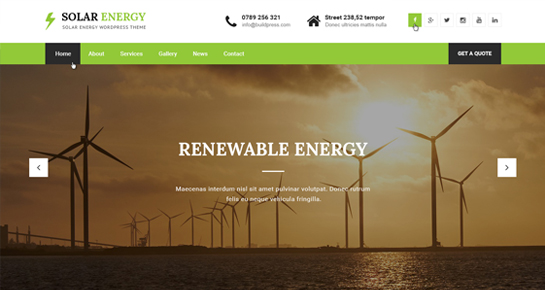 SKT Solar Energy was designed keeping in mind the solar industries. It has been tested for being cross-device, which means it can be used on a computer, mobile, etc. It is also tested for being multilingual.
It's retina-ready tested, which means it's also tested for being HD ready. It is compatible with WooCommerce allowing visitors to buy the products for sale on the website. It's coded with the latest languages such as HTML5 and CSS3.
You can also change the color of every element according to your selection because of color picker. This is the perfect theme for solar-related industries to promote themselves.
All these WordPress responsive themes are free and easy to use. Their unique features for every business make them the best option to choose from compared to other platforms.