Salient Features of event WordPress theme:
Event WordPress theme for event management companies
Full color changing so that one can use any type of colors for any elements
Use of Google fonts for fancier typography and vast choices
Google mobile friendly test passed and speed test passed
Responsive and cross browser compatible
Simple and easy to use
Compatible with various events calendar plugins
Compatible with WooCommerce for selling event tickets
Can accept donations as well using plugins
Translation ready with PO file ready
Multilingual ready with use of plugins like qTranslate X and WPML and Polylang
Call to action included for local business results
Events can be listed nicely in this event WordPress theme
Several sliders have been tested including video slider for homepage
Several subscription plugin compatibility for subscriptions to events
Contact form plugins also compatible for bookings and queries
Other several page templates and blog templates available
Several in built shortcodes available
Enhancement of the theme can be done using other shortcode plugins
Compatible with any type of page builder plugin for novice users to build any layout
Use of Customizer helps watch changes live
Font awesome icons 675 in number added and included
Supports HD devices and retina ready devices
5 level page drop downs supported and mega menu supported
HTML5 and CSS3 based on modern trends of design
Coding standards maintained
Nice visual appeal
Why use this Event WordPress theme?
Event WordPress theme is very intuitive as well as responsive theme with an elegant and professionalised layout which is very eye catching and perfect for concerts, conferences, sports event, launch event and many other events too.
The theme is very light weight with very clean interface which makes it user friendly and can be view by any viewers from any platform.
Event WordPress theme is very common on the internet and what make this event different is it's clean, tech-savvy and responsive UI which is customizable according to the need of the persons.
If you're motivational speaker, teacher, professor or any concert holder organization or event management company then this theme is going to work flawlessly for your business.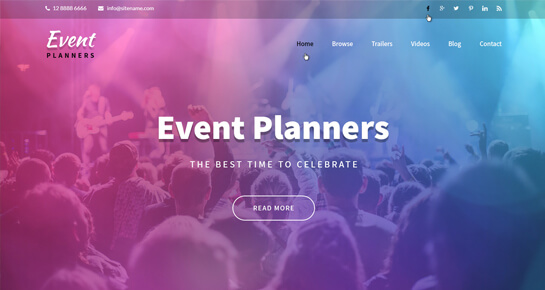 Themes in WordPress are fully customizable with the support of hundreds of plugins to enhance the experience of designer as well as viewers. This Event WordPress theme has been designed to create and give the feel of satisfaction to the website builders and viewers.
All the premium features are bundled in this theme. It has passed all the vital tests which makes a theme premium and user friendly.
These tests are namely Google mobile friendly test, cross browser test and Google Speed test which are very important for a theme to clear and make it premium.
There are several themes available in the market which are not mobile friendly and do not support all the browsers available on the internet and after purchase one realizes about the unavailability. Our demo link can be tested with any mobile phone and browser for the above test.
This event WordPress theme comes with a built in slider and by default 3 slides are added to the theme but slides can be customized to maximum of 10 slides which is a very easy task in itself.
The Event WordPress Theme comes with built in customizer which is very easy to use and without any technical knowledge one can customize the theme easily.
Thus reducing your overhead costs of maintaining a developer for getting changes done. All the changes can be seen in real time because of API integration of Customizer with this theme.
On the very top of the theme i.e. on the header of the theme contact information can be specified for better call to action for viewers.
This theme supports all the social media integration like Facebook, Google Plus, Twitter, YouTube and others due to font awesome icons compatibility and integration.
The slides can be customized according to the requirement like the timer can be setup as well as animation effects for which event is going to happen in upcoming days and other slides can also be added according to the requirements.
One can even replaced the default slider and use their own slider plugin for having for example a video slider or any other slider of their choice. Event WordPress theme has a very well-designed parallax effect on the top of the homepage which is by default added to it.
Showcasing of details of upcoming events as well as any other event is easily possible because of the availability of the necessary plugin in the theme.
The plugins like WooCommerce also work out of the box with this theme which can help if someone wants to create an online store and wants to sell anything.
Various galleries inbuilt are also included in the theme as well as several gallery plugin compatibility is also present so that one can create their own portfolios with the images embedded in them.
Online Bookings of events and meetings can be arranged with contact forms available in the theme because of contact form 7 and ninja forms plugins added to the theme.
Event WordPress theme is a one-time solution for all the event management companies and speakers who hold meet ups or concerts for the public.
The video guide of lectures, concerts or anything else can be added to the homepage because videos can be embedded in the homepage to solve some of prima facie queries and doubts of the viewers who will feel reluctant to make bookings.
Multilingual plugin support have also been added in this theme because of the ready compatibility of plugins like WPML, qTranslate X, Polylang etc. Call to action can be added to one of the slides on the homepage or in one of the footer as well as has been included in header.
Testimonials of the previous clients about your services allow you to build your trust among users. Online registration and booking can be organized by the user on the homepage itself.
The customization process is very easy and prior knowledge of HTML5 or CSS3 is not important whereby even beginners can customize the theme according to their preferences.
Event WordPress theme has the compatibility with several page builders and one can create various layouts and designs according to their needs and requirements. Theme supports full width template which give designer a canvas like experience and one can create any type of layout with the page builders.
All the important pages like 404 page not found, search and many other are included by default with the theme. The homepage has 5 option to navigate with further drop down menu so that viewers can easily navigate through the website.
The theme's homepage concludes with three footers: left, centre and right side footers. Small paragraph of "about us" can be written on the left footer with giving knowledge about the business.
The opening and closing hours of the club can be shown in the centre footer and the right footer should have proper call to action and hence the contact info with contact form and location map and phone number with business email integration.
Event WordPress theme contains all the features which are worth and value for money and which will truly enhance the overall experience of the users. Since this comes as a bundle and part of a bigger template one can choose between several options for themselves according to the needs.
This template provides variations to edit footer or header layout so that one can have headers and footers as per choice of design.