My Dog Lite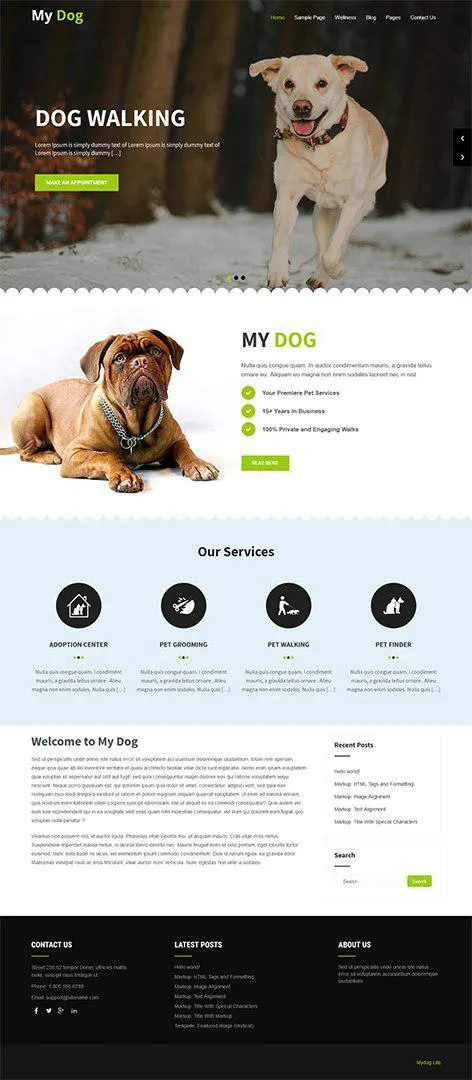 Free
Demo
360+ Themes for $69
Comparison
Free Theme
Less homepage sections
No inner pages
No Support
No Typography Options
No Icon Options
No Header Layouts
No footer Layouts
Less plugins compatible
Less updates
Less flexibility
More Time for Website Build
Features of free pet WordPress theme
Blog section has been incorporated to keep people engaged with your pet website for a long time. You can update blogs, posts, articles in this section which can be represented beautifully.
Free pet WordPress theme is designed to be mobile friendly. One can view your website in any screen resolution as well.
Default Comments template has been created with a nested commenting option. So that any of your visitors can comment if they want.
Congenial with various plugins like Diqus, Facebook, intense debate and others as well. So, social sharing can lead to generate more traffic to your pet website.
Post can be represented with various formats like with multimedia, text, video etc. Therefore, you can present your content bundled up with various options.
Completely responsive design so that one can view your pet-shop website with ease in any device like mobile, laptop, desktop or any other.
Designed to be translation ready with the inclusion of POT file. One can translate strings of the theme to any other language for their better understanding.
Tested with RTL languages like Arabic, Hebrew and others.
Affable with multiple language plugins like WPML, qTranslate X and Polylang. One can design their comprehensive pet website effectively.
Cordial with AMP plugin so that one can view your website in any mobile without any hassle.
Designed to be widget friendly. You can add as many widgets as required in various sections like header, footer or sidebar.
Free pet WordPress theme is simple and easy to use even for neophyte users.
Demo content also comes along with this free pet theme. You can use demo content for creating your pet website.
Sidebar can be loaded with various widgets as per the requirement. You can add different widgets to sidebar to present in different pages.
Minimal design approach has been adopted to design this elegant free pet theme. Hence, one can focus on the content as well as an image with ease.
One can handle this theme effortlessly due to its intact design.
Page builder plugins likeVisual composer, Beaver, Elementor, Divi,Live composer and others work pretty fine with this free pet theme. It can be used to add fancy content style to any of the blogs or posts.
Clean look and feel of free pet theme allow presenting images and text in an uncluttered way.
Inclusion of a large number of shortcodes made content management easier. You can also add more shortcodes to improve the functionality of your pet-care website.
Posts can be set up easily with HTML content. Also, you can represent content in combination with gallery, images, sideshow to make it more attractive and fancier.

Schema congenial so that Google review, as well as author profile bio, also get listed on search results

Much easy to use even for first-time users who do not even know how to handle a website.
Free pet theme includes quick call to action. Header, footer and sidebar all are widget friendly and can also use CTA button or text as well.
Pages can also be used to show static content like about pets, their training etc.
Compatibility with various browsers. Therefore, free pet theme works well with top browsers like Opera, Chrome, Firefox and others.
WooCommerce affability made it possible to design effective online store from free pet WordPress theme. You can sell accessories of pets, pet food etc online.
Approach adopted to design free pet theme was flat and material design. Hence, it is compatible with old browsers as well.
Coding has been done cling to keep your website secure. Security plugins also work fine with this free pet theme.
One can change color scheme and colors of various elements of their pet website with color picker option
Coding has been done as per the codex theme review standards set up by WordPress. Therefore, congenial with the latest version of WordPress and latest plugins.
Based on HTML and CSS3 so that one can see animated effects on their pet website and enhanced look and feel.
You can opt for various fonts and layout options but it is available in the pro version of free pet theme.
Loading speed can be made faster with the incorporation of various cache plugins which work fine with this theme.
Based on customizer hence one can see their tweaked website before final implementation.
Google mobile-friendly test passed has been passed by free pet WordPress theme.
Affable with contact form plugins so that if anyone wants to contact you back it becomes hassle free.
Slider by default has been provided with three slides.
Totally professional appearance and therefore can be used to generate revenue and for advertisement.
Drop down navigation has 5 levels of dropdown coded for ease of navigation use.
Any of the web visitors can find your pet website in top search rankings as coding has been done SEO friendly. Also, it is affable with various SEO plugins like all in one and YOAST SEO.
Encompassing of various social media icons in the footer section would lead to more traffic in your pet-care or pet-shop website.
Free pet WordPress theme is best suited for designing websites like a pet shop, animal husbandry, pet care and like. It is designed with arduous efforts of our great designers which is reflected in the theme itself. A Website is a great way to make people aware of your existence.
Free pet theme is bombarded with various features and functionality that are required by modern websites. Minimal design approach so that one can focus on content as well as glittering images. When such an aesthetic theme is presented with graceful content, the brew of these two will be just beyond imagination.
WooCommerce compatibility would be an added advantage if you want to do online transactions. Giving online facility would be benefited for you as well as it makes things hassle-free for your visitors.
Social media incorporation is somewhat necessary if you want to gain name and fame. You can share blogs, posts and any other related information on various social media platforms.
Also Included with free pet WordPress theme
Theme FilesTheme files are included in the zip you get when purchased
SupportYou can email us for support of this theme
Tags: cat, dog, pets, animals, domestic animals, pet animals, caring, stress relief, favorites, pooches, beast, wildlife, fish, kittens, kitties, domesticated animals, cat food, pet animals, cuddling, quadruped, furry friend, cattle, companion animal, dears, darlings, wildcats, pet clinics, pet grooming, vets, veterinarians, Organic Treat Maker, Obedience Expert, Yard Cleaner, In-Home Cleaner, Animal Blogger, Animal Toy Maker, bed/Housing Designer, Tank Designer, Pet Travel Service Provider, , Pet Bandana, MakerCollar Designer, Cat Café Operator, Dog Manicurist, Unique Pet Store Owner, Dog Whisperer, Cat Toilet Trainer, Pet Bakery Owner, Dog Beer Brewer, YouTube Training Expert, Maker or Seller of Breath Mints for Dogs, Custom Pet Portrait Artist, Pet Photographer, Renter of Unusual Animals, Pet Sharing Service Operator, Fur Dying Specialist, Tag Engraver, Pet Clothing Designer, Luxury Boarding Service Operator, At-Home Boarding Service Provider, Dog Treat Truck Owner, Dog Sports Competition Organizer, Doggie Day Care Operator, Pet Pillow Creator, T-Shirt Designer, Dog Workout Coach, Pet Restaurateur, Homemade Pet Food Creator, Large Animal Sitter, Shelter Matching Expert, Pet Costume Designer, Pet Massage Therapists, Home Pet Monitoring Expert, Pet Health Expert, Pet Event Organizer, Pet Spa Operator, Brand Manager,
Change Log
Updated December 2023
Working With Latest WordPress Version
Updated Google fonts for GDPR and Other Country Privacy
Updated to work with PHP 8+
Updated to work with at least one page builder (Elementor, Gutenberg or SKT Builder)
Compatible with popular plugins of SEO, contact form and WooCommerce
Updated performance to work with popular cache plugins and Cloudflare