BeFit Lite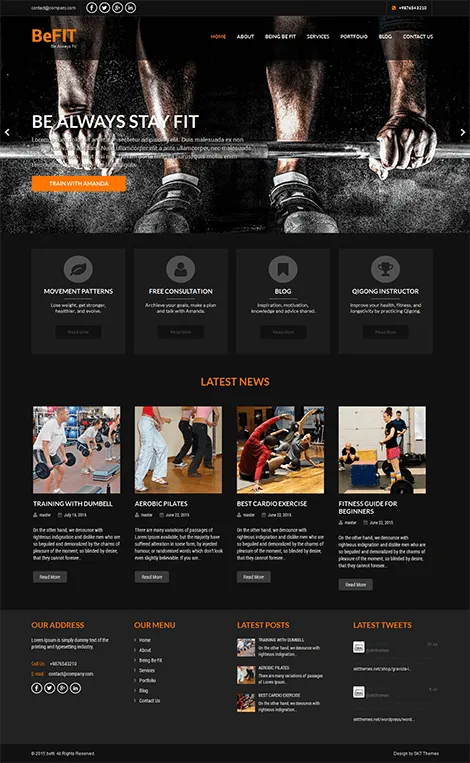 Free
Demo
360+ Themes for $69
Comparison
Free Theme
Less homepage sections
No inner pages
No Support
No Typography Options
No Icon Options
No Header Layouts
No footer Layouts
Less plugins compatible
Less updates
Less flexibility
More Time for Website Build
Features of free fitness club WordPress theme
BeFit is free fitness club WordPress theme
Retina ready, HD ready, responsive, Google mobile friendly and translation ready free fitness club WordPress theme
Built upon simple to use Customizer API
Passes the theme check standard set by WordPress.org core team
Animated blocks on the homepage which look really good
Overall black and orange add to the design out of which orange can be changed
Compatible with popular plugins like WooCommerce and Contact Form 7 and NextGen Gallery
Contains default slider where you can add upto 5 images which adds to the overall impact of the website
Integrated with Google fonts for good look and feel however font changes and font size etc are possible in Pro version
SEO Standards maintained and social media friendly with social icons included and social sharing plugins work fine with the blog part of the template
Compatible with latest version of WordPress and also latest versions of jquery and other scripts and plugins
Compatible with WooCommerce plugin and hence one can open a shop also for selling health club and fitness club packages as well as merchandise like tshirts and supplements as well
Compatible with pricing table plugins so that one can host class timings as well as fees and class schedules and other things
Team members, inner shortcodes, page templates and full color choices given in the pro version of the template
Events calendar, gallery and other plugins work just fine
Compatible for inner pages with page builder and shortcodes plugins
Content of the homepage can be easily set up by Customizer from backend and inner pages have 5 levels of drop down so navigation is simple and easy
Sidebar is fully widget friendly with monster widgets and ad widgets work just fine and using dynamic widget plugin one can have different widgets in different sidebars
Footer and header have call to action buttons for easy sales and leads
Flat design structure used for compatibility with various devices, browsers and different types of OS
Coded with HTML5 & CSS3
BeFit is a free fitness club WordPress theme which meets all WordPress.org theme standards and is coded with Customizer API so you don't need to look anywhere but click on Appearance>Customize to easily edit the theme settings.
Easy to use and set up your website in under 2 minutes with default slider which can host upto 5 sliders (Pro version has more slide options).
And One can easily set up the boxes in the homepage.
Animated homepage looks really good and the black with orange adds to the overall design.
BeFit is perfect for fitness trainers, personal trainers, gyms, yoga trainers, fitness enthusiasts among others who want a good looking website at no cost at all with simple and easy to use interface and backend. Comes with documentation and paid Pro version for better support and awesome features.
It goes without saying that WordPress is far the most popular content management system that is used by – well, almost everybody.
You are going to find it very hard at having to find someone who is not using Wordpress these days! Wordpress is known to power almost 47% of the world's websites, and that's saying something. Not only WordPress is easy to use, but it can be used for pretty much anything.
WordPress is known to have an incredible community that can help you to do anything with it without you having to touch a line of code. The free fitness club WordPress themes are great examples of that very amazing community making it possible for you to do anything with the themes – right from integrating training programs to schedules to trainer pages, they have pretty much anything that you can customize according to your needs.
There are likely to be dozens and hundreds of gyms and fitness centers around your location, so, don't you think that you should do something to stand out amongst the crowd?
The best way to do that is to choose that perfect theme for your website; and the best way to do that is to select the free fitness club WordPress theme, the SKT BeFit theme.
As far as this free fitness club WordPress theme goes, this theme is a gorgeous and a beautiful gem from amongst the various themes out there.
Made to be powerful and a feature rich theme, this free fitness club WordPress theme as the other WordPress themes out there, allows you the option to add the logo of your choice with letting you choose the color that you want.
Should you decide to change the layout of your site, even then, you have nothing to worry about as this free fitness club WordPress theme has that covered too.
Packed with widgets and plugins such as gallery, contact form, this free fitness club WordPress theme comes with the support of numerous slides, page templates as well as blog layouts.
For those, who find it a little bit hard in customizing the theme according to their needs, they will enjoy this theme as it comes packed with a full detailed documentation.
Today, the fitness industry is rising to great heights, and the very best that you can do to raise your site to the top of the search engines is to build a great looking website. However, given the importance of a proper internet site, there is no way that you can afford to present a below-the-par page. It is due to reasons like this that you should turn to the best content management system that there is – Wordpress – as they have a robust platform with a huge community of theme developers and that can affect your how the looks of your site dramatically. Numerous options of fonts, responsiveness, and layouts are available, and it is up to you as to which one you choose to depend on your needs.
Also Included with every free fitness club WordPress theme
Theme Files Theme files are included in the zip you download
Support You will get support via email for this theme
Documentation Easy to use documentation link given inside theme
Tags: health, fitness, coach, well-being, good physical condition, healthiness, fitness, physical fitness, haleness, good trim, good shape, fine fettle, good kilter, robustness, strength, vigour, soundness, discipline, yoga, meditation, reiki, healing, weight loss, pilates, stretching, relaxation, workout, mental, gymnasium, theater, action, arena, gymnastics, exercise, health club, fitness room, health spa, work out, weight room, working out, sports hall, welfare centre, fitness club, wellness area, workout room, spa, high school, sport club, athletic club, fitness studio, health farm, establishment, gym membership, junior high, sports club, health-care centre, exercise room, training room, fitness suite, health centre, beauty centre, my gym, country club, fite, gym class, medical clinic, med centre, free clinic, medical facilities, dispensary, health posts, healing center, health care facility, medical station, health care establishment, health establishment, medical establishment, centre de santé, medical centres, medical, hospital, polyclinic, healthcare facilities, treatment centre, medical institutions, health care institution, health units
Change Log
Updated September 2023
Working With Latest WordPress Version
Updated Google fonts