Websites are the backbone of any corporation. However, when it comes to businesses, they need a simple and classy website. A simple website lets the important content of the site shine. This way, visitors can know what services you provide and what is your unique selling proposition.
There are a lot of super simple WordPress themes available on the internet, but how do you find out which ones are good? Here is a list of super simple WordPress themes that can help your business present itself accurately.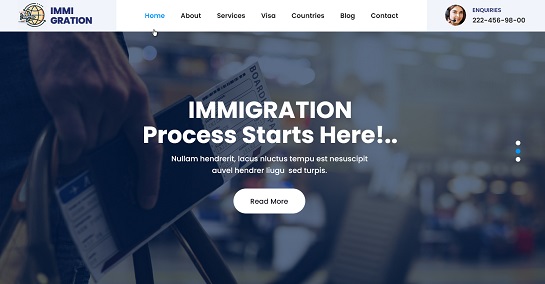 Immigration department has a lot of complicated process in it and they have to provide a service. That is why this theme which was built for immigration department of a country can also be used by any other corporate business. It has a section where you can explain the services that you provide.
You can use animated graphics to describe the services in detail. There are some things that make a business special or better than the competitor. You need to analyze what special features your business has. When you find that out you can highlight them with the help of pointers in this theme.
This provides visitors an idea about your unique selling proposition before doing business with you. Numbers always provide great detail about your company to the visitor.
When someone sees raw data about a business they start trusting the business more and are likely to convert to customers. This theme has the template which is filled with space to provide such data.
You do not do the business alone there are many people who make the business what it is. So it is only understandable that you provide the credit to people who keep the business running. This theme has the space where you can provide the credit to people who have made your business what it is today.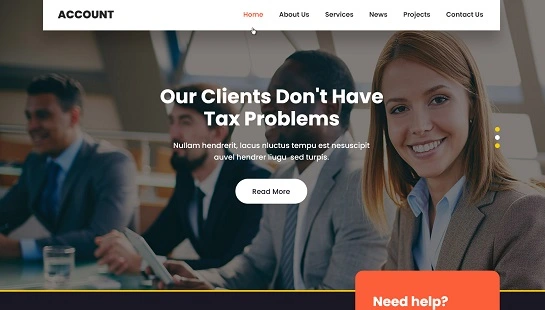 The colors of this theme make it sophisticated enough for any business. You can change the primary colors if you want but there could be no better combination that orange, yellow, black, and white. This theme is made for accounting firms, consulting firms, bookkeeping service providers, etc.
However, the layout of the theme is such that it can be used by any company. After providing all the right information about your company it is necessary to have a contact form with the help of which people can get in touch with you. This theme has a section with the contact form.
With the help of this theme, you can provide more than one CTA. It is incredibly important to provide more than one call to action because different people have different preferences.
Some prefer to email while others prefer to get on a call. This theme has an entire section dedicated to CTA's where you can add your preferred CTA's.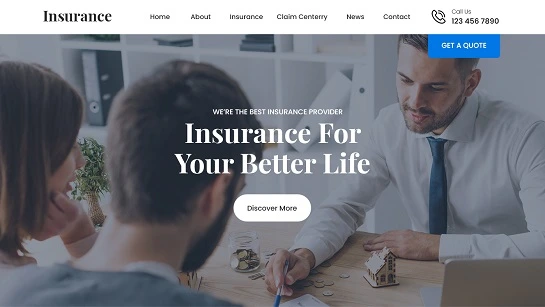 This theme is built specifically for the needs of financial agencies, insurance agents, insurance companies, etc. However it can be used by many other businesses too.
In the beginning only this theme allows you to describe how you help your customers. If visitors read this, they will be tempted to get in touch with someone in the business.
For that this theme has an entire section dedicated to providing multiple call to actions. Today it is extremely important to keep people engaged with your business even if they have not made a purchase yet or if they have already made a purchase. That is where a good newsletter program comes to aid. This theme has a newsletter at the footer.
You will be able to gain many leads with the help of your newsletter. Some businesses need to have an active booking plugin because their business is based on customers making a booking online.
You can use CSS to upgrade the animation effect of the theme. While there is no need of customization as this theme is ready to use.
However, some people are not satisfied with the basic level of the theme. In that situation, you will be happy to know that you can customize it to increase the theme's potential.
SKT Specialist is a clean theme which can be used by any business that is looking to provide top notch services. The theme is professional, responsive, and it can be exactly what you need. If you want a highly functional website with a professional look, you should choose SKT Specialist.
Getting a website of this scale usually costs a lot of money and cannot be done without programming. That's why using the SKT Specialist theme can get you a website for your business at a cheap rate.
Today women are succeeding in every field that they choose to participate in. If your website aims to encourage women in a particular field you can use this theme. Women have succeeded a lot in business in the past decade and they have acquired important positions.
That is why you can also use this theme for your business if it is run by women. While women are succeeding in business, but we all know that they have to work twice as hard to get the recognition they deserve.
The internet plays a major role in our lives. Most people discover new things online. If you want to promote your business, you better use themes like SKT Woman Pro.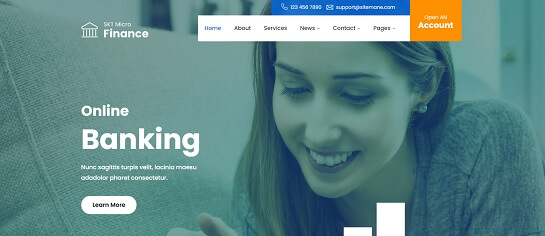 This theme is trusted by many financial institutions, investment companies, leading services, and online banks. Gaining trust of people is very important in business specially if your business is related to finance. That is why it is important to have a website with a professional look.
SKT Microfinance provides your website with that desired look which makes people trust your business instantly. With the help of this theme, you can keep adding quality content to attract leads.
When someone is looking to do business with your organization, they may have many questions. This theme has a dedicated FAQS section which can help potential customers understand your business more in detail.
This theme is suitable for public notary businesses. With the help of this theme you can display your different pricing plans. You can also add the features that customers will get with each plan.
The process of every business should be extremely easy and it can only be easy if people know how they can get started.
This theme has the get started button on the home page itself. This theme comes with an attractive animation style. If your business is global, you should highlight your offices with the help of a map.
This theme can help you highlight the location of your offices around the globe. It gives your website a truly professional look.
GB Consulting is a theme which can be used by consulting firms. Consulting firms bring billions in revenue in India. The sector is booming so if you want to start a consulting business you are right on time. However you cannot do this without a functional website.
GB Consulting is the right theme which will help you grow your firm. Any company that seeks to take the services of a consulting firm will need data on how they have performed with their past clients. This theme helps you provide that data in a presentable manner.
Before doing business with someone it is necessary to understand their requirements. That can be done with the help of a form, you can gain all the information about the potential customer through such form. Thankfully, GB Consulting has such a form.
It is one of the best super simple WordPress themes that you can use for exponential growth of your business. You can gain new customers by showing off the positive recommendation from your old customers.
That's right, a testimonial section is essential to win the trust of potential customers. You do not have to worry as this theme has a responsive testimonial section.
If you provide custom IT solutions then this theme is perfect for your website. When you claim to provide excellent IT services to your customer you cannot have a poor looking website.
Do not worry as this theme solves your problems. It has all the features that an IT company will ever need. It is video friendly as sometimes you can explain your services properly with the help of a video. If you are a developer and want to grow your business? This theme is for you!
Most website designers often wonder can they use one theme to cover all their client's needs? The answer to that question is a resounding yes, you can do that with the help of Posterity Pro.
Now you do not have to search for a different theme according to your client. But you can choose one theme and customize it according to the client. Posterity Pro can work for any of your clients whether they are freelancers, bloggers, businesses, etc.
SaturnWP Pro is a classy website theme that is meant to suit the needs of all businesses. Now you do not have to wander the web for themes because all your needs are met with this theme.
Super simple WordPress themes tend to attract visitors to do business and that is why this theme is also based on that concept. It is a multipurpose theme that is capable of making your website more visible on the internet.
This theme is exactly what the name suggests. It is complete and will make your website look complete too. Many websites on the internet are incomplete and have some aspects missing. This is bad for business and can stunt the growth of your corporation.
If you want a theme that will enable the growth of your company then Complete Pro is the right theme. It already comes with preset colors but you can change the colors according to your wish. It has slider features which are combined with animation. This makes the theme powerful and rare.
Blendit is a highly responsive one page WordPress theme. It can help you present your business in a good way. Every element can be optimized from the backend. The best thing about this theme is that it is fully integrated with different social media channels.
Today no business can survive in business without having an online presence. There are total seven to eight pages with an about us section in this theme. This theme has less pages but the ones that it does have are extremely well designed.
Finance is a multipurpose theme which is made for the financial services industry. You cannot find clients without having a proper internet presence. You can highlight your years of experience with this theme.
It is extremely easy to present all the services that you provide because of this theme. The entire layout of this theme is designed to gain more leads for your business. This theme provides your website with the right kind of professional look.
Digital marketing is a growing industry and many firms provide digital marketing services. If you are a digital marketing agency, your competency will be judged by your website. So before making any claims you should work to make your website presentable.
You do not have to waste time with web development and can start doing business within a week with the help of this theme. All you have to do is download it and then customize it according to your needs.
Many people prefer minimal, simplistic websites that let the content stand out instead of the design. If you are looking to create such a website for your business, then Shudh Pro is the right theme for you.
It comes in simple combination of black and white colors. This minimal theme has a lot of white space and a simple slider on the top along with the portfolio section to showcase your work.