Do you run a pizza restaurant and want to create an online presence that's as delicious as your pizzas? Look no further! With WordPress, the world's leading content management system, you have endless possibilities for creating a stunning website.
A list of the best pizza restaurant WordPress themes should be enough to help you make your mind.
So grab a slice (or two) and read on- your mouth will water at these tastefully crafted designs!
Importance of website
In this digital age, having a website is almost essential for any business. It enables potential customers to access information about your business quickly and easily.
It also helps to build trust with customers and establish your business in the local community. It can be used to reach a wider audience and drive sales through online ordering and delivery services.
Having a website also helps to enhance your professionalism and increase brand awareness. It also helps to establish your credibility and trustworthiness, as potential customers will be able to read reviews and testimonials from past customers.
You can easily stay connected with current and prospective customers, build relationships and even boost sales.
How WordPress is the best CMS for website?
WordPress is the most popular content management system (CMS) on the internet. It is used by millions of website owners around the world to create and manage their websites. WordPress is a free and open-source software that anyone can use to create a website.
There are many reasons why WordPress is the best CMS for any website.
Here are some of the most important reasons:
1. WordPress is easy to use:
Anyone can create a website with WordPress, even if you don't have any technical skills. The software is very user-friendly and comes with extensive documentation.
2. WordPress is reliable:
WordPress powers millions of websites around the world including some of the largest brands in the world. It is a very stable and secure platform that you can rely on for your website.
3. WordPress is SEO friendly:
WordPress websites are easy to optimize for search engines like Google, which means your website will get more traffic from organic search results.
4. WordPress is cost-effective:
Creating a website with WordPress is very affordable as it doesn't require any expensive hosting or software costs. You can also find many free themes and plugins that you can use for your website.
Why you need a theme for all website?
A theme provides your website with a consistent look and feel. It can also help convey the overall tone and atmosphere you want for your business.
A good theme can make your website more inviting and professional, which can encourage customers to come in.
When choosing a WordPress theme, it's important to consider what kind of feeling you want to create for your website visitors.
Finding a theme that meets all these criteria can be challenging, but it's worth the effort.
A good WordPress theme will make your website look more professional and help you attract more customers.
For example, when choosing one of the best pizza restaurant WordPress themes, there are a few things you should keep in mind.
1. The theme should be responsive.
2. Your theme should be easy to customize.
3. It should come with all the features you need.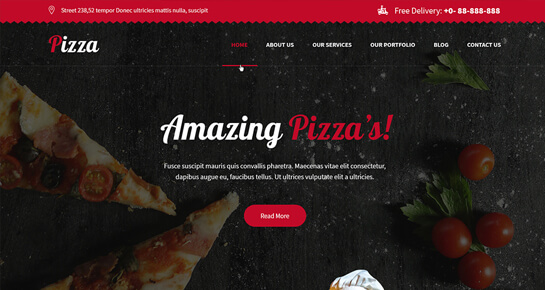 SKT Pizza is a WordPress theme especially for pizza restaurants. It is easily customizable with live preview available. You can change colours, fonts, and layout with just a few clicks. With its responsive design, your website will look great on all devices.
The theme also comes with an easy-to-use online store, allowing you to take online orders and payments for your pizzas.
You can also easily customize the menus to show your available toppings and crusts. With SKT Pizza's powerful theme options panel, you will be able to set up a variety of different page layouts with ease.
If you are running a restaurant, you'll want to create your business online and need to find a WordPress theme for your website that match your brand. A GB Sandwich theme is perfect for any restaurant looking for a clean and modern way to showcase their menu.
This theme comes with plenty of features to help you get started, including a drag-and-drop page builder, pre-made layouts, and support for WooCommerce. With GB Sandwich, you can easily create a website that looks great and is easy to navigate.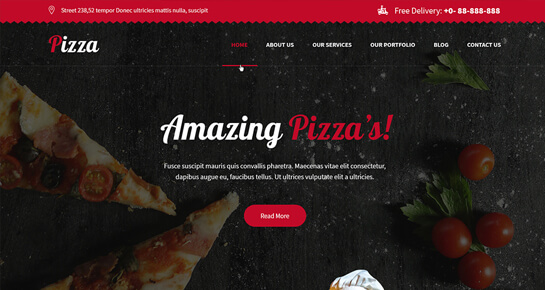 Whether you're running a pizzeria, Italian restaurant, or food delivery service, these WordPress themes will help you get online quickly and easily.
With pizza WordPress themes, you can choose from multiple layouts and designs, all of which are optimized for mobile devices. Plus, these themes come with eCommerce functionality so you can start selling your pizzas online!
By selecting this theme out of the pizza restaurant WordPress themes collection you can start creating an online presence. ,
Pizza theme is perfect for any pizza restaurant that wants to showcase their menu in a clean and stylish way. It also has subtle animations to make the website more dynamic.
The menu page is designed with all the details needed for customers to make informed decisions. Menus can be easily managed and edited using multiple options such as custom add-ons, special deals or happy hour items.
The theme also includes a delivery option page, special offers list and contact information. With Pizza Restaurant you will get everything you need to create a unique website for your pizza restaurant business.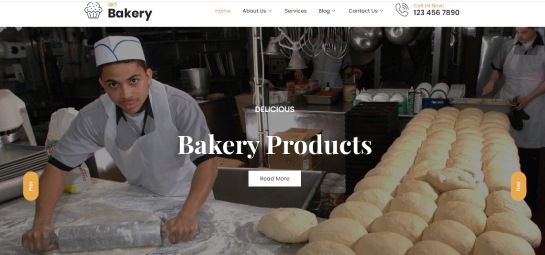 We bake WordPress theme helps you better serve your customers. This theme is designed to be easy to use and customizable, so you can tailor them to fit your business needs.
We offer a variety of WordPress themes, including business, e-commerce, and personal blog themes. With this theme, you can create a professional website that looks great and is easy to use.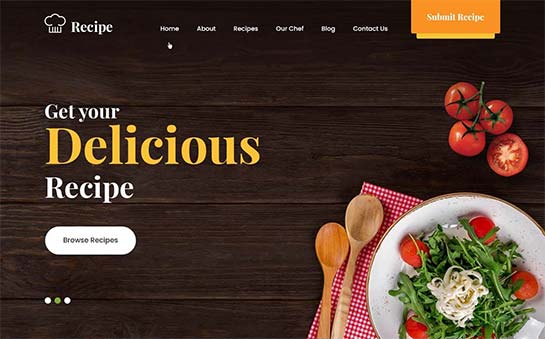 The WordPress themes for recipe blogs are those that allow you to easily organize and showcase your recipes. Choose a theme with ample space for photos and descriptions, as well as features that allow readers to search for specific recipes or ingredients.
Recipe themes also include social sharing buttons, so your readers can share your recipes with their friends and followers.
Other features to look for in a recipe theme include a rating system, so readers can rate recipes, comment forms for leaving feedback, and nutrition facts calculators.
Many WordPress themes also come with built-in e-commerce functionality, so you can turn your recipes into money-making products. If you want to monetize your blog, look for a theme that allows you to do so easily.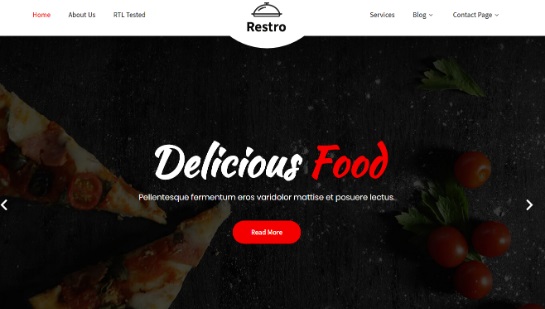 Restro is a beautiful and modern theme that's perfect for any type of eatery. It includes all the important features you need to run a successful restaurant website, including an online menu, reservations, and more.
Restro is also fully responsive and retina-ready, so it looks great on all devices. And it's easy to use and customize, so you can create a unique website that reflects your brand identity.
Overall, Restro is a great option for anyone who wants to create a stunning restaurant website without spending hours on custom coding. Plus, it's an affordable theme with plenty of features to help you get started.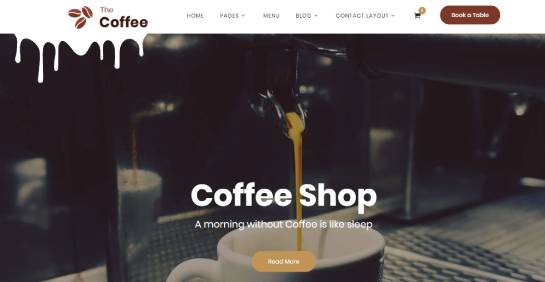 Whether you're a barista or a coffee aficionado, a coffee shop theme is the perfect way to show off your brand and attract new customers. There are plenty of great coffee shop themes available for WordPress.
One of the best things about using WordPress for your coffee shop website is the ability to easily find and install themes that are specifically designed for coffee shops. This can save you a lot of time and effort when compared to trying to create a custom theme from scratch.
If you're running a coffee shop, café, or bistro, then choosing the right WordPress theme is essential. You'll want to choose a theme that includes features that are specific to coffee shops such as online ordering and payments, reservations, and menu management.
This theme allows you to create a website that is specifically designed for catering businesses. The catering theme includes a number of features that are specifically designed for this type of business, including a menu builder, an events calendar, and a reservation system.
Catering websites typically include several pages that provide more details about the catering services you offer, including your rates and packages. Additionally, you can create a blog page to share news and updates about your business, as well as an events page to showcase your upcoming events.
The goal of this theme is to make it easy for potential customers to discover the services you offer while providing them with the information they need to make an informed decision.
The Ele IceCream theme has a bright and colourful design that's sure to put a smile on your visitor's faces. The homepage features an eye-catching header image with text overlay, followed by a section for featured products. There's also a blog section where you can share your latest news and recipes.
This theme is fully responsive, so it will look great on all devices. It's also easy to customize, so you can make it your own without needing any coding knowledge. Check out the Ele IceCream theme today!
A WordPress theme specifically designed for bakers is the perfect way to show off your delicious creations and attract new customers. A good baker's theme will include features like a recipe index, an easily navigable interface, and integration with social media platforms like Instagram and Pinterest.
The best WordPress themes for bakers will also be responsive, so that your website looks great on all devices, and include support for WooCommerce so that you can sell your baking online.
Bistro is a great theme for any restaurant or cafes. It has a clean and modern design with a responsive layout. The theme comes with a built-in menu, ordering, and reservation system. It also includes a blog section for sharing your latest news and events.
SKT Food comes with a range of pre-designed layouts and templates, so you can easily find the perfect look for your site. The theme also includes a powerful drag-and-drop page builder, making it easy to customize your site exactly how you want it. Plus, with support for WooCommerce, you can easily add an online store to your restaurant website.
Whether you're just getting started with your pizza restaurant WordPress themes website or you're looking to give your existing site a makeover, SKT Food is a perfect choice. So why wait? Get started today and see what this amazing theme can do for your business!
A detailed and delicious theme, Ele Chocolate is perfect for any restaurant or any pizza restaurant that wants to give their customers a little something extra. With its unique design and layout, Ele Chocolate allows you to showcase your food in the best light possible and really let your creative side show.
Complete with mouth-watering imagery and easy-to-use customization options, this theme is sure to please even the most discerning of customers.
If you're looking for a WordPress theme for your restaurant, look no further than Ele Restaurant. This theme is specifically designed for restaurants, and it comes with all the features and functions you need to give your website a professional look and feel.
The theme come with responsive design, menu management system, online reservation system, location finder that helps customers find your restaurant, social media integration
Conclusion
Picking the right WordPress theme for your restaurant website can be difficult, with so many choices available. We hope this list of the top pizza restaurant WordPress themes was helpful in narrowing down your options.
The ultimate choice is yours- it should reflect your unique style and flavour while still conveying a professional image to potential customers. With all that said, we wish you luck in finding the perfect theme for your restaurant's online presence!