Houses are empty without good furniture. A good piece of furniture provides utility and adds beauty to the place, which is why almost everyone needs furniture products. If you have a furniture business, you can set up shop and find customers, get their requirements, and deliver the product.
However, a physical shop limits the number of customers you serve and your revenue. If you do not want to have limitless income from your furniture business. You need to find a way to get customers across the globe.
The easiest way to do this would be by launching your e-commerce store and selling furniture there. Of course, it is not that simple. You have to select a platform for the website, design it, and then try to gain customers.
WordPress is the best CMS out there because of its versatile functionalities. That's why it is also one of the most used CMS worldwide! However, starting a WordPress website includes a lot of steps. First, you must buy a premium WordPress plan, select your domain name, and design your site.
To design the site, you can either use the free themes that come with WordPress or premium themes that are sold on WordPress or other sites. The theme you choose will define the user experience you create for your consumers.
That's why you should choose a theme depending on the industry. When it comes to the furniture business, these are the top ten furniture WordPress themes.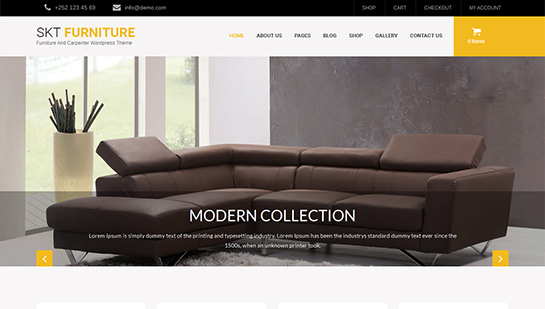 Highlight your modern furniture collection with the help of the Furniture Pro theme. You can highlight the type of products you sell with different elements. In the next section, you can display your top-selling products. People generally consider the bestselling products to be the highest quality ones.
That's why it is crucial to push your bestselling products. This theme has a lot of space to highlight any catchy offer that you may come up with. A business is not built alone.
That's why this theme provides a section to highlight the hard work of your entire team. Giving recognition to your team will motivate them. This theme comes with a simple look but it lets the product shine and speak for itself.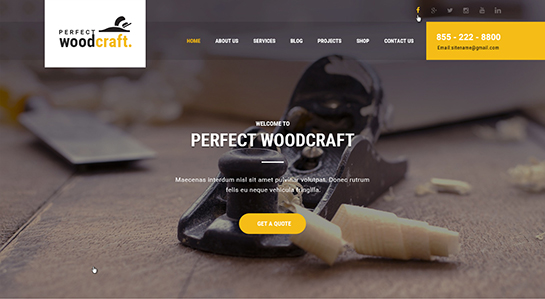 This theme is for you if you have a business of making beautiful furniture out of wood. Take your product to the end user by creating a website with this simple theme.
In the first two sections, you can provide your USP by highlighting what you do and what is different about your company. You can also highlight your top products that the customers love.
This gives other potential customers an excellent reference for what to buy. The main call to action is added to the header of the website's theme.
The actual call to action can always be changed, but the theme has made the place for the CTA. You can add email, phone number, or any other way of contact. This theme is compatible with the WooCommerce plugin, and that's how you will build your e-commerce store.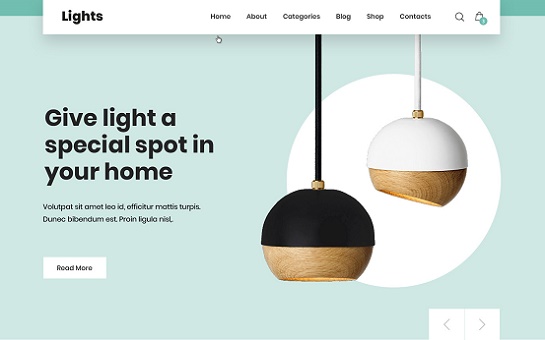 This theme is for businesses that sell fashionable LED lights online. That's why it has a minimalistic look, which also suits furniture. If you change the images and text, this theme can be used to sell furnitures online too.
If you want your theme to be more colorful instead of having a basic look, this theme is the right choice. It is mixed with elegant colors and the right features to make your business successful.
In this theme, you get a section where you can describe the entire process of your business. If customers understand you more, they trust you. This theme helps you win the trust of the customers. That's why it is one of the best furniture WordPress themes.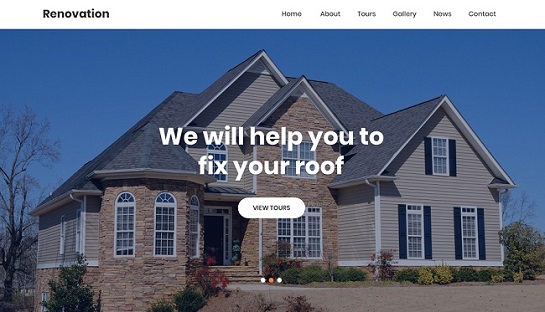 This theme is for businesses that provide renovation services. The images or color combinations used by furniture businesses and renovation services can be similar. That's why furniture sellers can use this theme by customizing it.
With the help of this theme, you can highlight the type of products you provide. The customers must know whether they can find their ideal product on your website. Otherwise, they will feel like they have wasted their time.
Display how superior your furniture is by showcasing them in images. This theme has a lot of space to add different images. Choose these spaces wisely!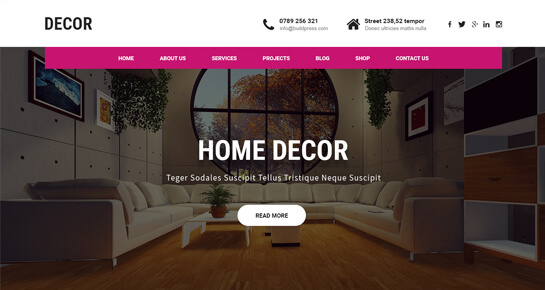 Home decor impacts how people feel incredibly. That's why people pay interior designers such a considerable amount. This website theme is used by interior designers, architects, renovation experts, and yes, it can be used by people who sell housing products like furniture.
This simple theme highlights a house and all its elements, including good furniture. When you have seen enough content, you have the call to action button in the middle. This factor makes it one of the best furniture WordPress themes, as it can drive more sales.
The best thing about this theme is that anyone can use it as it has been designed for multiple industries. This means that you can use it for your furniture business. During the installation process, if you face any difficulty, free installation is provided.
All you have to do is make the purchase and wait as your theme is set up. This theme is responsive and image-friendly. You can upload images of the high-quality furniture you sell, as there is plenty of room.
It has been optimized to make the website load quickly! Overall, this theme provides a great user experience making it to the best furniture WordPress themes list.
This theme is excellent for any business that constructs things out of wood. It can be a cottage, furniture, a house, stairs, etc. The overall look of this theme is rustic, which can excite the customers to buy some wooden furniture!
You can showcase your new furniture sets, the latest blog posts, and describe your company. In the footer section, you can add the contact us form.
This theme is for businesses that are experts in designing modern kitchens. The theme's home page is sophisticated and can leave visitors in awe. This theme allows you to differentiate yourself from your competitors by adding a clear, unique selling proposition.
You can do this by adding text in the why choose us section. If the text was not enough, this theme has a lot of space for images too. Add the images of your finest furniture and inspire your potential customers to purchase. This is one of the most sales-oriented furniture WordPress themes.
The SKT Handyman Pro theme is dedicated to all the people who keep things running by providing quick fixes to them when needed. Usually, a handyman needs a lot of elements on their website. This includes displaying their phone number and a contact form on the website.
Describe everything about your company using the about us section and amazing visuals to do the same. This theme allows for adding social icons at the end of the website.
You can stay connected with your potential customers and retarget them with some time. This theme can be customized and used as a furniture-selling website theme.
This theme has a unique, sophisticated, and minimalistic look. It comes with a color combination of light pink and white. If you want to sell luxury furniture, this theme seems to be the right fit for that. The website's theme should be such that it convinces the user to make a purchase.
If you add this theme to your e-commerce website, you will see an increase in sales. It is all about providing a smooth, easy experience on the eyes and fingers. This means you don't have to complete many steps to make a purchase.
If you sell furniture like chairs and stylish sofas, you can start your business by installing this ready-to-use theme. All you will have to do is make a bit of change in the product images and text related to your company.
Highlight the top-selling furniture collections of the year so that you can get a sale boost in the end. Stay connected with your customers and potential customers by using the social icons in the footer.
This is a colorful theme for interior design studios. You can use this if you sell furnitures too. Display what makes your business and products unique by using the elements of this theme. Using this theme, you can explain the type of experience that your customers get.
This makes customers curious, and they feel like experimenting. Highlight your featured products that are loved most by the customers. If someone loves your featured product, there is a high chance they will love other products too.
Think about your target audience, the product they will love, and then add featured products. This strategy will maximise your profits and you can experiment with it.