Doctors are an important part of the world and global economy. They help keep the global population well and can also work in preventive care.
Many doctors work in hospitals but other than that they also choose to have their own clinics. Whether a doctor works at a hospital or their clinic. The fact is that they need a website.
A great website can be designed on WordPress with the help of Elementor. However, it would help to install the best free WordPress medical themes in the market.
If you are looking to practice medicine or open your clinic, then you can develop a great website with one of the following themes. These themes have powerful features while being completely free. If you are running low on budget, then they are a great option.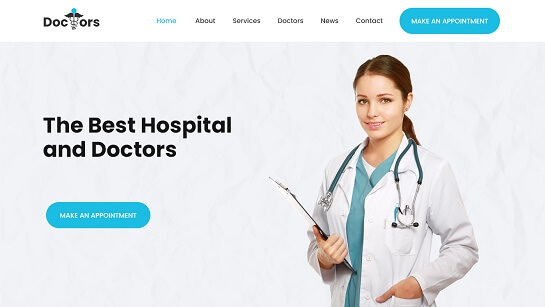 This theme was made after testing and studying what a visitor is looking for when they land on a medical website. There are a lot of clinics out there and there are sites like Practo which list thousands of doctors and clinics.
How can you differentiate yourself as a doctor or your clinic? You need a professional and well-structured website.
It should contain all the major information about you as a medical professional. This information will boost the confidence of the visitor and they will not hesitate before making a booking online.
It is also video friendly which means you can introduce yourself as a professional or your clinic and highlight the services that you provide.
This theme allows you to add social icons in the footer so that your customers can stay connected with you on different social media channels.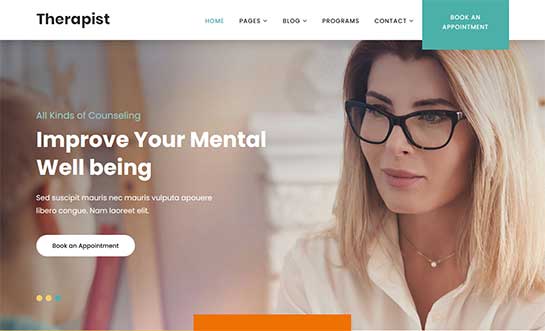 Today it is extremely important to take care of your mental health. That is why the need for a good psychological therapist has seen a surge. If you are one, then people need you and the best thing you can do is show them you are available through a dynamic website.
You can also use this theme to create websites for other businesses in the medical sector. It is always best to be clear about your approach when it comes to therapy. That's why this site has a section where you can highlight what you offer and then next to it, you can add your phone number.
You can take bookings through phone calls, messaging, or the website. It is one of those free WordPress medical themes that can help you get a lot of exposure.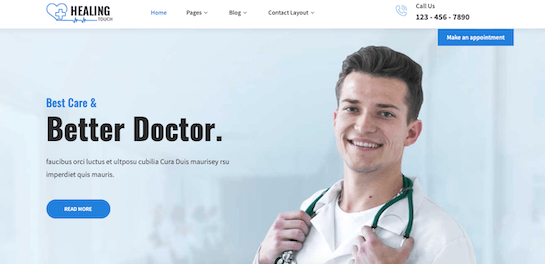 There are a lot of clinics out there and that is why you need to establish how your clinic is different. This theme has a section where you can display how your clinic provides a superior level of medical care.
You can also add the services that your clinic has so that people will know that they can get a service before visiting your treatment center. Each clinic has a way of working or handling the patients and the doctors also have a different approach.
What is the unique selling proposition of your clinic? This theme gives you a lot of space to highlight the USP and attract visitors to book a visit. Healing Touch Lite is one of the most simple yet effective free WordPress medical themes available.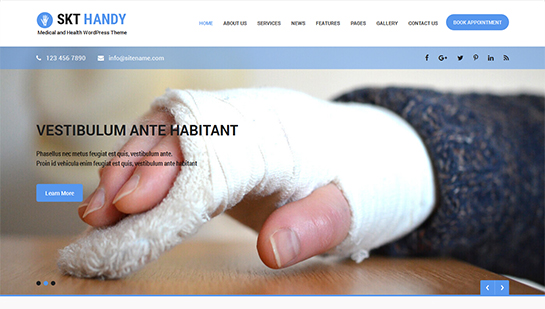 SKT Handy is one of the free WordPress medical themes available in the medical category. It can be used by pharmacies, surgeons, therapists, medical clinics, dispensaries, etc. Once you install it, you can easily change the color of the theme.
You can easily make the changes to your site with the help of this theme and then preview them. If the changes make sense, you can move forward if they don't then you can undo them.
You can create the inner pages for your website with the help of Elementor. It comes with multiple copyright-free images that can be used by you.
If you go with this theme, then you have to make minimal changes. This theme has a section where you can highlight the different specialties available. It can be useful for clinics that have more than one doctor.
The best way to be discovered online is by providing accurate information. If you want to attract customers to your clinic, then you should have an authoritative voice in the niche. This can only be done by publishing relevant content. You can utilize the blog section of this theme for those purposes.
The SKT Skin Care theme is suited for dermatologists, dermatology clinics, skincare advisors, and businesses that provide skincare products. If you are looking to design a professional-looking website without giving a lot of effort, then you can do the same with this theme.
We have done all the heavy lifting so that you don't have to. This theme is responsive, mobile-friendly, and works on different browsers. You never know which browser or device your ideal customer will be using that is why it is always better to be prepared.
It comes with different animated elements that can give your website a highly appealing look. This theme has a section where you can explain why your prospects should choose you. Use this section to explain what is special about your business or service.
This theme can be edited as it has multiple Google fonts available and you can also change the color of the theme. If you need a readymade solution for your business, then this theme is the winner.
SKT Ayurveda is a theme that will help you spread the light of ayurvedic medicine by using elegant animated elements. In the first section, you can highlight all the products and services that you provide using the animated elements.
Your products and services may have some obvious benefits when compared to competitors or traditional medicine. That is why this theme can help you highlight the benefits of the ayurvedic medicines that you sell. Using a few animated elements and convincing text, you can highlight why visitors should choose to shop with you.
Having a good business is all about improving the customer experience. Sometimes websites can be confusing as potential customers may not know how to order your products. This theme has a section where you can explain how a prospect can shop with you and get support.
This is an easy-to-use theme for dentists or other doctors. It helps you get more bookings because it has a call to action in the header. You need to show why your dental clinic is different and better than others.
This theme allows you to display that with amazing animated elements. It is a simple theme that helps you create a responsive landing page for your website. You can use it for multiple purposes. The theme is SEO-friendly so once your website is ready it will be fairly easy to rank.
Sanitize is a free theme that can be used by handwash manufacturers, sanitizer companies, medical professionals, and pharmacies. If you plan to create a website that creates awareness related to the pandemic or other deadly diseases, then this is the right theme for you.
Since there are some parts of the world where diseases can start and the local governments don't have the resources to deal with the problem.
This can also be used by healthcare-related NGOs. You can use multiple elements and text to spread awareness on how to prevent a rapidly spreading disease.
SKT Meditation is a theme that brings a calming energy to the visitor. It can be used by meditation centers, coaches, yoga classes, exercise clubs, etc. Since SKT Meditation is used to produce a calming effect, it can also be used by other medical professionals with a few tweaks.
In the first section, you can explain the obvious benefits of adopting yoga and meditation in your life. It is a responsive theme that can work on multiple devices. You can also easily activate the WooCommerce plugin while using this theme. It will allow you to sell commodities online.
This is a theme that can be used by spiritual teachers, energy healers, shamanic teachers, acupuncture therapy providers, crystal therapy service providers, etc.
It leads the mind to a different place that is different from reality and leaves one in awe. The colors and the imagery combined together provide an amazing user experience.
In the first section, you can highlight all of the crucial services that a visitor can expect from you. For you to succeed, you need to be different than your competitors.
This theme also allows you to highlight how you are different from your competitors. It allows you to highlight the pricing plans transparently so that people who can afford your services will contact you.
This is a great theme for babysitting agencies, daycare centers, children's hospitals, pediatricians, etc. You can highlight all the services that you provide and specialize in.
Now the visitors know what they can expect from you and if they are interested in your services, only then they will keep browsing the site. It has colors that are easy on the eyes and makes it even easier to read the information.
This is a great theme for yoga clubs, fitness advisors, gyms, running clubs, meditation centers, etc. The images and the colors of this theme force you to take action. This theme will tell you how important it is to take good care of your body.
You can describe the advantages of joining your club and motivate people to take action. In the footer section, you can provide your contact details so that if someone is interested in seeking your services, then they can do the same.
This is a theme that is made for businesses that help others look fit then it can be used by physical therapists, gyms, supplement providers, barbell companies, fitness clubs, etc. In the first section, you get to introduce your business to the potential customer.
If you have different classes or products, then this theme gives you the space to highlight all of them. In the footer, you get to add all the important links of your website and the social icons. Keep your customers posted by adding social media icons!
This theme can be used by yoga classes, spiritual teachers, meditation clubs, physical fitness clubs, etc. In the first section, you can highlight the benefits of yoga and also add your unique selling proposition.
This theme comes with a lot of animated elements that can help you explain something more clearly. It helps you create a dynamic landing page for your business quickly and meets all your requirements.