Weight loss WordPress themes have been designed and developed to arrange the site in a better way and to showcase articles or other info about weight loss properly.
Hence we have designed and developed this theme in order to cater to clients who want to have a weight loss website.
Weight loss WordPress theme has a slider which displays both content as well as images. You can have single images as well in case you don't have content.
It has a welcome to our website and testimonials showing who have benefitted using the weight loss program.
In the welcome to our section one can have call to action and other buttons.
The recent posts can showcase the latest articles.
Or this area can also be used to highlight the features of the product or program.
On top we have the call to action i.e. the call us number. One can also include the email address.
Follow us section showcases the social media icons.
The portfolio section may include the images of the fitness program. Or people benefiting using the program.
One may also post images of results using the program or product.
Pricing section showcases the prices in different tables. These table colours can be changed. One can showcase different pricing plans for programs or products and also their features and what one will get.
The buy now buttons can be linked to PayPal or any other external site.
Blog area showcases the blog articles. It can be used to showcase different articles about the programs or some instructions or features of the program.
Blog serves as a great way to communicate with your clients or new visitors.
Contact us section has a form, contact info and google map.
Hope this weight loss WordPress theme suits you and your requirement.
We kept the design subtle blue and white so that it appeals all types of clients.
One more WordPress theme which can be used as a weight loss WordPress theme:
1. Perfect Fitness:

2. Fitt:

3. SKT Fitness Pro:

4. BeFit:

5. Zym: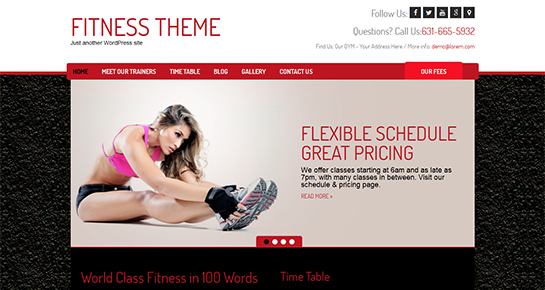 6. Gym Master:

7. Strong Pro: